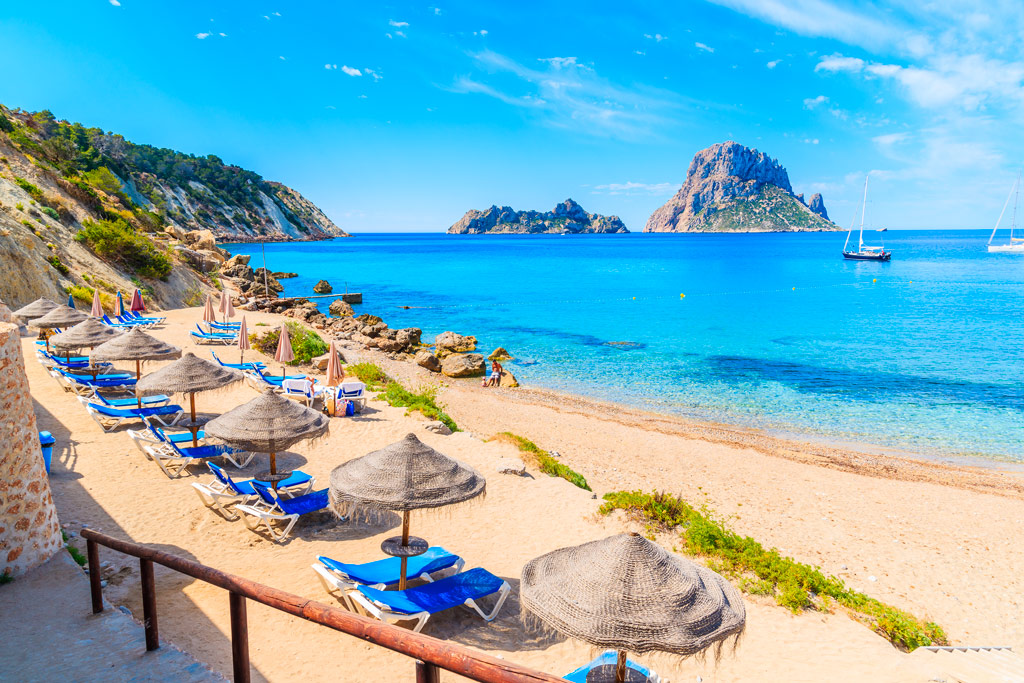 Ibiza in August is hands-down the most buzzing, peppy, vivacious month of the year.
The amount and the variety of things going on and things to do on such a tiny island is nothing short of astounding.
Ibiza! How do you do it?
In this month's guide, your trusty Ibiza Villas 2000 bloggers have, in their usual helpful manner, cobbled together an easy-to-read breakdown of August in Ibiza.
Read on for hints, tips, facts, ideas, cool events, and recommendations…
Everything you need to know about Ibiza in August is right here at your fingertips!

What's the weather like in Ibiza in August?
Well, this is out and out Ibiza's hottest month of the year. You can expect consistent daily temperatures of around 30C and sometimes even higher. At the time of writing, we're sat in a 35C heatwave, ladies & gents!
If there is any rainfall, it's usually a pretty poor performance in tiny amounts, although the end of the month can see the first rumbles of late summer storms. Usually received with blessed relief after the meltingly hot summer sunshine!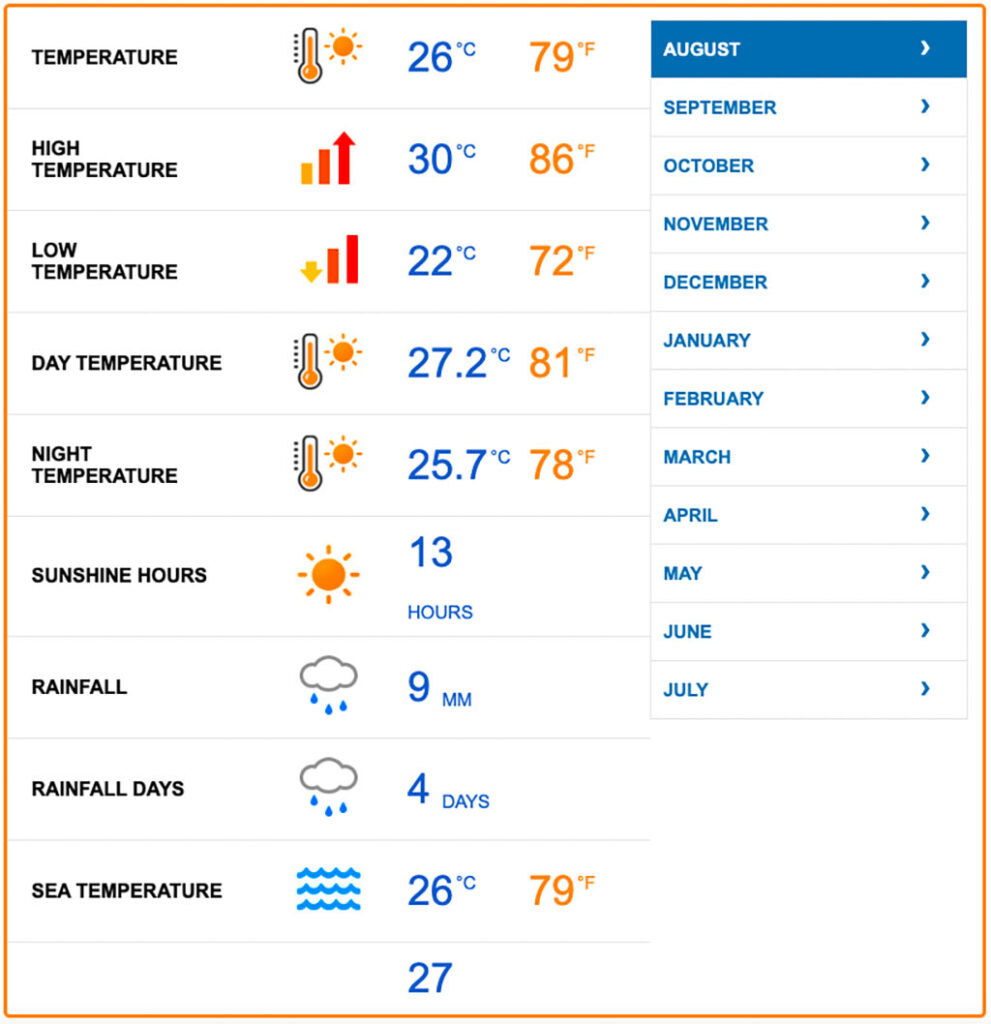 Chart By holiday-weather.com
Needless to say, when it comes to clothing, less is best. You are not going to need much more than swimwear, strappy tops, and shorts.*
And evening temperatures don't drop much, either.
Waaaahhhh!
The average sea temperature in August is around 26C so swimming, paddle-surfing, and snorkeling are a joy.
August in Ibiza is most definitely a month where relaxing, staying in the shade, and keeping hydrated are very much the order during the heat of the day.
Any kind of exertion is best done in the early mornings or evenings when it's not too hot and sticky.
Las Dalias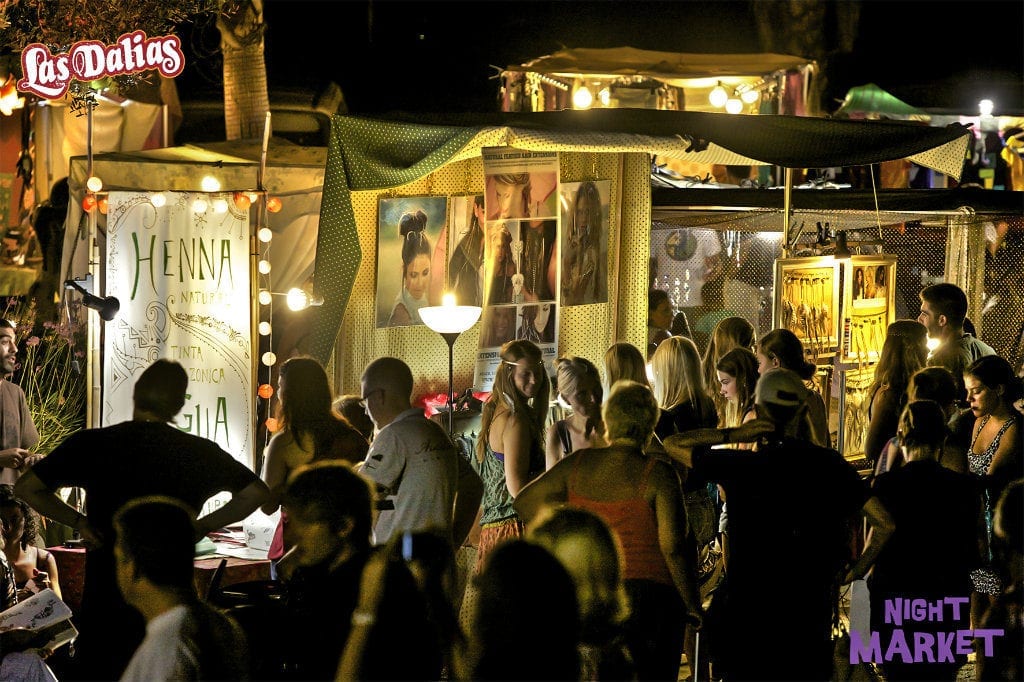 This is the perfect time to head to the famous Las Dalias in San Carlos and check out the sensational Night Market.
Las Dalias Night Market takes place from 19.00 – 01.00 every Monday and Tuesday throughout the summer. And during August, it also opens on Sundays.
Hurrah! Here you will find all manner of clothing, jewelry, toys, bags, ornaments, musical instruments, incense, and smoking paraphernalia.
Kind of what you'd expect to find in most hippy markets.
But experiencing it during the nighttime makes it…ooooh…so much more atmospheric.
There is often live music and plenty of refreshments available, too.
All boxes ticked.

How are prices?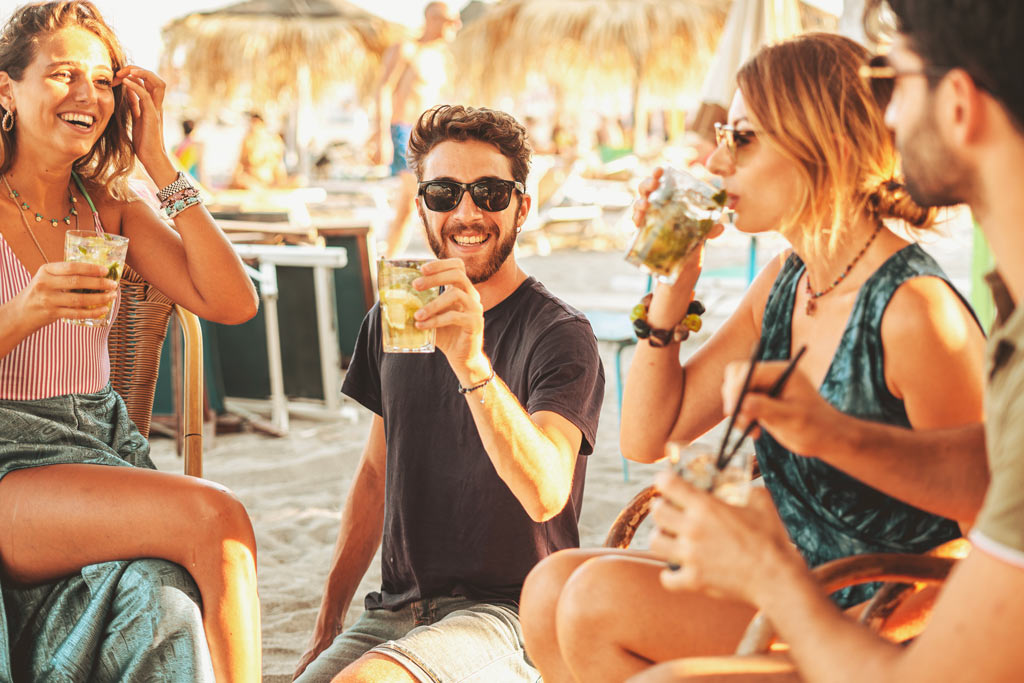 July and August in Ibiza are pretty much on par with each other when it comes to prices.
It's high season, folks, and everything is at its most expensive!
If anything, flights are a bit dearer in August, and whilst (as always) there can be bargains to be found if you hunt hard enough, you're generally going to be looking at €250 – €350.
Although a glance on Skyscanner.org right now reveals a few last-minute Augusts flights going from €50 each way. Worth checking out before you book direct with an airline.
Take a peek here at our last month's guide for more details and tips when it comes to making the most of your dosh.

Which beaches are best?
One of our favorite Ibiza beaches to visit during August is Cala San Vicente right up on the northeast coast of the island.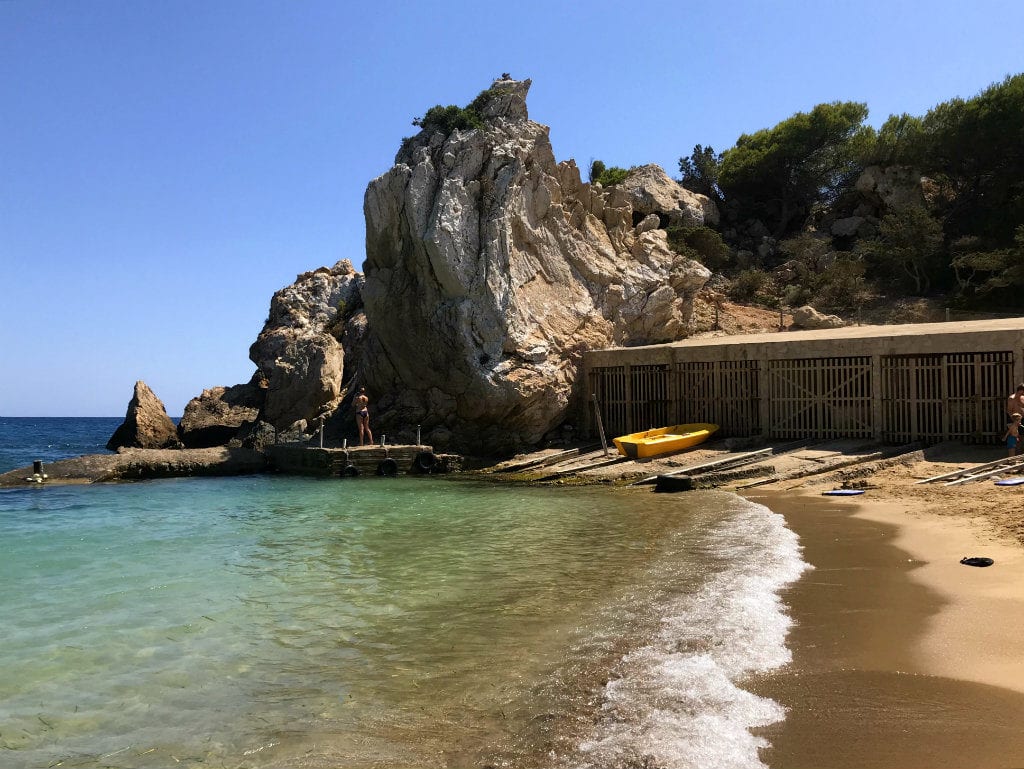 Cala San Vicente
First of all, the drive to Cala San Vicente is nothing short of spectacular. The twisting but comfortably wide pine-covered mountain road offers some of the most awe-inspiring views of the island you will ever see.
If you can make it without pulling in (safely, of course) at least three times when you turn a corner and there's yet another wow-factor view staring you in the face, well then, we'll eat our sun hats.
If you are not hiring a car, there is a bus service from Santa Eulalia to Cala San Vicente, albeit fairly infrequent.
Once there, you will find Cala San Vicente is super-clean and has a lovely chilled "get away from it all" kind of vibe. No obnoxiously loud music blaring away here, we'll have you know.
Even better, the lovely coconut parasols and palm trees give it a real tropical feel.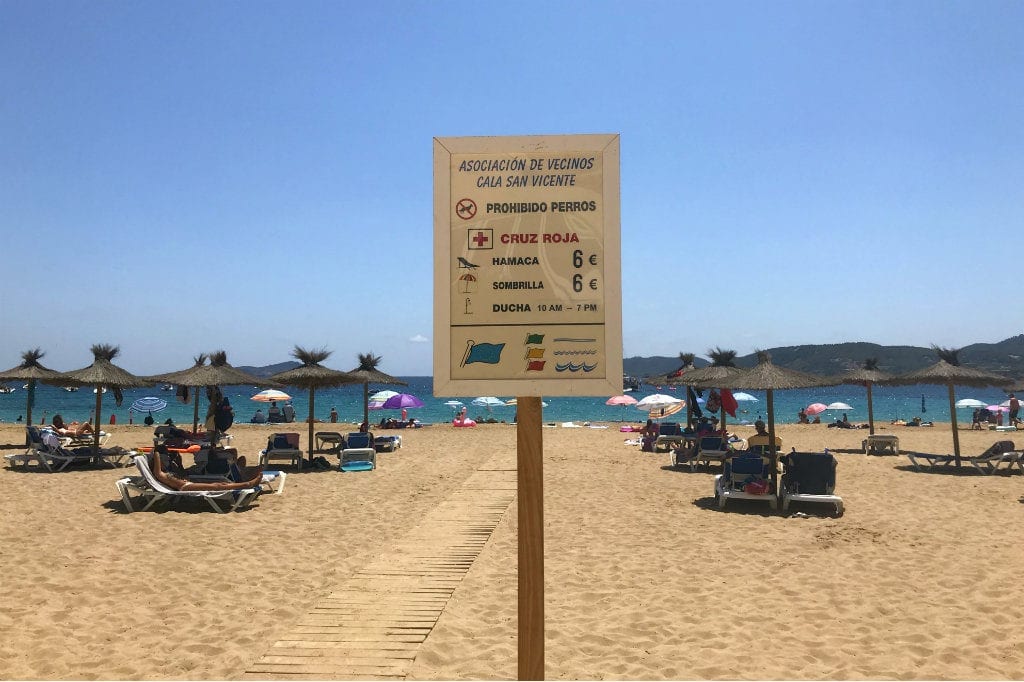 The beach itself is spacious and wide with a picture-postcard promenade running atop and good access for the disabled.
You can hire sunbeds and said coconut parasols on Cala Vicente's golden sands for €6 each which, all things considered, is not too steep.
That said, there is plenty of space for towels and throws on the sand if you are watching your pennies…or just want to have more to spend on cocktails later!
The sea at Cala San Vicente is crystalline clear and turquoise. But do be aware that it slopes very steeply. In an incredibly short distance, you can find yourself paddling in shallow water suddenly 1.5 meters deep.
Something to watch out for especially with small kiddies.
Another top tip:
Beware of burning hot sand! Do not discard flip-flops until you're almost at the water. Otherwise…ouchies!
Beach-dining delight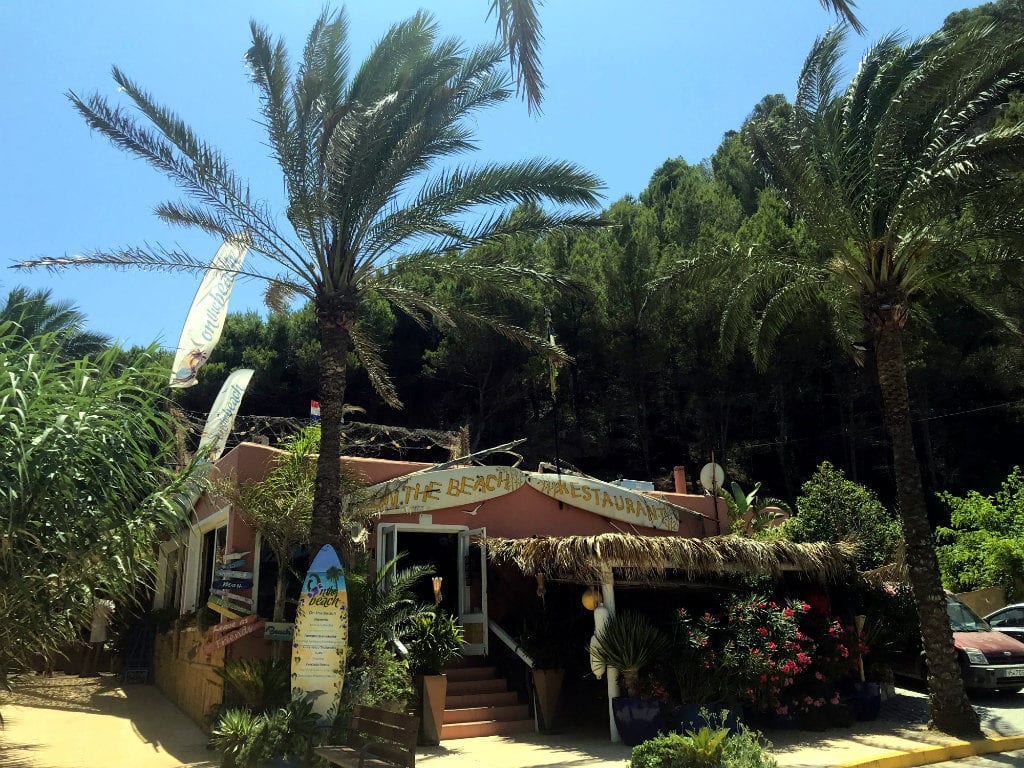 When it comes to food and drinks, you will find excellent dining options at Cala San Vicente.
An all-time favorite, On the Beach, now has its car park which is a real boon. Famed for its wide variety of good quality organic food, including healthy options and smoothies, they will even bring refreshments to you as you sunbathe.
Bliss!
The Boat House has recently been the talk of the island and, it seems, with good cause. Worth checking out.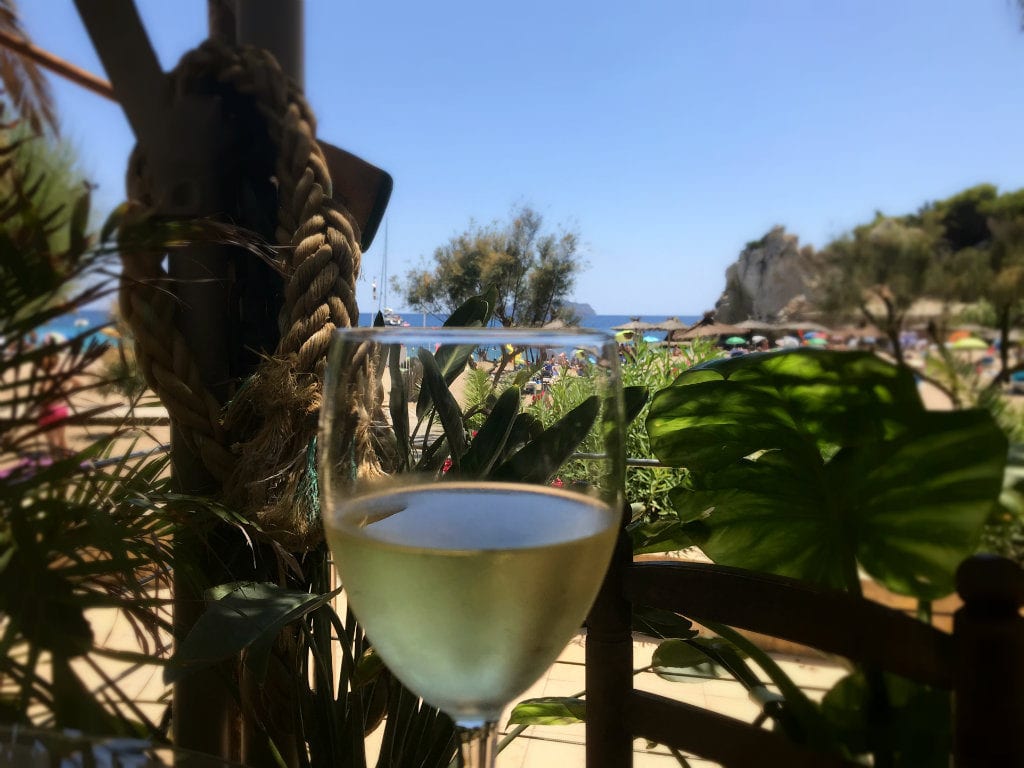 But whatever your palate or budget, you'll find no shortage of bars, restaurants, and snack bars to choose from where you can chill and take in the rugged beauty of the surrounding cliffs, boathouses, and the island of Tagomago in the distance.
Ahhh, Cala San Vicente. We love you. We do!
Cala Tarida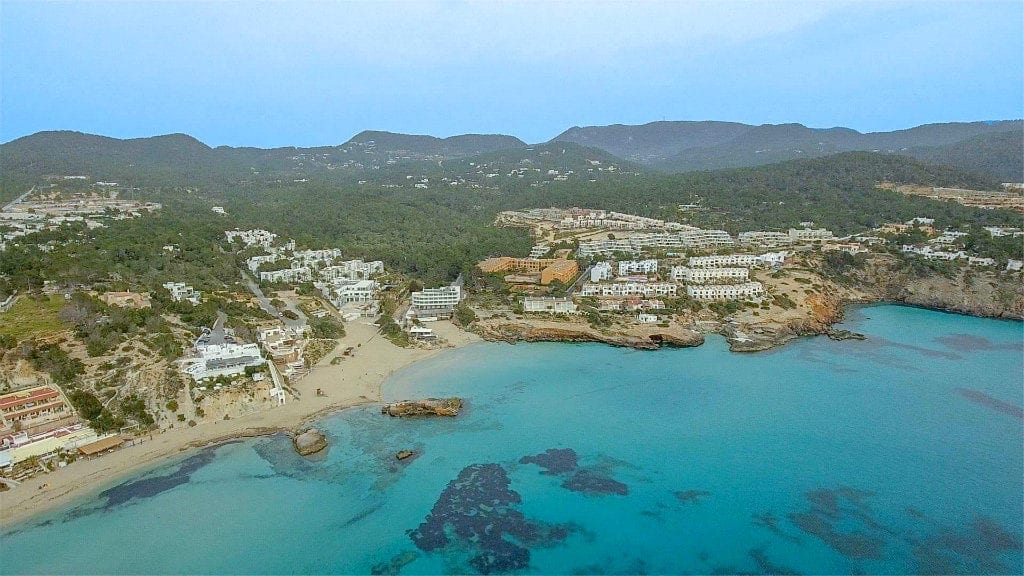 Another cool beach to visit during August in Ibiza is Cala Tarida over on the west coast of the island.
This is a popular, cosmopolitan beach with the emphasis very much on families but, due to its size, it doesn't feel too over-crowded. It does get busier at weekends when many Spanish families come over for day trips & weekend breaks.
And who can blame them? Behold!

Cala Tarida is a very modern, new-build resort with an active year-round community so if you are driving in, you will find plenty of parking.
Alternatively, you can hop on the bus from San Antonio or Ibiza Town (via Sant Josep).
There is also a ferry service from San Antonio to Cala Tarida if you want to arrive with the sea breeze on your face.
Set in a sheltered bay, Cala Tarida beach boasts a long, broad stretch of pale golden sand and bright clear, turquoise waters.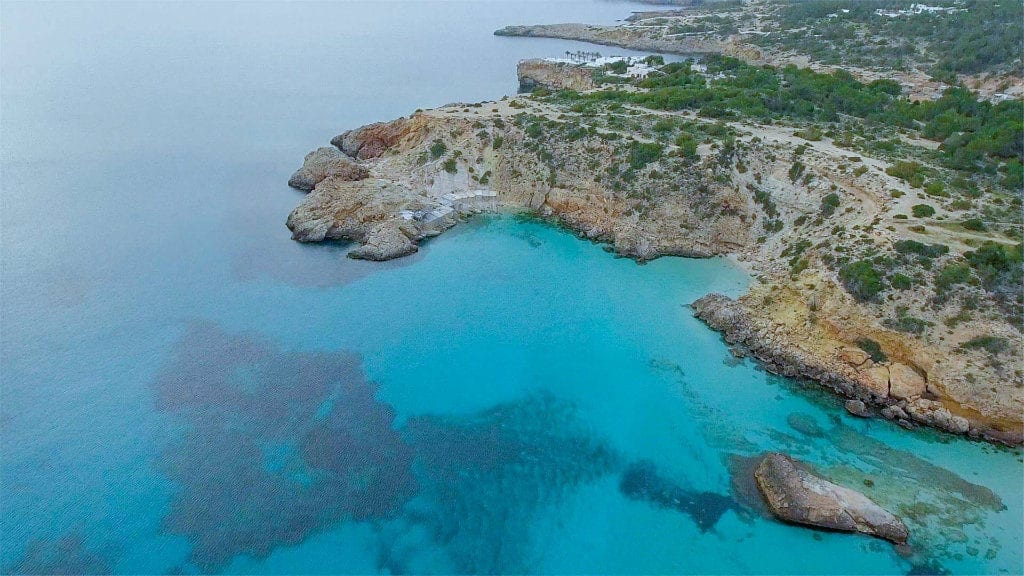 This is a popular spot for cliff diving and snorkeling and there is a whole host of water sports to choose from on the far left-hand side of the beach as you are facing the sea.
Cala Tarida beach is lined with lots of excellent bars and restaurants, such as the gorgeous Cotton Club. Many of these enjoy an elevated position overlooking the bay which, of course, affords glorious views of the famed Ibiza west-coast sunsets.
And if that's not on your bucket list yet, it should be!

What's the countryside like in August?
The countryside in Ibiza during August is very hot and dry. It's worth knowing that outdoor fires of any kind are forbidden in the countryside from Mid-May until the middle of October, so high is the risk of forest fires.
When you are out and about, please be 100% sure that all smokes are extinguished properly.
And, pretty please, don't flick smoldering cigarette ends out of the car window whilst you're driving along, especially on the country roads.
Believe it or not, some people do. Crazy, right? Forest fires are something we try vehemently to avoid and the smallest careless spark can ignite an inferno. If you fancy a peek into traditional Ibiza countryside living whilst you are here, you might want to make your way up to the village of San Miguel.
Every Thursday evening during August there is a display of Ibizan folklore dance and music.
This takes place in the church square and kicks off at 19.15.

What's going on in the towns?
The west end of San Antonio and Playa D'en Bossa can be pretty boisterous during August. These are the places to head if that's what bakes your noodle.
If not, the bay of San Antonio is more chilled, and Santa Eulalia maintains its calm and laid-back vibe…even in August.
In Ibiza Town, you'll find the Fiesta de la Tierra, or Festival of the Earth, taking place until 15th August.
This is the fiesta of Ibiza's very own Patron Saint, Santa Maria de las Nieves, on 5th August, and Sant Ciriac's Day on 8th August.
Expect a variety of things going on from traditional Ibiza folk dancing, live music, parades and processions, kiddies events, markets, and exhibitions.
Full details can be found here – perhaps with the help of Google Translate!

What's the clubbing scene like in August?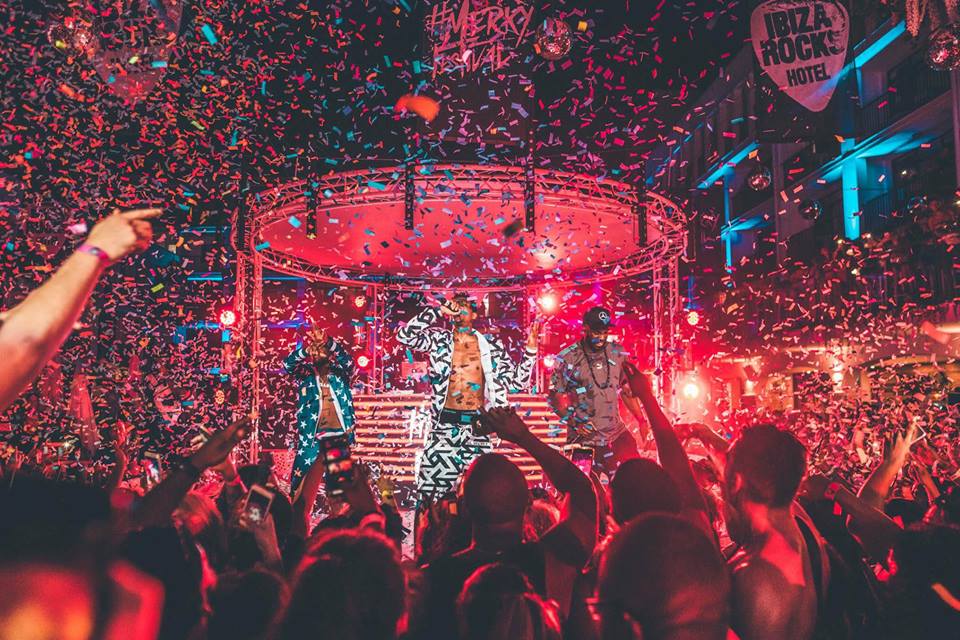 Phenomenal!
Especially if you love to party to mega DJs with huge crowds of euphoric ravers from all corners of the globe.
Day or night.
However, if you fancy a slightly less-frenzied, but still full-on stonking night to remember, we say get yourselves to Las Dalias in San Carlos every Sunday of the summer for Akasha –  a new residence full of organic house sounds and live music that connects us with the land and joy: it is NIDO, an event that was born to remind us that enjoyment happens there, where we We feel safe, close, in community.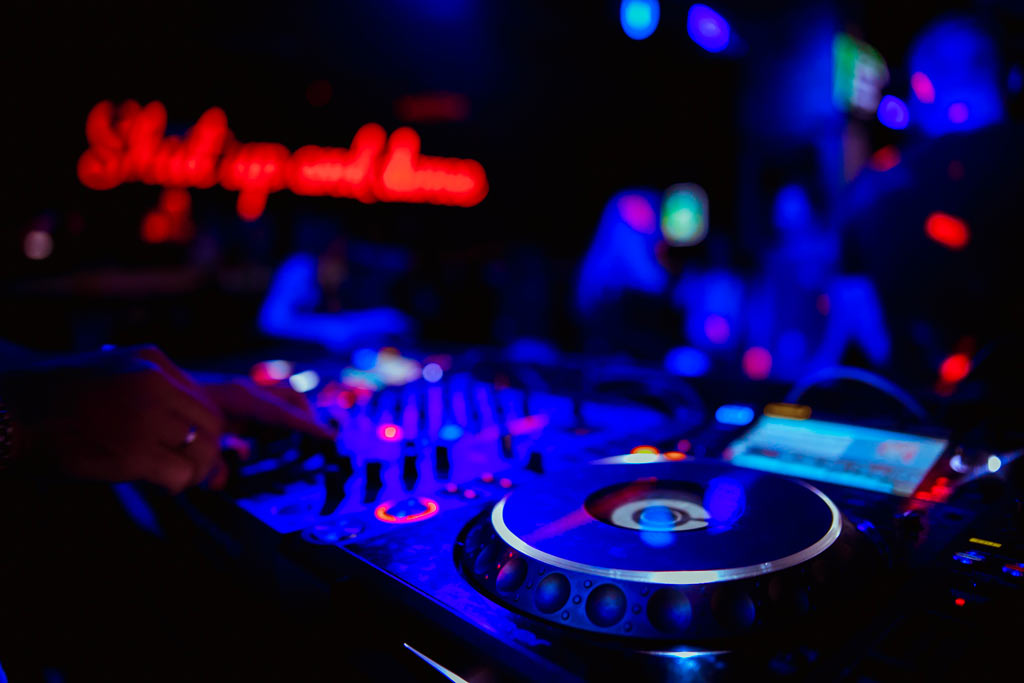 And it doesn't get much cooler than that, folks!

Which restaurants are great to visit in August?
Quite frankly, there's nothing like digging into delicious tapas on a hot summer evening in Ibiza.
Nice, light, tasty, and uber-Spanish!
La Bodega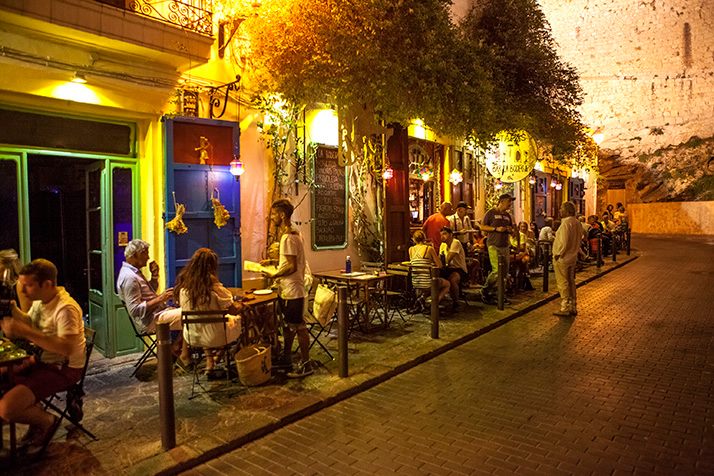 La Bodega in Ibiza Town has a well-earned reputation for being one of the best spots on the island for indulging in scrumptious tapas.
With an impressive range of tapas (and other dishes) on offer along with a broad selection of wines and cocktails, La Bodega is refreshingly unpretentious and authentic.
Oh, and the staff is super friendly and helpful, too.
All of the above, quite rightly, makes La Bodega a popular choice amongst locals, holiday-makers, and the odd celeb.
It's always buzzing and busy especially during peak season, therefore, reserving a table in advance is most definitely recommended on 0034 971 192 740.
We wouldn't want you to be disappointed now, would we?
Amante Ibiza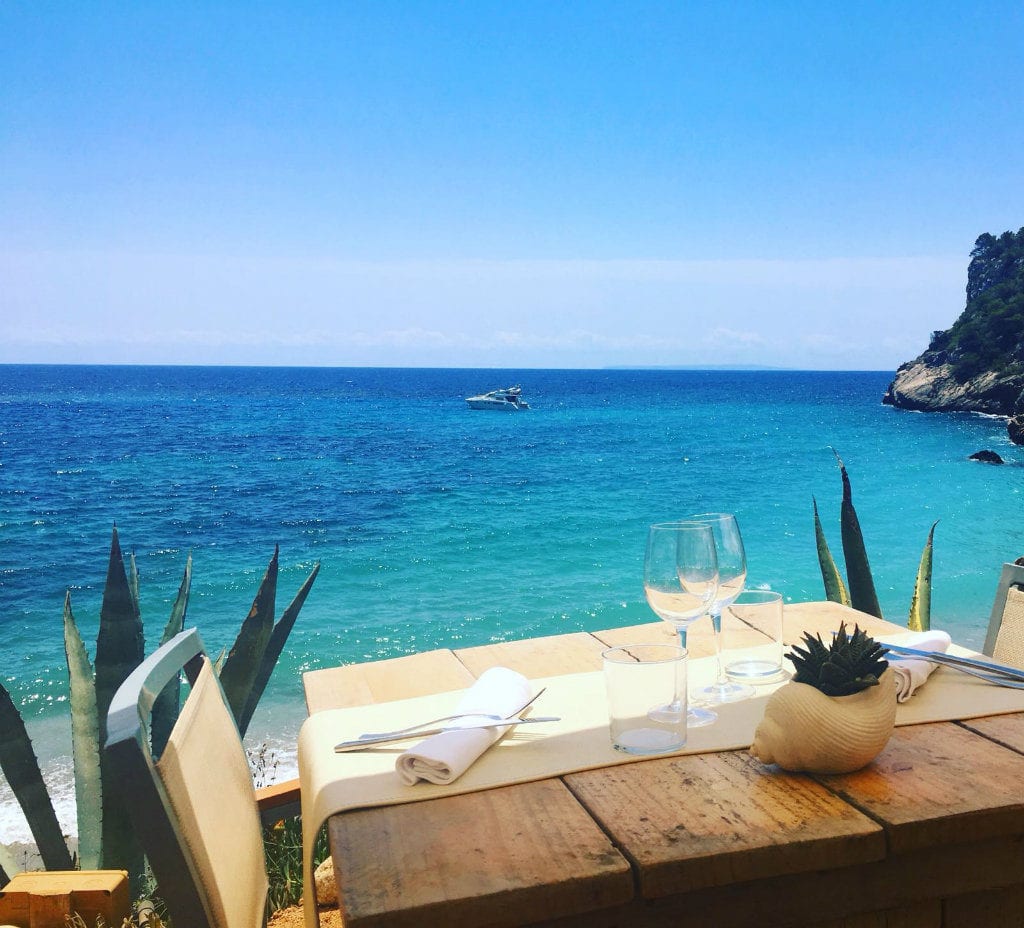 If you're feeling fancy and want to push the boat out a bit, our next suggestion would be to visit the enchanting Amante Ibiza above Sol Den Serra beach, near Cala Llonga.
Our intrepid Ibiza Villas 2000 restaurant reviewer recently visited it and, by all accounts, was in her element. You can get the complete low-down in Lunching like a Lady.
The short version? 100% class & perfect for special occasions.

Special events in Ibiza during August
On Friday 24th of August, San Antonio celebrates its biggest festival of the year – Saint Bartholomew's Day (Dia de Sant Bartomeu). This is a day jam-packed with activities.
Think traditional Ibiza folk dancing, live music, oodles of kiddies activities (including a funfair), and kite flying and you're starting to get the idea.
But the creme-de-la-creme of this special festival day?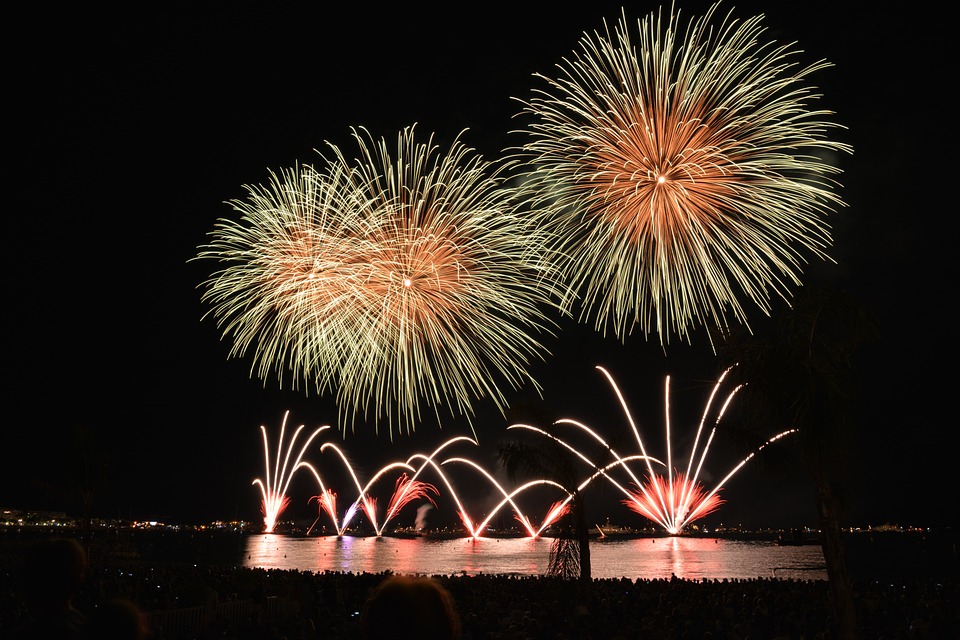 The huge, dazzling fireworks display takes place over San Antonio harbor at midnight.
It's a belter!

Stuff for families to do
If you are looking for cool (in both senses of the word) things for the family to do in Ibiza in August, our best suggestion would be to head north to the Cova de Can Marca caves in San Miguel.
Dating back 100,000 years, these caves were originally discovered by smugglers who used them to hide their contraband.
During a 40-minute guided tour of the caves, you will see other-worldly formations of stalagmites and stalactites, illuminated in mystical colors, along with eye-popping views out to the bay.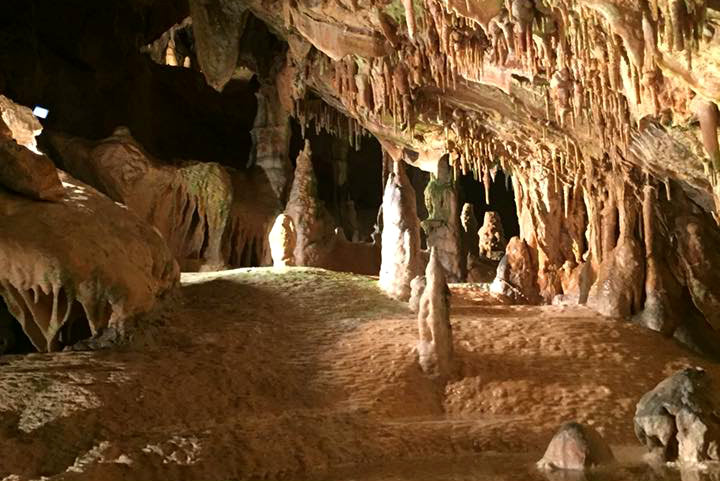 But the main attraction, without a doubt, is the grand finale; an amazing light and sound show reproducing the once natural waterfall that existed here.
The caves at San Miguel are open every day during summer from 10.30 – 19.30 and tours run every hour.
Better still, you don't need to make a reservation.
Just rock up and enjoy a spectacular show in a blissfully cool environment.
Transport
When it comes to traveling around Ibiza in August, we'd reiterate everything that we mentioned in last month's guide, Ibiza in July.
Whilst not meaning to sound all doom-and-gloom here, there are a couple of things worth bearing in mind.
For the most part, Ibiza is a very safe place. However, there are some bad eggs out there and this is the time of year when pro thieves tend to operate.
When you are out and about, only take the cash you will need and the most essential items. Leave everything else (passport, credit cards, etc) securely locked up in a safe and make sure all doors, windows, and/or gates to your accommodation are locked.
Be security conscious
And never, never, never leave valuables in your hire car.
Ever!
No point even tucking them away out of sight and thinking they will be fine. These days, some devices can clone your car alarm system and disable the locks like it ain't nothing.
Meh.
And while we're at it…
TIP: Always have your driving license on you or carry a photocopy of your passport. Spanish law requires you to carry a photo ID at all times. Being on the receiving end of a policeman's disapprovingly wagging finger (or a fine if you're unlucky) is best avoided.
And there you have it, ladies & gents. Our full round-up of what to expect from Ibiza in August.
We hope you've enjoyed our guide and don't forget to tune in for the next exciting installment, Ibiza in September.
Coming soon… 😉
Words | Jinny Throup  Lead Image | Jacqueline Wix  Aerial images | Hector Piñol
Planning a trip to Ibiza? Interested in great value Ibiza villa rental in and around San Antonio, Playa D'en Bossa, or Ibiza Town? Check out our lush Ibiza villa collection, with affordable prices, short-term and weekend breaks welcome. Like us on Facebook or follow us on  Twitter / Instagram to be the first to hear about our fantastic special offers. Looking for a detailed guide telling you everything you need to know about Ibiza villa holidays (and how to avoid the pitfalls)? Check out our 2022 insider's guide to Ibiza villa rentals and you'll be clued up in no time!