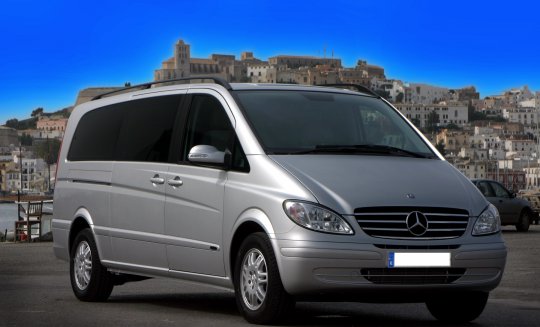 The problem of illegal taxi drivers in Ibiza has become a recognised issue on the island in recent years. These drivers are unlicensed, often uninsured, and work outside of the law. We actively discourage our clients from using them for at best they will hugely over-charge you and at worst, could compromise the security of your villa.
Thankfully, we can help ensure you only use safe and legal forms of transport. We can offer the pre-bookable services of our own licensed driver and 9 seater vehicle or we can help organise your transport requirements through IBUSS who operate a fully legal Private Taxi Service. They have an office outside Ibiza airport and a second office by Pacha in Ibiza Town. They also have English speaking operators who know the island and know the locations of all our villas.
It is possible to book transport with our own driver or with IBUSS during your stay however, we do require at least 24 hours advance notice. If you already have planned dates for days or nights out, we advise that you give us as much notice as possible to secure your transport requests. This is especially important if you are a large group and you would like to book a minibus or coach so you can all travel together.
Make an enquiry for your transport requirements by clicking here.