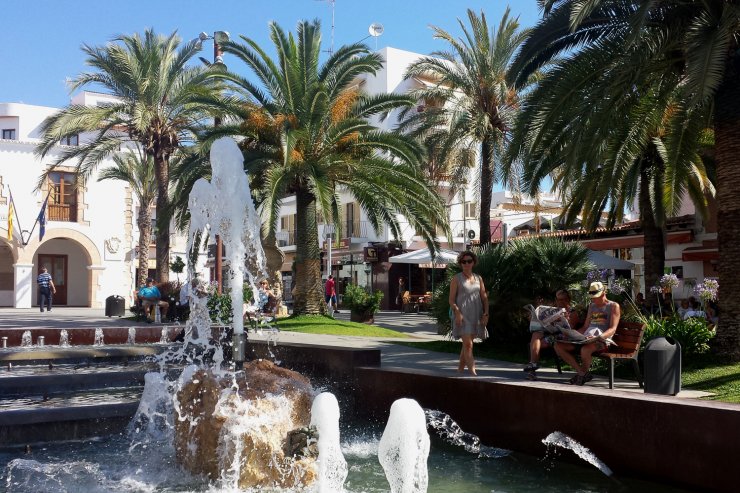 Santa Eulalia del Rio is one of the island's more laid-back resorts and a popular choice for family holidays in Ibiza. It is also a great location for couples and friends seeking a non-clubby yet lively, bustling atmosphere.
Also known by its official Catalan name of Santa Eulària des Riu, this picturesque and stylish resort ticks all the boxes for a relaxing Ibiza holiday whilst still providing plenty to do for holiday-makers of all ages.
Santa Eulalia Beach
Santa Eulalia's non-smoking beach is stunningly pretty. A beautiful palm-tree lined promenade runs atop a wide, curved stretch of golden sand. The gorgeously clear, sparkling azure sea is great for paddling or bathing and, for that extra peace of mind, lifeguards are present during the summer season.
Several handy ramps along the promenade lead down to the sand which makes access easier for buggies or people with reduced mobility.
The sun loungers and parasols on Santa Eulalia Beach are of a good quality so you can relax and soak up those sunny rays in comfort. If you're feeling more adventurous, there are a whole host of water sports to choose from. Pedaloes, banana boats, kayaking, waterskiing, paddle boarding and scuba diving to name just a few options.
Santa Eulalia beach always manages to maintain a lovely relaxed ambience and never feels overly crowded even in peak season.
Eating and Drinking
Well, what can we say? Santa Eulalia boasts nothing less than a veritable smorgasbord of bars, restaurants and cafes to suit all palates, budgets and dietary requirements. The town is famed for its abundance of eateries and its gastronomical diversity. In fact, running parallel above Santa Eulalia's main street is Calle San Vicente which is popularly known as "Restaurant Street". No prizes for guessing why!
The centre of town, the promenade and the marina are all also packed with bars and restaurants of all descriptions. Practically every kind of cuisine imaginable can be found here from traditional Spanish and tapas to Indian and Chinese, from fast food to fine dining, Mexican to Sushi, ice-cream parlours to Brit bars and pubs. Santa Eulalia has got it all going on.
Shopping
The highlight of any holiday has got to be mooching around to find gifts for loved ones back home or treats for yourself. Here, Santa Eulalia does not disappoint!
Every day except Wednesday, colourful stalls line the town's main square. With a distinct hippy market vibe, you will find jewellery, clothing, toys, leather goods, throws and ornaments to name just a few examples of the wares on offer. And you certainly don't have to walk far before coming across one of Santa Eulalia's plethora of gift shops.
When it comes to other kinds of shopping, Santa Eulalia, Ibiza has pretty much everything you would expect to find in a modern town. Shoe shops and clothes shops aplenty, department stores, newsagents, chemists, supermarkets, bakeries, health food shops. The list goes on!
Getting Around
Exploring the rest of Ibiza from Santa Eulalia couldn't be easier. During the summer season, there is a regular bus service to the other main towns on the island such as San Antonio and Ibiza Town as well as a more limited service to other popular places like San Carlos, Cala San Vicent, Cala Nova and Portinatx.
A really enjoyable way to get around is by ferry boat. During the peak season, ferries will take you from Santa Eulalia to Es Cana, Cala Pada, Cala Llonga, Ibiza Town and Formentera. There is also a regular service to Es Cana Hippy Market every Wednesday.
Or you might want to hop aboard "Thomas" the tourist train for a picturesque 3-hour excursion around the island. The train departs Santa Eulalia from the promenade in front of ferry boat jetty and this is where you will find up to date timetables and routes.
Of course, hire cars are an option during your Ibiza holiday and if this is the case, Santa Eulalia boasts 2 petrol stations on either side of the town.
Finally, there is also a sizeable taxi rank in the centre of the resort.
Enjoy!
Editor's note: Santa Eulalia also contains the only river in the entire Balearic Islands. Love that 🙂
Words | Jinny Throup Lead image | Jane C
Coming to Ibiza this spring or summer? Interested in great value Ibiza villa rental? Check out our lush Ibiza villa collection, with affordable prices, short-term and weekend breaks welcome. Like us on Facebook or follow us on Twitter / Instagram to be the first to hear about our fantastic special offers.