Ibiza in July sees us well and truly in high season, folks.
Out and out full throttle. No messing. Get in!
Everything is open and the whole island is buzzing with action night and day. There is an overwhelming amount of choice when it comes to things to do, see, and experience. It can be difficult to know where to start.
Enter your trusty Ibiza Villas 2000 bloggers!
We got our heads together and have come up with our best suggestions, tips, and recommendations for making sure you know exactly how to make the best of July in Ibiza.
Let's get stuck right in 🙂
What's the weather like?
One word.
Scorchio!
The Ibiza weather during July guarantees hot temperatures, lots of sunshine and very little chance of rain.
Average daily temperatures stand around 25-26C but it's not unusual for them to soar into the mid 30sC and sometimes even higher.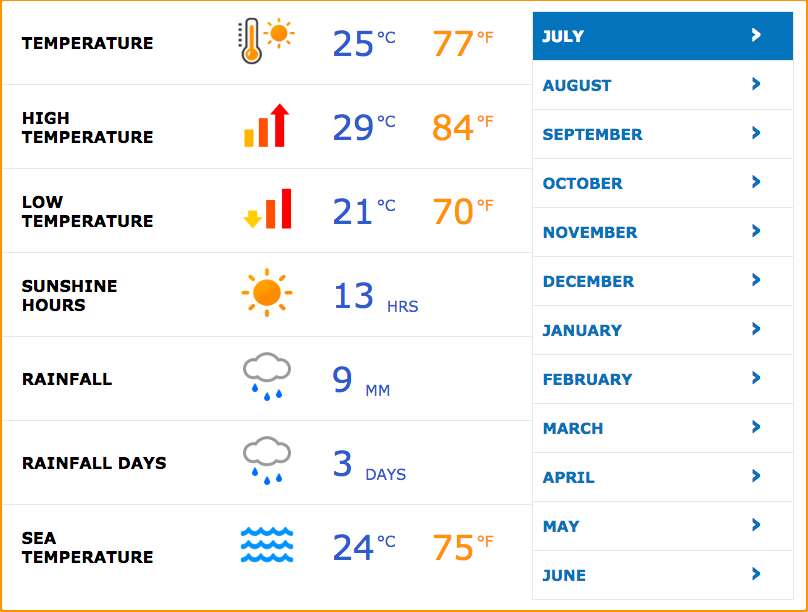 Chart supplied by holiday-weather.com
Time for the sunscreen, hats, and plenty of water, folks. Heatstroke sucks.
With the sea temperature sitting at a blissful 24C – 26C, July is the perfect time to explore beneath the surface of the twinkling, turquoise Mediterranean.
Whilst scuba diving may be too much of a plunge for many of us, snorkeling is a somewhat less daunting and more relaxed way to enjoy Ibiza's spectacular underwater scenery.
Oh, and to make acquaintance with a whole host of beautiful fish and cool marine life, too.
Arenal Diving in San Antonio offers various snorkeling tours. These include coastline safaris, caves, coves and nature reserves, and sunset tours.
Definitely worth checking out.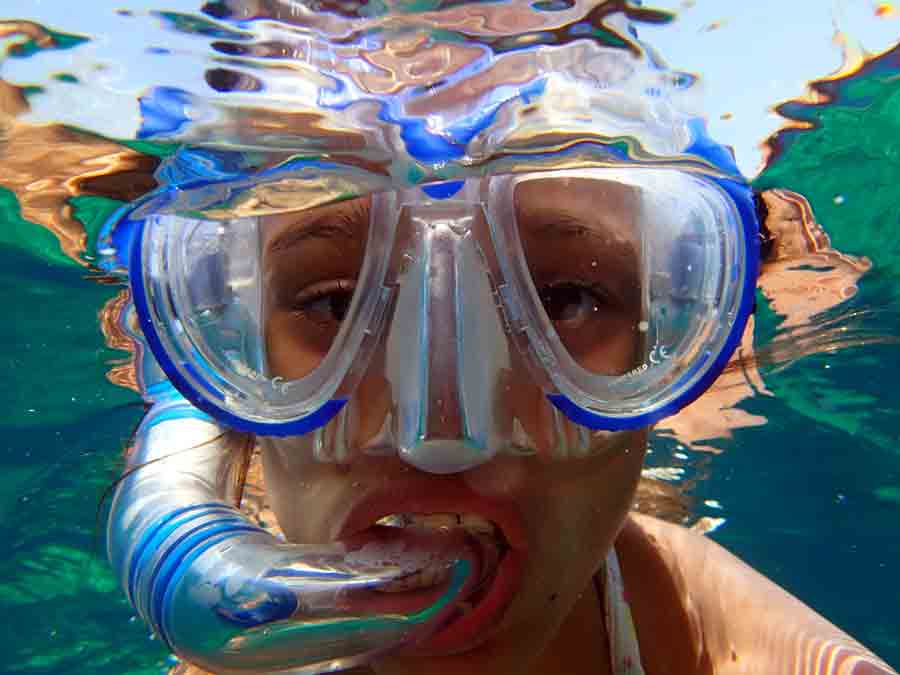 How are prices?
Flight prices to Ibiza during July tend to vary considerably.
If you have some flexibility on the days you travel, you can still grab a bargain return flight for around the €100 mark. But generally speaking, on average, you'll be looking at €200 with flights from London's airports tending to be a little more expensive than their northern counterparts.
Villa prices, needless to say, are now at peak-season rates. But you can still grab some unbelievable last-minute bargains, like these offering up to 50% off right now!
All the more reason to round up your nearest and dearest friends and family and make your Ibiza villa booking more affordable than you might imagine.
The more the merrier, right?!
Clubbing in July can get expensive with whopping entry fees and matching prices for drinks once you're through the door.
As you probably expect, we have a few tips 😉
Tip # 1
Pre-book your tickets online. This often works out cheaper, can save hassle at the door and sometimes (not always, mind) includes a free drink.
Tip # 2
Hang around the port of Ibiza Town around 10-11pm where you are likely to find hoards of club PRs gagging to give you a discount wristband. During the day, head to either Salinas, Playa d'en Bossa or San Antonio Bay beaches for top PR discounts.
Tip # 3
Hop on one of the disco buses which run every day from midnight until around 6.00 a.m.
San Antonio – Port of Ibiza (Privilege, Amnesia, Pacha)
San Antonio – Playa d'en Bossa (Ushuaia and HÏ)
Port of Ibiza – Santa Eulalia – Es Canar
Port of Ibiza – Playa d'en Bossa (Ushuaia and HÏ)
Be smart.
Save yourself oodles of euros in taxi fares.
Which beaches are best?
Many of Ibiza's beaches are rammed in July so we'd like to recommend a couple that, whilst popular and lively, still manage not to feel over-crowded even in the height of the summer season.
First up, we have Cala Nova.
Cala Nova
Cala Nova beach is located on the east coast of the island, between Es Canar and Cala Llenya.
Set against a backdrop of rugged, natural beauty, Cala Nova beach has carved a place for itself into the low coastline cliffs but easy access, including for the disabled, has been built. The sweeping curve of soft golden sand and gentle incline into the sea makes Cala Nova beach a favourite Ibiza holiday destination for families.
There are a number of restaurants to choose from on Cala Nova beach, including the fabulous Atzaro Beach with its stunning views and impressive Mediterranean menu. Directly below and right on the sand is Atzaro Beach Chiringuito where you can enjoy light, fresh, healthy food, BBQ, cocktails and juices, all whilst listening to live music with your toes in the sand!
During the summer season, buses run every hour from Santa Eulalia to Cala Nova.
Cala Vadella
Our next best suggestion for a cool Ibiza beach to visit during July would be Cala Vadella over on the south-west coast of the island.
Spectacularly picturesque, the horseshoe-shaped bay of Cala Vadella is surrounded by rugged pine-clad cliffs, punctuated with white buildings and old boathouses.
The sand here is soft and golden with a wooden walkway down to the sea, making it nice and easy for pushchairs and those with mobility issues.
There is a wide variety of bars, restaurants and cafes to choose from and a lovely beach shop, selling chic clothing, hats and accessories. You can even treat yourself to various holistic therapies here, such as Reflexology and Reiki.
With its west coast location and stunning surroundings, this is one of the best beaches on the island to enjoy one of Ibiza's exquisite sunsets.
If you're driving in, Cala Vadella is about 20 minutes away from San Antonio and 30 minutes away from Ibiza Town. Alternatively, there is a bus service (admittedly fairly infrequent) from San Jose.
What's the countryside like?
The Ibiza countryside is still pretty as a picture during the summer months due to an abundance of flowers that thrive in the hot sunshine.
Bougainvillaea, hibiscus and oleander, amongst others, brighten up the countryside with eye-wateringly colourful and delicate pink, red, purple and white hues.
Gorgeous!
Village life tends to continue as normal, even in the height of summer, and there are often interesting and unusual things to do that can be enjoyed by visitors and locals alike.
For instance…
Heading to San Jose, every Saturday from 09.30 – 13.30, you will find an ecological food and craft market.
Local products from local people with the intention of promoting the traditions of Ibiza.
There are around 20 stalls here selling artwork, all manner of handicrafts, fruit and veggies and home-made pastries.
Meanwhile, over in San Rafael, a weekly craft market takes place every Thursday evening in the church square from 19.00 hrs.
San Rafael is famed for its ceramics and here you will find traditional and contemporary designs along with other hand-made products.
There is the opportunity to actually watch the items being crafted traditionally and sample fruit from local orchards.
Ibiza country living at its very best!
What's going on in the towns?
By July in Ibiza, all the towns are in full-on summer vibe and positively buzzing.
Everything is open.
Everything is at your disposal.
If you're into boutique shopping or a busy cosmopolitan nightlife scene, proceed directly to Ibiza Town. Cool bars galore and some really very nice clothing/fashion shops.
Not to mention spitting distance from Pacha & Heart & a quick bus/cab ride from Amnesia, Privilege, Hï & Sankeys.
Santa Eulalia central plaza | photo by Cat Milton
Santa Eulalia too, is a great town to visit in July as, even in peak season, this remains one of Ibiza's calmer and more conservative (if there is such a thing in Ibiza) towns. If you're not bothered about clubbing, we think you'll love its laid-back vibe.
With a year-round residential population, here you will find every amenity you could possibly wish for, along with shops, restaurants, bars and cafes galore. And for those that prefer chilled evenings, Santa Eulalia is ideal.
During summer, the town's main square is transformed into a colourful hippy and artisan market with stalls selling all manner of wares from jewellery to toys, incense to ornaments, leather goods to throws, to name just a few.
This takes place every day except Wednesdays (when the same stall owners head off to the legendary Es Cana Hippy Market at Punta Arabi) and lends an even more glowing, happy summer vibe to this already lovely town.
And after you've mooched around the stalls, a stroll along Santa Eulalia's pretty promenade, with its myriad bars and restaurants, guarantees you a fabulous mid-summer Ibiza experience.
What's the clubbing scene like in July?
By now every single party and club on the island is open. Daytime. Nighttime. Pretty much anytime, folks!
World class DJs are firmly rooted behind the decks, blowing roofs off and working massive crowds into a frenzy on a daily/nightly basis.
It's messy.
It's hot.
It's amazing!
On Friday, 20th July, the legendary Clockstock/Clockwork Orange takes place from 1pm at Benimussa Park.
With heavy-hitters such as Paul Oakenfold, Lisa Loud, Seb Fontaine & Tall Paul at the decks, along with stilt walkers, drummers and entertainers, Clockstock promises to be mahoosive!
On top of this, every Monday sees the legendary Flower Power at Pacha (Pssssst, heads up – 9th July headlines Bob Sinclar…weeeheee!).
Craig David is back at Ibiza Rocks Hotel with his TS5 Pool Parties every Tuesday from 10th July.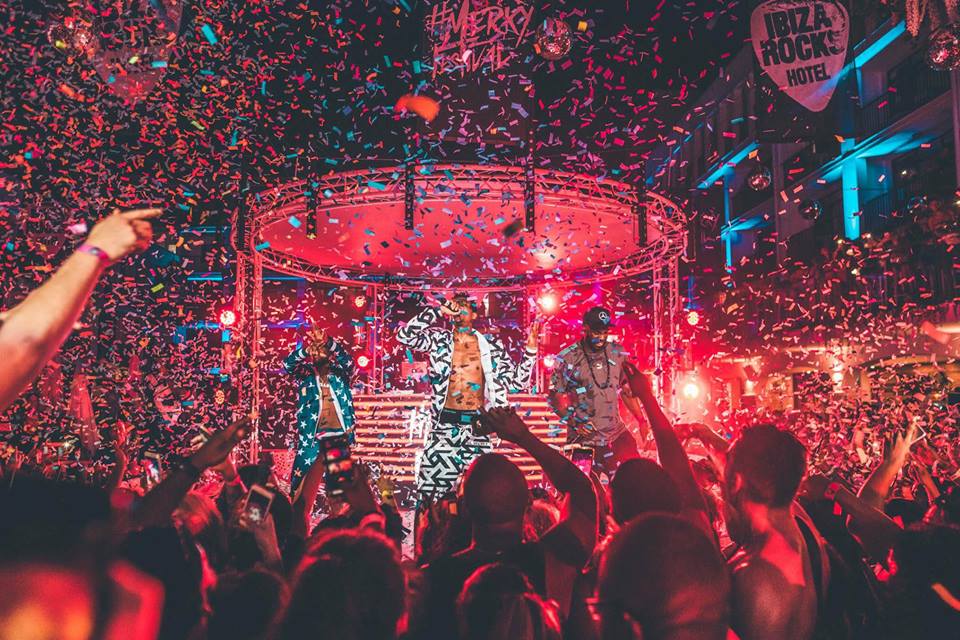 And proper old-school DJ, Brandon Block, is over at Es Paradis in San Antonio on Mondays with his new party "What the Funk."
On a slightly different vibe, but no less low-down-having-it-funky, is beautiful, glamorous Atzaro's hotly anticipated summer dancefloor event Mischief.
100% not your standard party nor venue, ladies & gents.
Every Saturday, from July 14th until Sept 1st, those notoriously mischievous Ibiza-resident DJs, Tom Grimes, Joshua, Blackbeard & Lisa Chadderton will be rocking the living daylights out of that plush, Atzaro country estate. In fact, word has it that the funk is so strong at this shindig that all your previously hard-earned extreme Ibiza dancing records may well be smashed.
The opening party on the 14th is sooo in the Ibiza Villas 2000 bloggers diaries, yes siree!
The events start each week at 7pm until late with free entry.  Dinner reservations for the Summer Garden Restaurant can be made on 0034 971338838.  The Japanese bar with food and cocktails is also open and there is a programme of exhibitions taking place across the summer.  
And that, as they say, is just the tip of the iceberg.
Whatever floats your clubbing and party boat, you'll find it going on in July in Ibiza.
Guaranteed!
Which restaurants are great to visit in July?
's Ibiza is blessed to be jam-packed with countless wonderful restaurants of all gastronomical tastes and budgets.
Our top tip for July is to head into Ibiza Town. By now the clubs are in full swing and the flamboyant party parades that take place around the port every evening are a sight to behold and present the most amazing photo opportunities of Ibiza's iconic nightlife.
Just a few steps away from all the action and nestled in the walls of the historic Dalt Vila,  you will find the wonderful El Portalon.
El Portalón restaurant, Dalt Vila, Ibiza | photo by Cat Milton
Stylish, friendly and with impressive eye to detail, El Portalon has earned an incredible reputation for serving modern Ibicencan cuisine from sustainably grown and sourced food…much of which actually comes directly from the owner's farm.
Trust us, this will be a meal you're unlikely to forget in a hurry.
Take a look here to see what Ibiza Villa 2000's restaurant reviewer, Tim, had to say when he had the pleasure of dining at El Portalon last year.
Special events in Ibiza during July
And now for something a little bit different.
A colourful traditional fiesta day, steeped in history, takes place on Monday 16th July.
We're talking about "Nuestra Señora del Carmen" or "Virgen del Carmen."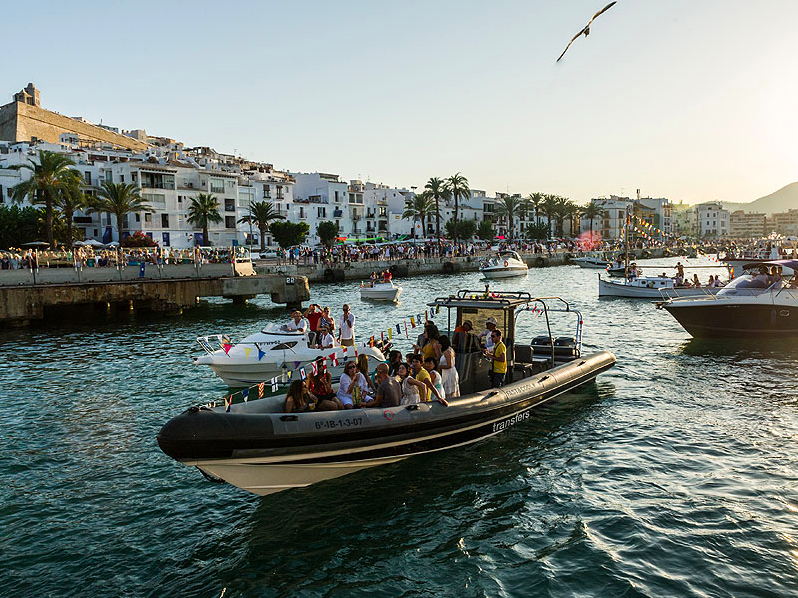 Virgen del Carmen is the Patron Saint of all fishermen and seafarers. She is honoured on 16th July every year in San Antonio, Ibiza Town and Formentera when the local fishermen carry a statue of the Virgin through the streets.
There then follows a procession of flower-bedecked boats all around the harbour.
Complete with music, horns blaring and sailors in full uniform, this rousing and popular fiesta can be enjoyed by locals and visitors alike.
Definitely one for the diary.
Stuff for families to do
One thing we can say with absolute certainty.
If you're visiting Ibiza in July with the family, you'll not be short of things to do.
One particularly fun suggestion would have to be a visit to Ocean Mania Ibiza in San Antonio.
This is an inflatable obstacle course, influenced by the hit TV series "Total Wipeout" which sits 50 metres out in the sea just across from Ocean Beach Ibiza. Check it out.
Here you can try your hand at rope swings, catapults, balancing beams and high dives. There are also slides and trampolines for some good old fashioned bouncy, splashy fun.
Having been re-designed for 2018 with new, improved obstacles and longer slides, Ocean Mania is open every day from 11.00 hrs – 20.00 hrs.
Transport
If you are hiring a car, the roads this month can be hectic and sometimes a tad chaotic. Always give yourself plenty of time to arrive where you are going and please, always have your wits about you. Lots of folks unfamiliar with the roads & their hire cars is a potential recipe for accidents.
We know we don't need to remind you, dear reader, that partying and driving is a REALLY bad idea.
Stay safe, boys and girls. Designated driver all the way.
Public transport is at its best and most regular during July. As we mentioned earlier, the disco buses, indeed the full bus service, are a great way of getting to the main towns and resorts easily.
Water taxis are fabulous, too.
It is worth bearing in mind that, during July, the taxis are extremely busy so expect a bit of a wait and factor that into your travel plans.
So, that is your lot from us for this month. We hope you enjoyed our guide to Ibiza in July.
Don't forget to tune in for next month's installment when we will be discussing…go on, have a guess.
Yes, that's right – Ibiza in August!
See you then.
Words | Jinny Throup  Images | Various
Don't want to miss our special villa rental offers and discount deals? Sign up for our monthly newsletter!
Planning a trip to Ibiza? Interested in great value Ibiza villa rental in and around San Antonio, Playa D'en Bossa or Ibiza Town? Check out our lush Ibiza villa collection, with affordable prices, short-term and weekend breaks welcome. Like us on Facebook or follow us on  Twitter / Instagram to be the first to hear about our fantastic special offers. Looking for a detailed guide telling you everything you need to know about Ibiza villa holidays (and how to avoid the pitfalls)? Check out our 2018 insiders guide to Ibiza villa rentals and you'll be clued up in no time!