Our new Ibiza holiday rental hotel in San Antonio
Everyone knows that Ibiza hotel can be expensive and this year is no exception. That's why we are excited to launch our new apartment hotel (Marian Apartment Ibiza) as part of the Ibiza Villa 2000 offering. Situated right in the heart of San Antonio it's the perfect spot to enjoy all the nightlife that San An has to offer. Great value holidays are what we built our successful villa business on for 20 years and Marian apartments are a fantastic addition to the Ibiza Villa 2000 portfolio.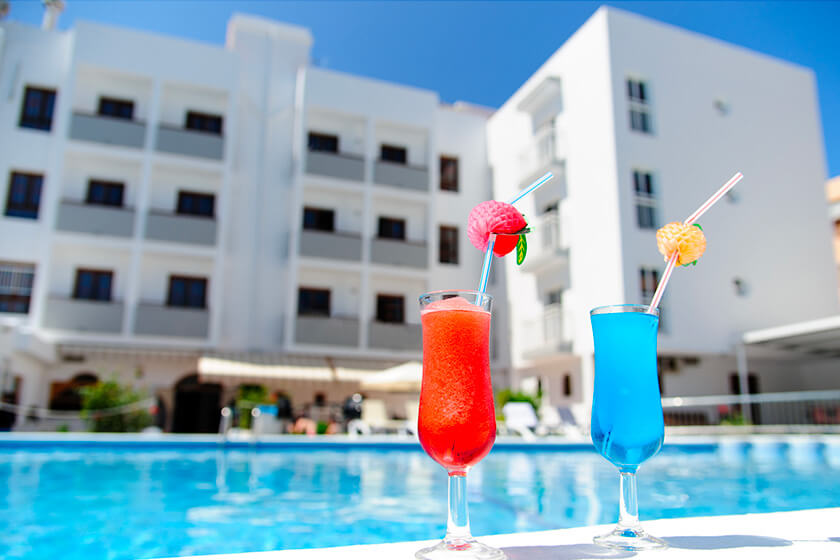 We believe that low prices don't have to mean low standards, in fact, we pride ourselves on delivering fantastic Ibiza holidays for a really great price. Hotel Marian offers newly decorated 1 and 2 bedroom apartments with all the home comforts that you would expect. Each apartment comes with a full kitchen, separate bedroom(s), a living room with a double sofa bed, and a bathroom with a shower and bathtub. Everything you'll ever need! What's more, the complex boasts a large pool with a sun deck and a bar restaurant.
Run by our local friendly team you can expect the same great service and assistance that we have offered our Ibiza villa customers over the years. Plus all of our extra services also apply to guests staying in the hotel, bag drop, rental car service, boat charter, early check-in and late check-out. What's not to like?
To celebrate this new addition to the Ibiza Villas 2000 family we are offering these apartments for as little as 30€ per person, per night (when the apartment is fully occupied) during May and June. If you are a group we can even offer you a whole floor of the building!
The best thing is that at prices this low you will be left with plenty of cash to spend on those all-important opening parties!