Winter in Ibiza
Despite Ibiza being mainly thought of as a summer destination, it may surprise you to know that winter in Ibiza does exist…and sometimes it even gets a little bit cold. Up until the recent catastrophic world wide events, Ibiza still received many holiday makers during the winter months. Of course 2020/2021 has been the exception to the rule, as stricter lockdowns are being seen across most European countries but for many Ibiza is still a safe haven with its mild climate, beautiful beaches and relaxed vibe.
So what to do in Ibiza during the down season?
Weather in Ibiza
The Ibiza weather can be sometimes a little erratic but you can expect temperatures from 3℃ to around 15℃ and many people still very bravely take to the seas for a swim during the winter months. For many a holiday in Ibiza is simply for the summer months but one of Ibizas big secrets is how much fun it can be in the winter too.
Many of the chiringuitos remain open including The Jockey club and Yemanja. And what better way to round off a winter swim or walk than with some well deserved liquid refreshment?
WALKING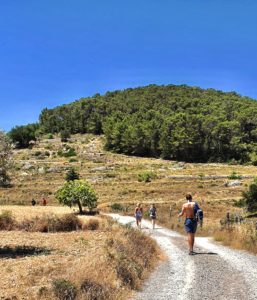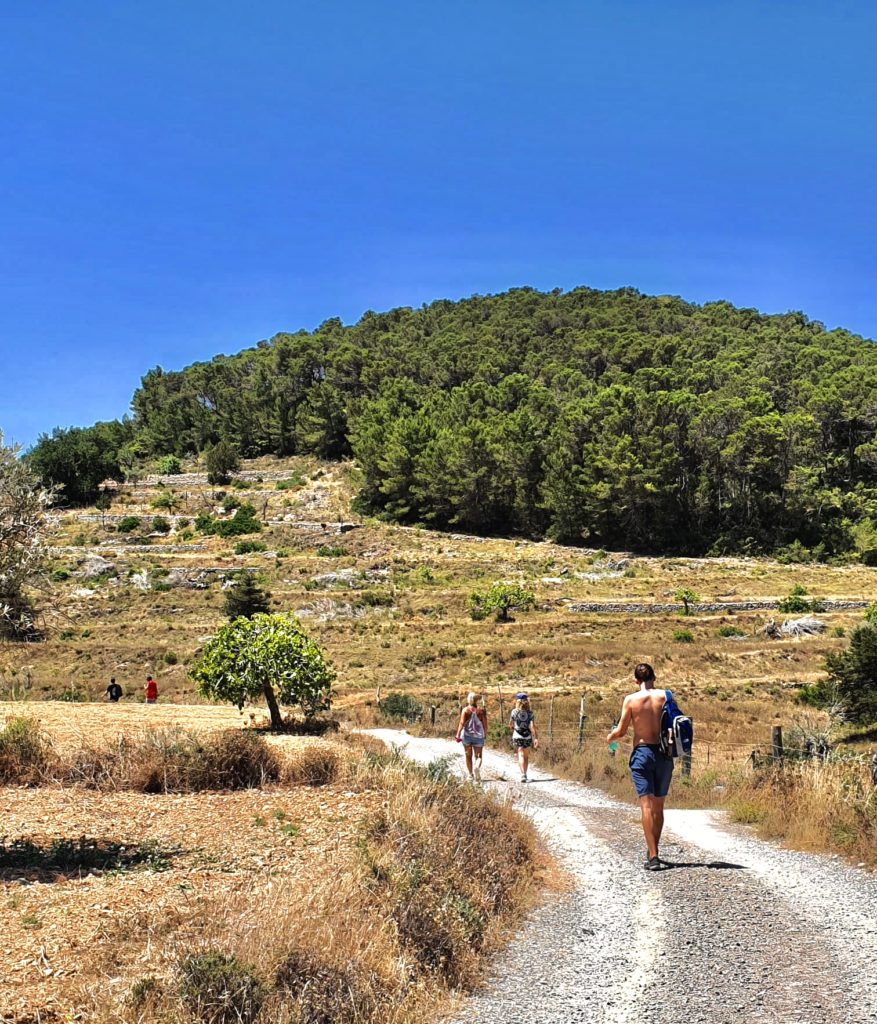 There are many walks to be enjoyed in Ibiza throughout the year and although we wouldn't advise some of them in the August heat, many people do enjoy them all year round. 
Walking Ibiza offers an all year round schedule of Walks and Kayaking that can be done in groups or privately. Or for those of us who want to enjoy the great outdoors but without quite so much effort they even offer electric bike tours!
PORTINATX – THE TALLEST LIGHTHOUSE
This 2.5 hour walk starts at Cala D'en Serra and continues along the steep cliff tops and rugged Northern coastline before finally arriving at Faro des Moscarter which is the tallest lighthouse in the Balearics. ADD LINK
CLASSIC FRIDAY WALK – BOSSA TO CAVALLET THE 7 SISTERS
If you ever wondered what happens to the popular Playa Den Bossa and Salinas beaches during the winter this 4.5 hour walk allows you to fully appreciate the beauty of this normally bustling coastline. Also called the seven peaks it's not for the faint hearted but well worth it. 
BOAT CHARTERS
Many people are looking for ways to reduce their contact with other groups and there is no better way to guarantee this than hiring a boat and enjoying a trip around the Island. Pack a picnic and a few bottles of fizz to really feel like you are living the high life. You will need a few blankets but enjoying a sunset with friends is definitely worth it. Prices start from around €500. Check out Fancy Boats Ibiza and Smart Charter for prices and availability.
MARKETS
Ibiza's winter markets are always busy and provide the perfect place to pick up a bargain plus a great place to socialise and meet friends. 
San Jordi market has now been running for over 25 years and is an Ibiza institution. Selling everything from second hand clothes, books and records to jewellery, leather goods and homeware it really is the best place to hang out on a Saturday morning. Based at the hippodrome just by the village of San Jordi it is a popular hangout for both residents and tourists alike. Get there early to bag the best second hand bargains.
Las Dalias Hippy market is situated in San Carlos in the North of the Island. It holds its weekly Market throughout the winter on both Saturdays and Sundays. With the Islands best handmade arts and crafts on sale it's the perfect place to while away a few hours at the weekend. Each week has a variety of music events and of course don't miss out on their infamous stone baked pizza in the garden. 
SUNSETS
The legendary Ibiza sunsets get even better as the days get colder. With the sunset strip all packed away ready for the summer one of the most popular places to grab a winter sundowner is Hostel la Torre. Situated in Cap Negret just outside of San Antonio it's the perfect place to forget your troubles. Although it is open most nights booking is advisable as it does get very busy.
If you really want to avoid the crowds then head to one of the beaches on the Southwest coast, depending on the time of year, Cala Tarida, Cala Vedella and Es Cubells all offer stunning sunset locations without the usual summer hordes. 
GRAB A COPA
If there is one thing the people of Ibiza love to do it is get together with friends and this winter has been no exception. Despite the lockdowns, for the majority of the winter a large number of bars and restaurants have remained open. Of course people have met in much smaller numbers (generally less than 6 to a table outside) but there is nothing better than enjoying a glass of red in Ibizas Plaza del Parque with friends. Try Hostel Parque for Champagne and Oysters or Locals Only for locally sourced, hearty Mediterranean cuisine.  
Just like the rest of the planet Ibiza has had a strange and difficult winter 2020/2021 but its inhabitants have still continued to squeeze fun out of the Island (Albeit in a very socially distanced way) For many the winter is the deep breath we take before another frenzied Ibiza summer begins and this year is no exception.