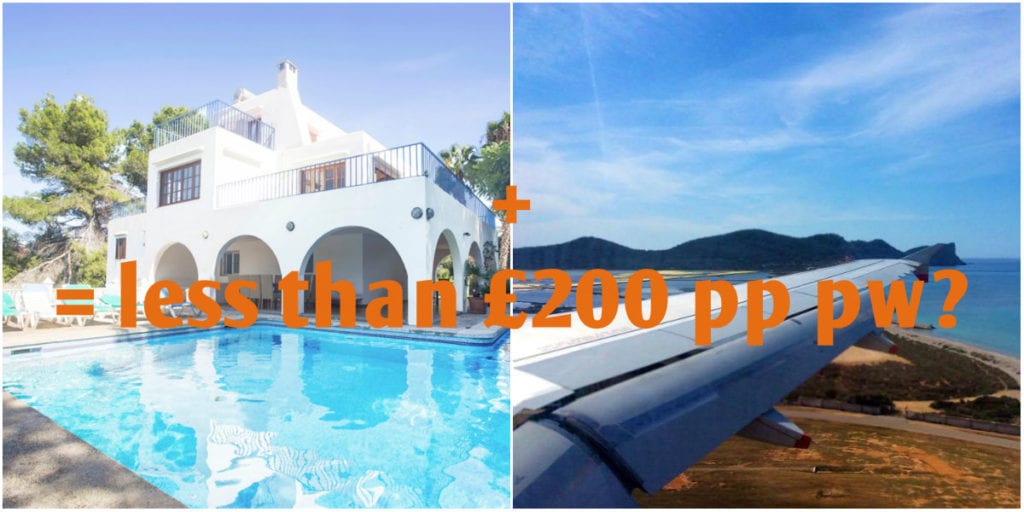 We've got something a little bit different to share with you for this week's Ibiza villa rental discount deal.
And we think you're going to like it. We're going to show you how you can rent an Ibiza villa for a whole week AND get your flights, for less than a couple of hundred nicker per person. Sound tempting? Read on!
Last-minute September
To begin with. You know that for the last few weeks, we've been offering 20% off the price of ALL remaining September 2017* villas and dates, right? Well, we're happy to say that this is still the case. So, why not take a moment and browse our full collection of great value villas. We're sure there will be something there to tickle your fancy!
Sweet October
Now, let's talk about October, shall we? If you've never visited Ibiza in October, well you are missing out on a real treat. The island steadies herself down to a lovely, chilled vibe after the hubris of the high season. The roads are quiet. The beaches are wonderfully tranquil. The weather is gorgeous. Lots of bars, restaurants and clubs are still open, and things tend to be less expensive (always a bonus, right?!)
Super low prices on villa rental
For instance, take our very own villa rental prices during October. To say they are a steal would be an understatement of epic proportions. Ranging from £1300 – £1800 per week (depending on the size of the villa), you're often looking at less than £100 per person. FOR A WHOLE WEEK!! The bigger the group, the smaller the price per head.
Closing parties & cheap flights
Into the bargain, a couple of this year's biggest closing parties are happening later than usual. Instead of the first weekend in October, they will take place more towards the middle of the month with DC10 closing on Monday 9th October & Amnesia on Saturday 14th. This is fantastic news because we've been checking out UK flights that coincide…and they are ridiculously cheap. From just £22 in fact. Oh, thank you, Easyjet!
Here are just a few examples:
Sunday 8th October, London Luton – Ibiza £49
Wednesday 11th October, London Southend – Ibiza £22.24
Thursday 12th October, Luton – Ibiza £23.54
Thursday 12th October, Gatwick – Ibiza £36.24
Friday 13th October, Gatwick – Ibiza £49.49
So, cheap flights + a super affordable Ibiza villa rental = an unforgettable Ibiza holiday at a fraction of the price you would normally pay.
And awesome closing parties to boot.
What's not to like?
Our advice to you, ladies and gents, is to gather your nearest and dearest right now, take your pick of our gorgeous villas in San Antonio, Ibiza Town and Playa d'en Bossa and prepare for a stupendous and wallet-friendly off-season holiday in Ibiza.
A word about safe villa bookings
Here at Ibiza Villas 2000, we take the safety of your booking very seriously because as most of us know, there are some unscrupulous scam rental sites out there. It's super important to know the right checks to make before you book any Ibiza villa – with anyone. We urge you to ensure your booking is safe by reading and acting upon these instructions.
Grab yourself a mahoosive bargain now. Contact us using our quick enquiry form or give us a call on either of the numbers below
UK
0044 204 700 1364
Ibiza
0034 666 934 060
*Villas and special offer dates subject to availability – when they're gone, they're gone!
Words | Jinny Throup
Planning a trip to Ibiza? Interested in great value Ibiza villa rental in and around San Antonio, Playa D'en Bossa or Ibiza Town? Check out our lush Ibiza villa collection, with affordable prices, short-term and weekend breaks welcome. Like us on Facebook or follow us on  Twitter / Instagram to be the first to hear about our fantastic special offers.