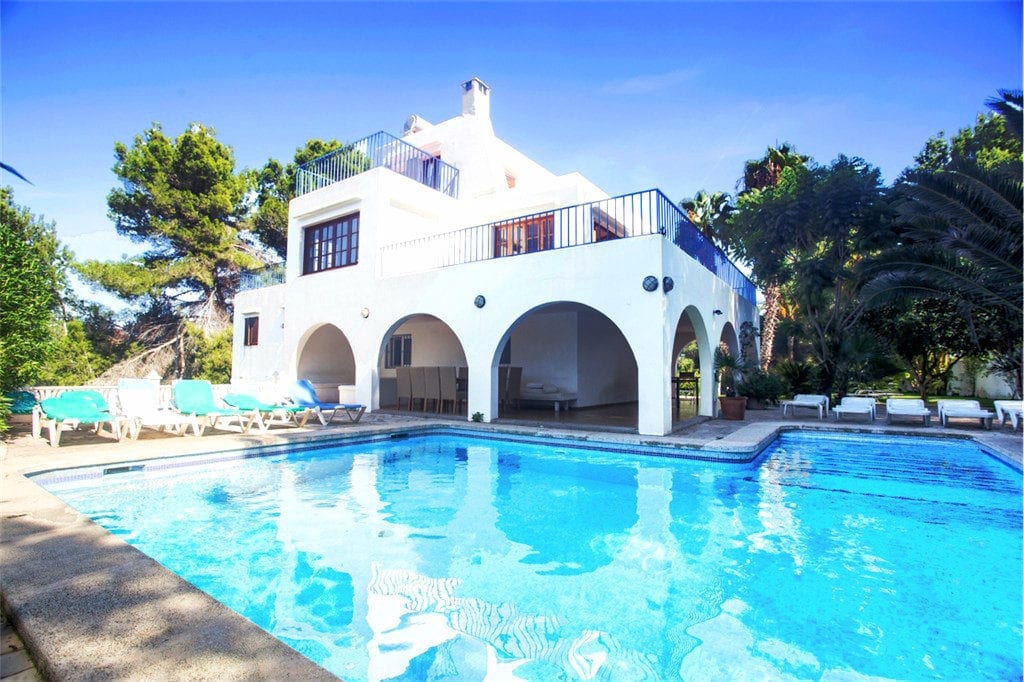 Let's get straight down to it ladies & gents. Today, we've sliced a whopping 25-35% off the rental price of our last few remaining weeks in a range of lush Ibiza summer villas.
Rent an Ibiza summer villa at a price you can afford
Fancy visiting Ibiza in June or July? Well, we've chopped 35% off remaining weeks.*
Prefer to take your Ibiza holiday in August, when the island is in 100% full swing and discounts are practically unheard of? Well, we're slicing 25% off remaining weeks* in August too.
Yes. 25% off IN AUGUST!!
You'll need to act fast because these incredible discounts won't be around for long, folks! You've got until June 14th, 2018 to save a BIG chunk of cash on your 2018 Ibiza summer villa.
Just send us the size of your group plus the dates you're after on our super easy contact form. Or just call us on 0034 666 934 060 (Ibiza) or 0044 204 700 1364 & we'll give you a quick quote with zero obligation.
Save 25%-35% off your June/July/August Ibiza villa rental RIGHT NOW!
Cheap UK-IBZ flights in July & August
A quick glance at Skyscanner reveals some fantastic bargains on UK-IBZ flights from a range of locations throughout July and August. Here are a few for July. Check it out.
And here are a few for August:
Combine these cheap flights with our MAHOOSIVE 25-35% discount on your villa rental & here's your chance to get a mega bargain 2018 Ibiza summer holiday.
Looking for a short break in Ibiza, not a full week?
Don't want to come to Ibiza for the whole week? No problem! Whether you're looking for a holiday in San Antonio, Ibiza Town or Playa d'en Bossa, just bang straight on through to the special offers page where a whole host of fantastic short-break deals are at your fingertips in a flash.
Grab yourself a bargain right now
Remember, this offer ends on June 14th, 2018, so get in there while you can, ladies & gents.
Contact us using our quick enquiry form or give us a call on either of the numbers below:
UK
0044 204 700 1364
Ibiza
0034 666 934 060
Safe villa bookings
Here at Ibiza Villas 2000, we take the safety of your booking very seriously because there are some unscrupulous scam rental sites out there. It's important to know the right checks to make before you book any Ibiza villa – with anyone. We urge you to ensure your booking is safe by reading and acting upon these instructions.
*Selected villas and special offer dates subject to availability – when they're gone, they're gone!
Don't want to miss our special villa rental offers and discount deals? Sign up to our monthly newsletter!
Words | Jane C
Planning a trip to Ibiza? Interested in great value Ibiza villa rental in and around San Antonio, Playa D'en Bossa or Ibiza Town? Check out our lush Ibiza villa collection, with affordable prices, short-term and weekend breaks welcome. Like us on Facebook or follow us on  Twitter / Instagram to be the first to hear about our fantastic special offers. looking for a detailed guide telling you everything you need to know about Ibiza villa holidays (and how to avoid the pitfalls)? Check out our 2018 insiders guide to Ibiza villa rentals and you'll be clued up in no time!