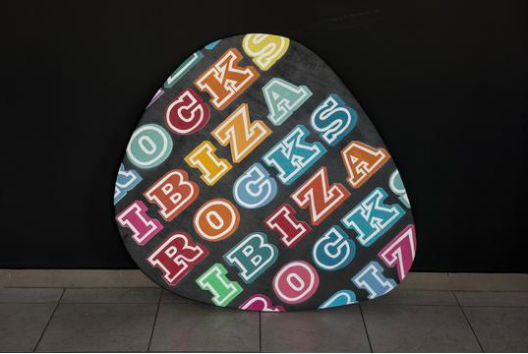 Just before the globally renowned Ibiza Rocks Hotel opened its doors this summer, globally acclaimed street artist Ben Eine popped over for a visit.
Once there, he handpainted his version of the iconic Ibiza Rocks logo onto a giant plectrum measuring over a metre (120cm) high.
Off the Cool-o-metre!
Wish it was yours?
Well…
You can win this uber-cool Ibiza Rocks artwork + a FREE Ibiza holiday for x 2!
For just a €2 entry fee, one lucky person will not only win this valuable artwork but also bag a trip for 2 to the beautiful White Isle at the end of the season. There, the winner can proudly collect their prize in person, all whilst enjoying a free stay at Ibiza Rocks Hotel – the home of the coolest pool parties in Ibiza.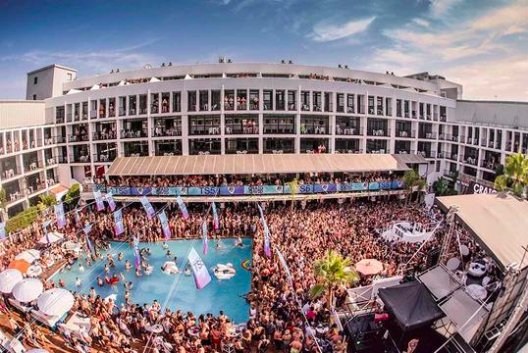 All money raised will go to The Hepatitis C Trust and its campaign to eliminate hepatitis C. The Trust is so nearly at the point of realising this ambitious target, it just needs that one final push to make elimination a reality.
Most exciting of all NHS England has announced its ambition to eliminate this virus by 2025.
Entry is easy just click here – multiple entries are allowed and the more entries you make the bigger your chance of winning this exceptional prize.
Closing date for entries September 23rd, 2018.
More prizes up for grabs each month
While Ben was visiting Ibiza Rocks Hotel he also painted a wall or two to really make his mark on Ibiza Rocks' biggest summer season yet. This 2018 season is stuffed with no less than 58 pool parties(!) featuring huge residencies from major artists including Craig David, Rudimental and MK. Not to mention Stormzy's #MERKY Festival amongst many more.
Photo competition
Visiting Ibiza Rocks Hotel this summer? Here's your chance to win one of a heap more prizes each month! Simply snap a photo of yourself in front of Ben's stunning statement wall art with these 3 hashtags:
#Artonapostcard
#Ibizarocks
#BenEine
The best photo will receive a unique giveaway each month until the closing date in September (e.g mini Ben Eine plectrum, Ben Eine x Ibiza Rocks T-shirt or even a limited-edition plectrum print)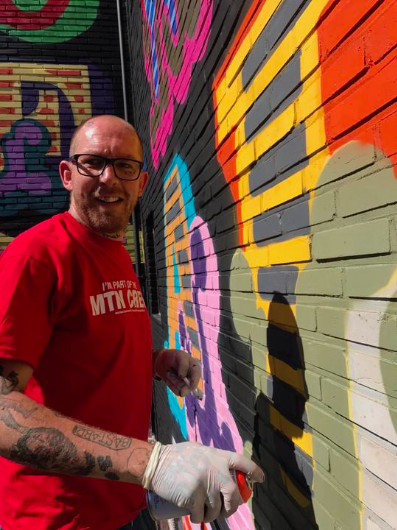 About Ben Eine
"Born in London, Ben Eine is one of the most successful street artists in the world and is regarded as a pioneer in the exploration of graffiti letterforms. Originally a writer, Eine started his career over 25 years ago, leaving his first tag all over London before developing his distinct typographic style. Eine's aim was to point out that street art is distinct from graffiti. He believed "street artists want to add something to the environment. They consider the audience, whereas graffiti writers don't care about anyone except themselves, they do it purely for the kick". Eine's bright and colourful letters were created to stand out from the usual tags and dubs seen on the streets and can still be found in areas of East London. These letters appear on shop shutters and often spell whole words across walls. Eine first came to prominence in the "commercial" graffiti scene through his symbiotic partnership with London graffiti artist Banksy. In 2010 the UK Prime Minister David Cameron gifted his artwork to President Obama, while a particular area of the East End was named 'Alphabet City' after his colourful array of shopfront 'shutter art'. Currently, Ben Eine's work is held in the permanent collections of the V&A, London, The Museum of Modern Art, Los Angeles and galleries worldwide, while his street artworks can be seen all over the world, most recently he completed a huge mural on the British Embassy in Abu Dhabi."
Words | Jane C
Planning a trip to Ibiza? Interested in great value Ibiza villa rental in and around San Antonio, Playa D'en Bossa or Ibiza Town? Check out our lush Ibiza villa collection, with affordable prices, short-term and weekend breaks welcome. Like us on Facebook or follow us on  Twitter / Instagram to be the first to hear about our fantastic special offers. looking for a detailed guide telling you everything you need to know about Ibiza villa holidays (and how to avoid the pitfalls)? Check out our 2018 insiders guide to Ibiza villa rentals and you'll be clued up in no time!