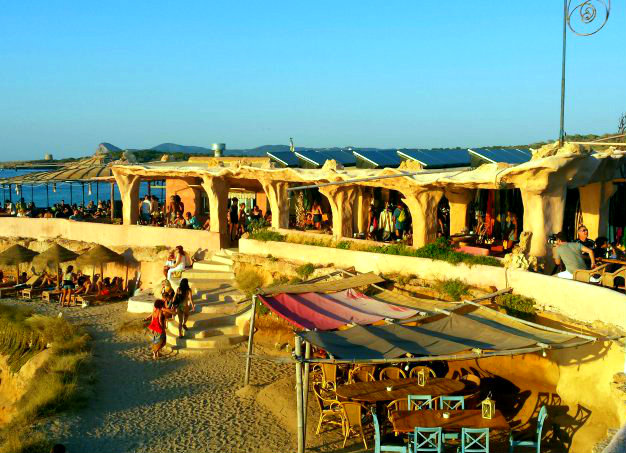 Is anyone out there wondering about a cheeky break to Ibiza in May?
Yes, we thought so!
First of all, congratulations. What you're contemplating is a top call.
Why?
Well, read on, and we'll spill all the tasty beans.
What's the weather like in Ibiza in May?
By the time we get to May, things are really hotting up here on the White Isle.
Average daily temperatures at the beginning of the month are 16.5C rising to 22C by late May. There may be some light showers but, by now, there is usually less probability of rain. And we're up to about 12 hours of sunshine per day.
Yippee!
During the day, you will be comfortable in shorts and t-shirts, even swimwear on the hotter days, but you'll be glad of long sleeves or a light jacket in the evening.
The sea is still quite cool with an average temperature of around 18C. Perfect for a refreshing dip!
As well as the fact that the island is still in full spring bloom, Ibiza in May has the added advantage of not being too hot for midday exertions.
One relatively little-known but oh-so-pleasant example would be driving to the north of the island and taking a cliff-walk to the amazing lighthouse at Portinatx.
We suggest this for a few reasons.
Firstly, the drive itself to Portinatx is, in our opinion, one of the prettiest routes on the island.
Think twisting mountain roads.
Pine forests.
Shimmering turquoise sea.
Golden sands.
Craggy cliffs.
In fact, Portinatx is sooo stunningly beautiful, it was chosen to star as paradise in the film South Pacific.
Now, that's beauty off-the-radar.
Having parked, the walk to the lighthouse takes about 40 minutes and you'll need good footwear as the path along the cliff edge can be quite rocky. There are also some moderately steep climbs in places.
But the views?
Man, oh, man!
Suffice to say, photo opportunities by the bucket-load to capture Ibiza's supreme and dazzling beauty.
Built in 1975, Punta d'es Moscarter lighthouse stands at 24 metres tall. Which makes it the tallest lighthouse in the Balearics, don't you know?
Standing below and gazing up at it is pretty awe-inspiring, to say the least.
Looking back in the opposite direction, you also have the chance to see another of Portinatx's famous landmarks; an ancient pirate tower. And on a really clear day, you can even see Mallorca in the distance.
After such an invigorating walk, you'll be pleased to hear that there is a lovely little beach bar for refreshments when you reach the bottom of the cliff.
Result!
How are prices?
During May, prices for flights vary a great deal so it's worth spending some time shopping around.
Good news for northerners. Jet2 start their flights to Ibiza in May. They fly from Belfast International, Birmingham, East Midlands, Edinburgh, Glasgow International, Leeds Bradford, Manchester and, in a nod to the south, also London Stansted. You're probably looking at around 100€ – 150€ return flight to Ibiza with Jet2 in May.
Easy Jet are also now in the running. They fly from all London airports and you can bag a round trip for around 80€ at the beginning of the month. But by late May, you're looking at 200€ – 300€ return.
As far as prices go when you're actually here on the island? It's true, this is the month when many things do start to increase from the lower prices of winter. But we're not quite in peak season yet, so there are plenty of special offers around & you can still get yourself some fabulous deals on villa rental and car hire.
Most of the "tourist" restaurants and bars that have been closed during winter re-open in May and their prices are often higher than the "local" year-round ones.
Pick and choose wisely, dear holiday-maker.
It's more than possible to make a May break in Ibiza perfectly affordable.
Which beaches are best?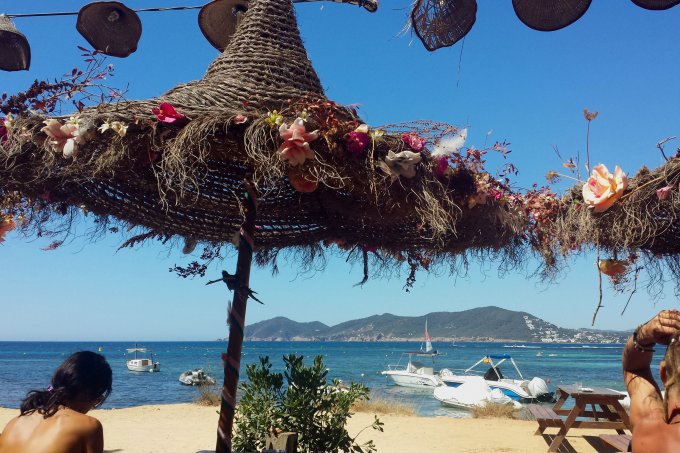 Phew. This is a toughie!
You see, by May, all the beaches are glorious. It's now official sunbathing weather so sunbed concessions are out. And there is space. Everywhere! The huge crowds of the high season have yet to arrive so Ibiza beaches in May are the perfect place to chill out.
But, if you were to twist our arm, we would probably recommend Cala Martina as a gorgeous beach to visit during May in Ibiza.
Located on the east coast of Ibiza, close to Es Cana, this picturesque beach is popular with Spanish locals and holidaymakers alike. It is a very cool place to hang out if you want to experience a typical chilled Ibiza beach vibe.
There are a few bars and restaurants along the beach, but Cala Martina is most famed for its Beach Bar Chirincana which opens its doors for the season on 2nd May.
Definitely well worth a visit for bonafide hippie vibes, regular live music events and some great veggie/vegan options (psst, the pizzas are legendary).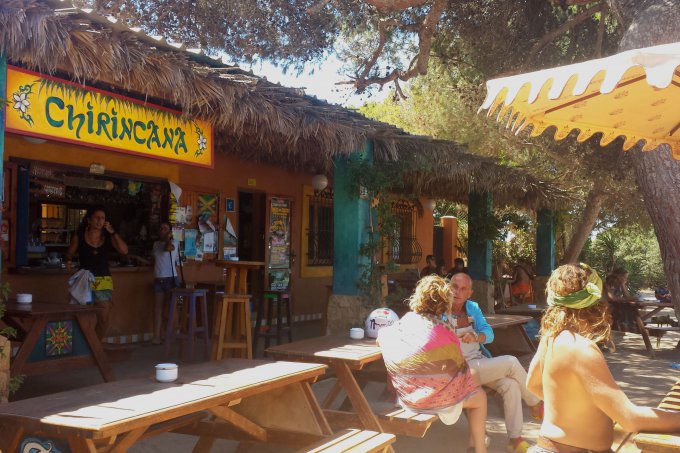 Parking is a bit tight here, so if you're arriving by car, it's best to park on the road between the beach and Es Cana and then stroll down to Cala Martina.
Or you can hop on a bus from Santa Eulalia.
What's the countryside like during May?
Still glorious, colourful and vibrant!
So, here's an idea.
How about experiencing the spectacular Ibiza countryside on an unforgettable horse-riding trek with Ibiza Horse Valley?
All of this non-profit organisation's horses are rescue horses that have been lovingly rehabilitated and live happily as a herd in an amazing sanctuary near San Juan.
Suitable from 12 years upwards for beginners and experienced riders alike, Ibiza Horse Valley will provide expert instruction and day you won't forget in a hurry.
Check it out.
What's going on in the towns?
There's certainly no shortage of cool things to do in the towns during May in Ibiza.
High street businesses are now fully open as are all bars and restaurants.
One major town event of particular note that you won't want to miss is Santa Eulalia's First Sunday in May festival.
This is one of the oldest traditions on the island has quite an interesting tale behind it.
You see, prior to Santa Eulalia's church, Puig de Missa, being built in 1568, there was a small chapel in that same location on top of the cliff. According to legend, one year on the first Sunday in May, the chapel inexplicably slid down the face of the cliff and into the sea. Remarkably, the congregation had left the chapel just moments before and nobody was hurt. The incident was, therefore, proclaimed a miracle.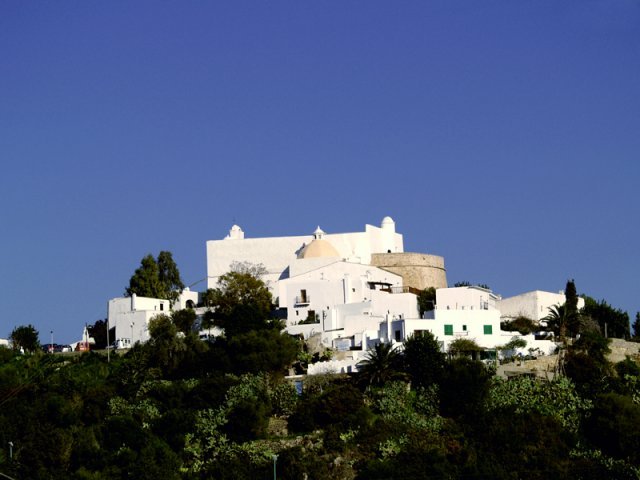 Every year since Santa Eulalia has honoured and celebrated this divine intervention on the first Sunday of May.
This year, the festival takes place on Sunday 6th May. The celebrations start after morning mass with displays of traditional Ibiza folk dancing and processions of colourful horse-drawn carts. There is a beautiful flower and plant exhibition, plenty of fun and games for the kids, live music and, of course, feasting and drinking aplenty.
Traditional Ibiza at her best!
What's the clubbing scene like in May?
May is the official start of Ibiza's clubbing season and the month when the first massive opening parties kick off.
It's epic.
But this year, one of the biggest pieces of clubbing news is that, after years at Amnesia, the mighty Cocoon has now moved to Pacha.
Whoa!!
Cocoon at Pacha Ibiza Grand Opening takes place on Wednesday 30th May from 11.59 PM – 6AM with Sven Vath headlining in the main room.
Be there if you want to be part of Ibiza clubbing history.
May is also the month when the annual Ibiza International Music Summit (IMS) takes place.
This is a three-day event when the most influential figures in the industry come together to unite and connect. To inspire, build connections and propel the global dance scene forward.
The finale is a concert in Dalt Vila, Ibiza Town on 25th May from 17.00 – 23.59. Superstar DJs such as Sven Vath, Jackmaster and Peggy Gou will be sharing the stage with new and exciting emerging artists.
Always a firm favourite in the Ibiza clubbing calendar.
For something a bit more soulful and funky, get yourself to the former Zaibiza (near Sinbad and Nobu Hotel) in Talamanca. Presented by local DJ and all-round good-egg, Scott Gray, Chapter Sunset Soul Sessions take place every Friday from 17.30 – 20.30.
Sit back, chill out with an aperitif and let the good vibes flow.
All details can be found on the FB Event page here.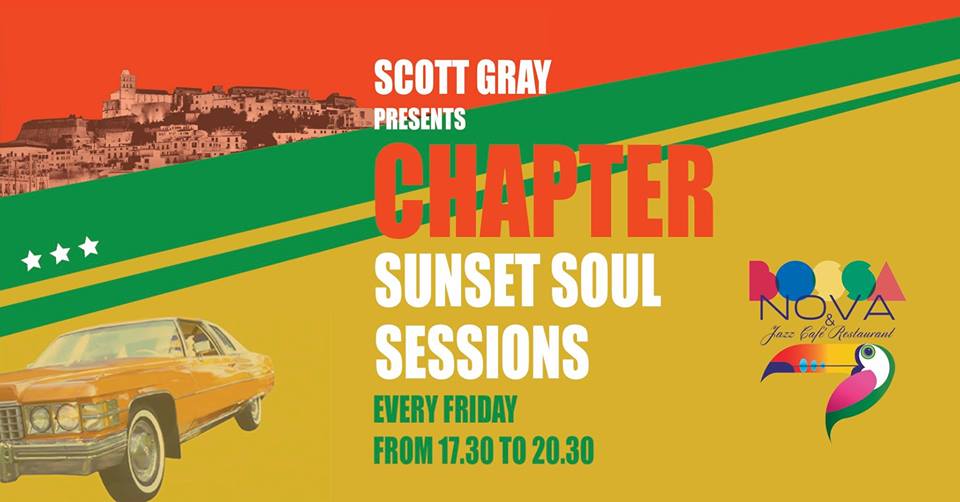 Which restaurants are great to visit in May?
From May, most high-end Ibiza beach bars and restaurants are open.
We're talking the likes of Babylon Beach, KM5, Experimental Beach and Amante Ibiza to name but a few.
For something a little different, we say check out La Huerta Organic Food Experience at Agroturismo Can Jaume in Puig den Valls.
Here, various restaurants have stands displaying their specialities tapas-style so you can try out many different healthy and organic dishes underneath the orange trees in the agroturismo's beautiful gardens.
La Huerta takes place every Thursday and Sunday from 9am to 3pm. Head along for a truly unique and innovative "organic food experience." Details can be found on their Facebook page here.
Special events in Ibiza during May
Every year during the second weekend of May, Ibiza celebrates its World Heritage status with a Medieval Festival within the fortified walls of Dalt Vila.
This year, the festival opens on Thursday 10th May at 6pm with a welcoming parade, opening spectacle and Medieval tournament in Reina Sofia Park. The market runs Friday 11th May until Sunday 13th May from 10am.
Trust us, if you are on the island, you really don't want to miss this!
One of the island's most atmospheric festivals, the council pulls out all the stops to ensure the medieval theme is as genuine as possible.
The cobbled streets of Dalt Vila are strung with pennants and flags. Decorated market stalls, with vendors dressed in Medieval garb, sell all manner of leather goods, exotic spices, cheeses, sweets, jewellery, toys, soaps, amongst a plethora of other wares.
What else?
Well, there are street entertainers.
Minstrels wandering around playing their pipes, drums and mandolins.
Countless food stalls selling anything from sweet-smelling crepes to roasted meat and falafel.
And certainly no shortage of refreshments, including Moroccan tea, cocktails and ale for a well-earned pick-you-up.
This really is an all-encompassing, colourful and entertaining day out.
Oh, and entry is blissfully free of charge.
Don't blame us if you can exercise no willpower at the market stalls, though!
Stuff for families to do
May in Ibiza sees the opening of the island's water parks.
Always a firm favourite with the kiddies!
The largest water park on the island, Aguamar Water Park in Playa d'en Bossa opens on the 15th May. Opening hours are 10am – 6pm every day of the week and it is possible to buy your tickets in advance to save time.
Sirenis Aquagames Ibiza at the Sirenis Seaview Country Club in Port des Torrent is also open from 10.30am – 6pm. Lucky guests of the Sirenis have free access to the water park, but non-guests have the option to buy passes of their choice.
If aerial adventures are more your family's thing, then you might want to head to Acrobosc Ibiza.
Situated between Santa Eulalia and Es Cana, Acrobosc Ibiza is a wonderful outdoor adventure park. Safely harnessed, you can try your hand at balancing on tightropes, walking over nets suspended in mid-air, zip lining and trampolining.
Open every day except Monday, this is the perfect activity for all you adventure-loving families.
Transport
From 1st May, the Ibiza buses start running to their summer timetable.
Which means more regularly.
Hurrah!
Also the Ibiza Express Tourist Mini Train starts its excursions around the island. This is a popular and entertaining way to explore off the beaten track, taking in some incredible sightseeing and traditional Ibiza culture.
And joy of all joys, the water taxis start running again!
Without a doubt one of the most pleasant (and affordable) ways to get around the island, especially now that the temperatures are rising.
Nothing like breathing in that sea-breeze as you travel around, ladies and gents!
So, there we have Ibiza in May.
The high summer season is now so close we can taste it.
And it's delicious!
Words | Jinny Throup
Want special villa rental offers and discount deals? Sign up to our newsletter!

Planning a trip to Ibiza? Interested in great value Ibiza villa rental in and around San Antonio, Playa D'en Bossa or Ibiza Town? Check out our lush Ibiza villa collection, with affordable prices, short-term and weekend breaks welcome. Like us on Facebook or follow us on  Twitter / Instagram to be the first to hear about our fantastic special offers. Looking for a detailed guide telling you everything you need to know about Ibiza villa holidays (and how to avoid the pitfalls)? Check out our 2018 insiders guide to Ibiza villa rentals and you'll be clued up in no time!