Ibiza in April
Aaah, Ibiza in April.
What can we say?
Well, quite a lot, actually!
Ladies & gents, we hereby present our in-depth, 2018 guide to the White Isle during the glorious fourth month of the year.
Whats the weather like in Ibiza in April?
By now, sunny days have well and truly arrived. Sure, we might get the odd April shower but, by and large, the weather this month is divine.
The average daily temperature is 15-16C and we get about ten hours of sunshine per day.
April tends to be the month when the first bikinis are spotted on the beach. Admittedly, it's not always warm enough for swimwear, but t-shirts are generally sufficient for during the day with cardigans and light jackets a good call for the cooler evenings.
The sea is still too chilly for most of us to indulge in anything more than a quick paddle, although more and more brave souls are starting to take the plunge.
Ibiza in April can often be a refreshingly breezy time, which creates perfect conditions for wind-based sports such as windsurfing and kite-surfing. If this sounds like your kind of bag, Wet4Fun Ibiza & Formentera and Ibiza Multi-Sport both offer private lessons or courses during the month of April.
This is also a great time to go exploring the most iconic place on the island.
Yep, the fascinating Dalt Vila.
The walled fortress in old Ibiza Town is a higgledy-piggledy maze of cobbled streets and a walk to the top can be quite strenuous in the heat of summer.
Well nice in the cooler climes of April, though!
A sense of timelessness presides here and yet, in spite of its historical significance, Dalt Vila is first and foremost a residential area. It is not unusual to see laundry strung out across balconies and the local Ibiza people going about their day to day business.
Without a doubt, the whole experience of checking out all the intriguing nooks and crannies of this UNESCO protected heritage site is guaranteed to be a memorable one.
But the views from the highest level of the fortress?
Wow. Just, wow!
You can see all the way from the salt flats of Las Salinas on one side, to Marina Botafoch and Talamanca on the other.
Looking down you'll see a mosaic of ramshackle houses with red and orange roofs. And all this with a backdrop of deep green pine-clad hills, sparkling sea and Formentera clearly visible in the distance.
Yes, you'll want to take your camera.
And comfortable, sturdy footwear for those slippery cobbled streets.
How are prices?
As in previous off-season months, you can get a British Airways flight direct from London City Airport to Ibiza for around the 100€ mark.
From the middle of the month, BA also start direct flights to Ibiza from London Heathrow. And the great news is you can bag a return trip for around 150€.
During April, Ryanair start their direct flights to Ibiza from Edinburgh, Glasgow, Birmingham, East Midlands, Leeds Bradford, Liverpool, Manchester, London Stansted and Bristol.
As you'd probably expect, Ryanair are the cheap-flight masters and offer one-way flights from as little as a tenner. Just have a look at this little lot:
Get in!
Once here, April is officially still off-season so you'll find everything refreshingly reasonably priced.
Villa rentals, car hire, club drinks etc are much cheaper than in summer, making a cheeky getaway to Ibiza in April more than affordable.
Which beaches are best?
Well worth a visit for an all-encompassing Ibiza beach experience in April is the fabulous Cala Bassa Beach Club (CBbC).
Situated on the west coast of the island, CBbC comprises a curved, sandy beach of around 250 metres and some of the clearest, most shimmeringly turquoise waters you could ever wish to see.
Wooden walkways provide thoughtful access for the disabled and pushchairs, and the whole bay is surrounded by gnarled, ancient Sabina trees.
Yes, it really is something else!
It is true to say that Cala Bassa Beach Club is a distinctly classy joint. It's not cheap, but you most definitely get what you pay for.
Each area of the beach boasts a different cuisine. Take your pick from exquisite gourmet, sushi, local and Mediterranean fare and more affordably-priced snacks.
Strolling around, you will find many eye-catching and unusual sculptures, with cute boutiques selling all manner of clothing, jewellery and beachwear. There is also a treatment and massage area where you can indulge in a well-deserved pamper session.
Or you may want to chill out with a cocktail in one of the plethora of hammocks, daybeds or Balinese gazebos.
Ah, bliss!
What's the countryside like?
If it is at all possible, Ibiza's villages and their surrounding countryside become even more colourful and beautiful during April.
Fields stretching as far as the eye can see filled with bright red poppies, delicate forget-me-nots, yellow buttercups and giant daisies. There's a whole host of other beauties too that, sadly, are beyond the horticultural knowledge of this writer to name.
Suffice to say, if you haven't got a big smile on your face whilst strolling through the Ibiza countryside in April, well frankly, there's no pleasing you.
Oh, and there are butterflies dancing everywhere, too.
If you fancy a sneak-peak into a traditional Ibiza celebration, then San Jordi is the place to head on Monday 23rd April. This is the day the village celebrates its Patron Saint and coincides with our very own Saint George's Day.
As with most of Ibiza's village festivals, the celebrations take place in and around the church square. You can expect displays of folk dancing in traditional Ibiza garb, processions, music, and lots of feasting and drinking until well into the night.
What's going on in the towns?
By April, Ibiza's main towns are out of their winter slumber mode and there is a definite excitable sense of the forthcoming season in the air.
That said, things are still nice and relaxed and this is an ideal time to participate in activities that might be a tad more trashing in the heat of summer.
For example…
Every Wednesday and Saturday during April, you can enjoy a five-hour food tour around Ibiza Town.
So, how does this all work then?
Well, it is a unique walking tour designed to explore the sights, sounds and tastes of the island's capital.
The tour will take you around local restaurants, markets and shops and you will get to sample over 12 (yes, 12!) different foods and 8 different drinks.
It is an opportunity to discover the stories behind the food and beverages, to meet the owners and chefs, and to learn about local produce.
You will be truly immersed in traditional Ibiza culture, history and food in places that only the locals know about. (Mum's the word!)
Better yet, the guided walking tour around the establishments will work off all of those additional calories nicely.
No guilt necessary.
During April, you'll need to book your food tour in advance, but you can do so easily online here.
What's the clubbing scene like in April?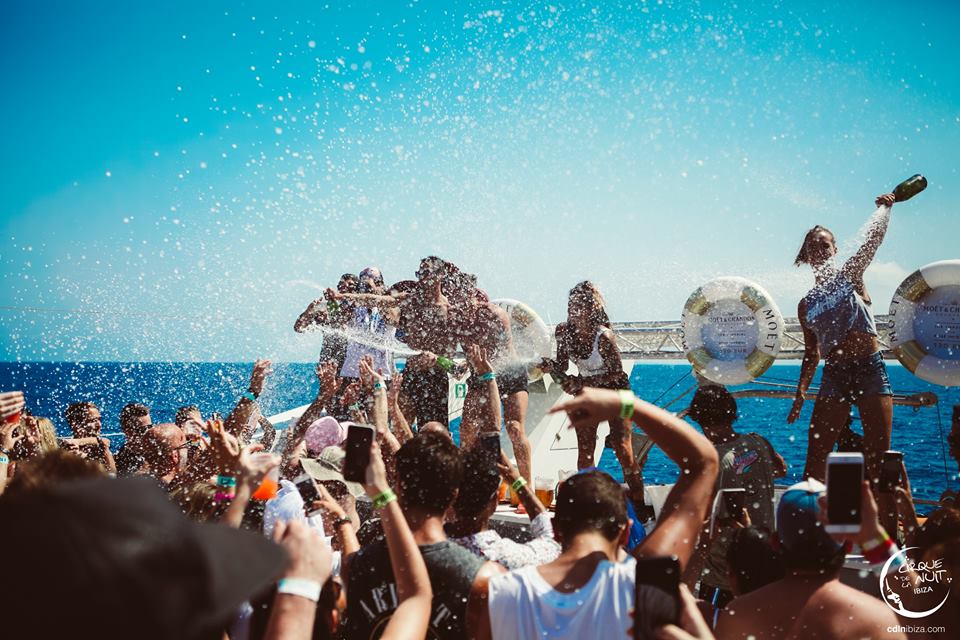 The clubbing scene in Ibiza is really starting to hot up by April.
Boat parties are particularly popular this month.
From Saturday 21st April, Cirque de la Nuit are starting their famous Daytime Boat Parties.
Sailing from Playa d'en Bossa, from 15.00 – 18.30, you can enjoy deep house and techno spun by the resident DJs.
Even better, CDLN also run an open bar formula. We're talking unlimited soft drinks, beer, sangria and cocktails, people.
Nice!
Tickets can be bought safely online via their website.
Another boat party of particular note is Oceanbeat Ibiza Boat Party.
Again, kicking off on the 21st April, the Oceanbeat Ibiza boat leaves Playa d'en Bossa at 13.30, back ashore around 17.30.
This is an altogether more showy party with dancers, animation, champagne showers and the like.
Expect the biggest electronic dance music, mainstream house and Balearic tracks.
On Friday 27th April the (almost) daily poolside sessions at Ocean Beach Ibiza in San Antonio start again.
Hoorah!!
You can just rock up any time between 12.00 and 22.00 to chill out by the pool, enjoy the music and make the most of the daylong restaurants and bar service.
Oh yes, and entry until 19th May is absolutely free!
Which restaurants are great to visit in April?
If you are visiting Ibiza in April then we say get yourselves to the legend that is Bar Anita in San Carlos.
Famed for being the original "hippy bar" of Ibiza, Anita's is incredibly popular with holidaymakers and islanders alike.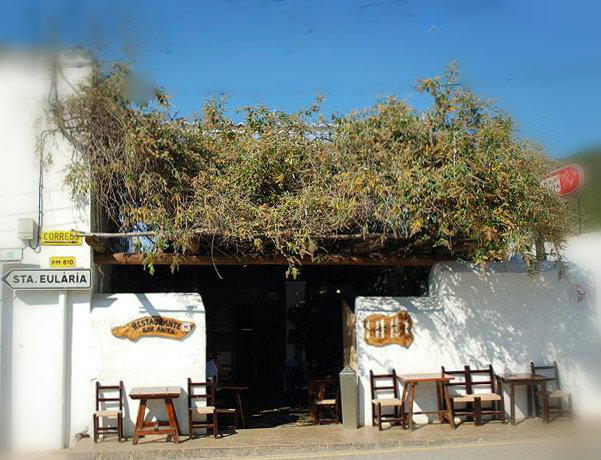 A visit here before the chaos of the summer season begins ensures that you will find a more relaxed and authentic vibe, surrounded by locals and welcomed by the super-friendly staff.
The place is steeped in history. Up until the early '70s it was the home of the village's only telephone. And old-fashioned post boxes which line the walls are still in use to this day.
With its lovely, cobbled courtyard, covered in trees where birds casually swoop in to pick up breadcrumbs from the floor, Anita's is true Ibiza rustic charm at its best.
The menu is extensive, ranging from tapas to full, hearty meals so most palates are well catered for.
And before leaving, make sure to try their own special home-made Hierbas Ibicencas.
Reputed by many to be the best on the island.
Another gem to visit would be Cala Gracioneta Chiringuito in San Antonio which opens its doors again for the season this month.
Our very own restaurant reviewer paid it a visit last season so take a look here to see what he has to say.
'Nuff said!
Special events in Ibiza during April
The first date for the diary is Saturday 14th April as a very special event is occurring.
And it involves wine.
Yay!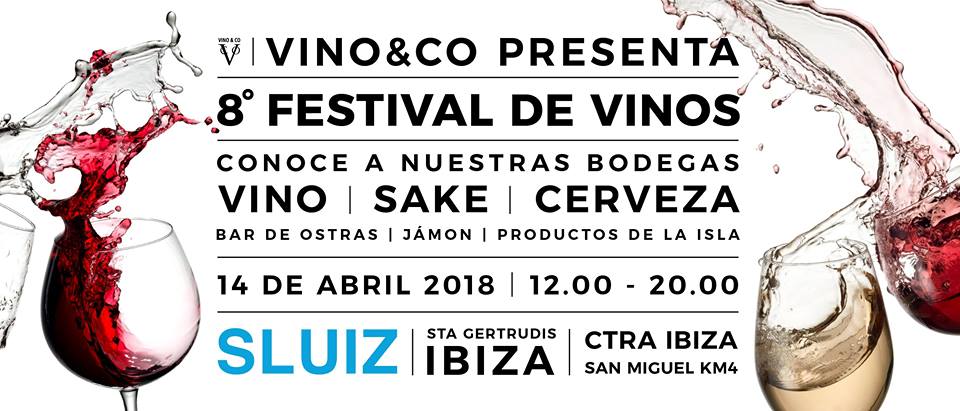 We are talking Vino & Co's 8th annual Festival of Wine which is one of Ibiza's much loved and most anticipated gatherings.
For those not in the know, Vino & Co is a wine shop with a difference situated close to San Jose. They specialise in boutique wines made by small producers who focus on organic, ecological produce.
And they know their stuff.
The Festival of Wine will be hosted by Sluiz in Santa Gertrudis from 12.00 – 20.00.
You pay an entrance fee of 10€ per person which gives you access to all of the stalls where you can taste the wines and chat with the winemaker.
Go on. Guess how many wines there will be available to sample…
Over ONE HUNDRED, ladies & gents.
Did that get your attention?!
There will also be oysters and ham on offer as well as delicious food from Sluiz's own kitchen.
Check out all details on the FB event page right here.
On Sunday 29th April, the beautiful Atzaro Agroturismo will be hosting the Ibiza Spirit Festival.
This is a wonderful holistic event. "A day of joyous celebration that shows us how beautiful life can be."
The festival's wide-ranging programme includes therapies (such as Reiki, massage and cranial sacral), oracle readings, workshops and talks, Yoga, dance and Tantra to name just a few.
There is a fabulous chill-out area and a magical children's garden along with food and drink aplenty.
Live music and DJs provide the perfect soundtrack late into the night for this enchanting and uplifting Ibiza event.
And if those special events alone are not enough to get you gagging to visit Ibiza in April, you're a toughie!
Stuff for families to do
When it comes to family things to do, becoming increasingly popular is Escape Rooms Ibiza.
"Find the detective in you."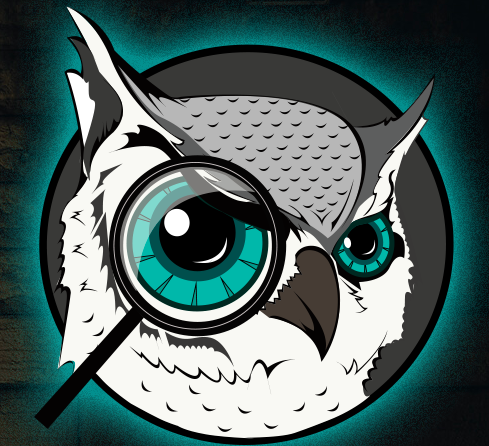 Located in Ibiza Town, Escape Rooms Ibiza offers new and interactive live escape games.
You and the family have to pit your wits to escape a room in 60 minutes. Use all your investigative powers to find clues, solve mysteries, riddles and puzzles, decipher codes and discover hidden gems.
There are four rooms to choose from:-
Sherlock
Wonderland
Crazy Scientist
Zombie Apocalypse (yikes!)
Full of adventure and intrigue, Escape Rooms Ibiza guarantees you an unforgettable experience!
Transport
Again, transport to and around Ibiza in April remains pretty much the same as in February and March.
We're not ones to repeat ourselves, so please do check out the details on our previous article February in Ibiza.
So, there we have it.
Another month closer to summer and, as you can see, Ibiza is constantly changing and often full of surprises.
Of the nice variety, of course.
We hope to see you soon!
Words | Jinny Throup
Want special villa rental offers and discount deals? Sign up to our newsletter!
Planning a trip to Ibiza? Interested in great value Ibiza villa rental in and around San Antonio, Playa D'en Bossa or Ibiza Town? Check out our lush Ibiza villa collection, with affordable prices, short-term and weekend breaks welcome. Like us on Facebook or follow us on  Twitter / Instagram to be the first to hear about our fantastic special offers. Looking for a detailed guide telling you everything you need to know about Ibiza villa holidays (and how to avoid the pitfalls)? Check out our 2018 insiders guide to Ibiza villa rentals and you'll be clued up in no time!