If you've been wondering what February in Ibiza is like (and we know you have) wonder no more!
Read on for our insider's comprehensive guide to the White Isle during this lovely winter month.
We've done the research & condensed it into these 10 essential areas (so that you don't have to).
weather
prices
beaches
villages / rural
towns
clubs
restaurants
special events
families
transport
Into a 5-minute read.
February in Ibiza at your fingertips 😉
Weather
The first thing you're probably wondering is what's the weather in Ibiza like during February?
We won't fancy it up.
February is one of our coldest months.
But it's all relative, isn't it? If you're used to the brutal winters of, say, the UK, the warmer daytime temperatures of Ibiza and the absence of snow and ice will make winter here feel like a walk in the park.
Let's break it down.
The average daytime temperature in February is 10C and we get about eight hours of sunshine per day. Rain and thunderstorms are common, but we do get plenty of sunshine too and when we do, the mid-day sun can be surprisingly warm.
The bright, crisp, clear days of February in Ibiza offer the perfect climate for outdoor pursuits. From workouts on the beach to guided walks in the countryside. Cycling to climbing. Yoga to boxing. Whatever your bag, you'll find a workshop, teacher or company to accommodate you.
Any water babies out there? Well, the sea in February is too cold for all but the most hardcore swimmers. But paddle-boarding? kayaking? That's another story. Massively popular and a great way to explore the spectacular coastlines of Ibiza while breathing in that invigorating sea air.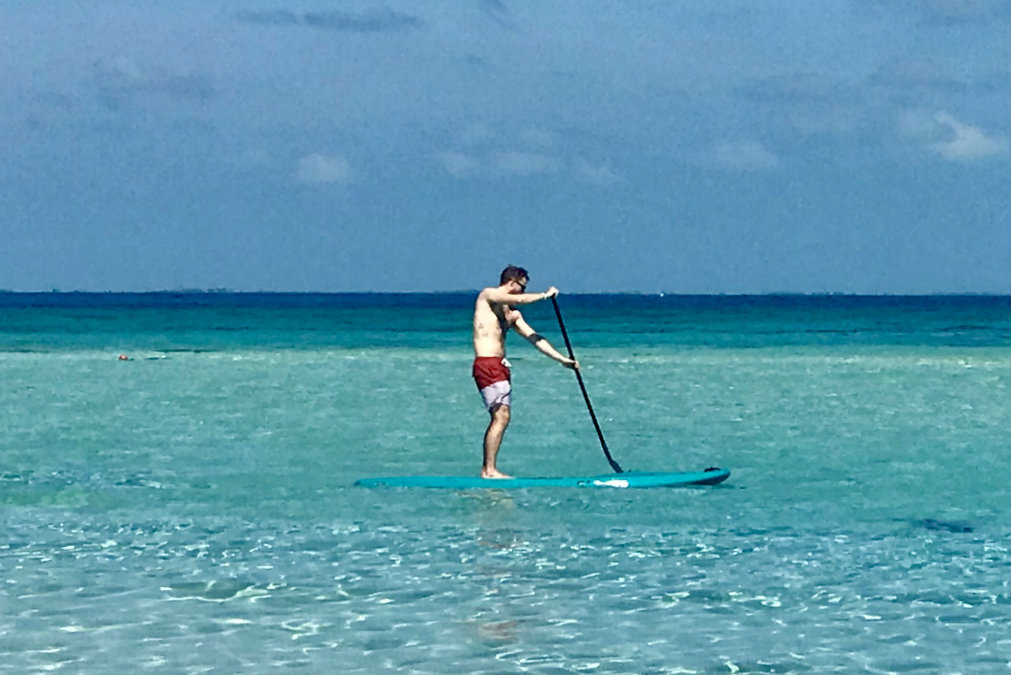 Well-established island-based company, Kayak-Ibiza, offer winter excursions and they are legendary!
Prices
OK, let's get the bad news out of the way first.
Direct flights from the UK to Ibiza do cost more in February than in peak season. And British Airways is the only airline to fly direct to the island from London City airport.
But the good news?
**Drumroll**
Once you are here, everything else is waaaay cheaper than in the summer!
Villa rental prices are at their lowest right now.
You can get great deals on car hire.
Forget the inflated club drink prices associated with summer. The likes of Pacha, who are traditionally open weekends all year, charge much less for your hooch during the off-season.
February is the perfect time to gain a glimpse into the chilled side of Ibiza and enjoy the simple side of island life. Mingle with the locals and enjoy a traditional lunch-time menu-del-dia. On average, you can expect to pay €10 – €12 euros for a set menu of 3 courses. And there's often a drink thrown into the bargain.
Simply put, ladies and gents, a winter getaway to Ibiza in February is guaranteed to put not too much of a dint in your wallet.
Beaches
Ibiza's beaches are beautiful.
You knew that already, right?
But Ibiza's beaches in February are something else!
Whereas in the summer, they are a maze of parasols, sun loungers and bronzing holiday-makers, in the winter, they are all but deserted.
Imagine.
The whole beach pretty much to yourself as you stroll along the shore.
Your own personal paradise.
It's true that most of Ibiza's beach bars and restaurants close during the off-season but there are a few notable exceptions.
La Escollera on Es Cavallet beach is open lunchtimes throughout winter. For high-quality Mediterranean food and a particularly picturesque location, this is the place to head. They have live jazz on Saturday afternoons.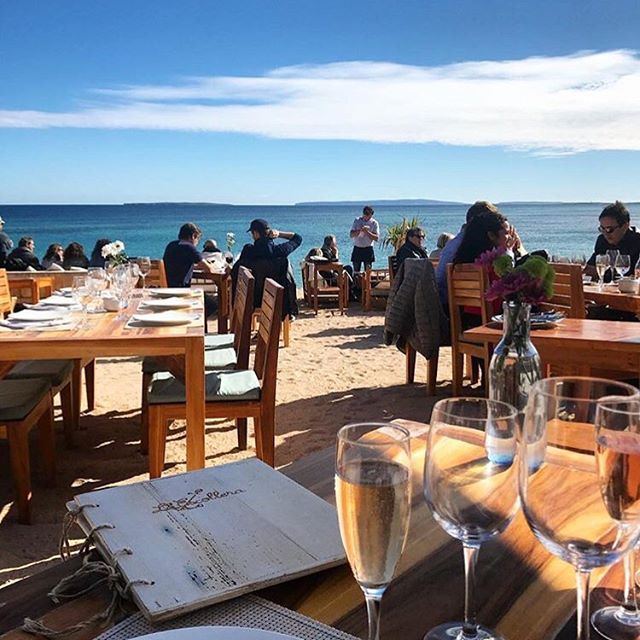 The suave and sophisticated Yemanja Ibiza Restaurant on Cala Jondal is open an impressive 365 days of the year.
Overlooking Es Bol Nou, the historic Sa Caleta restaurant serves superb Ibicencan Mediterranean cuisine all through the winter time, too.
Heading north, in Cala Llonga and the Port of San Miguel, you will also find a couple of beach bars open.
But even with no open bar in sight, you can still enjoy any of Ibiza's beaches in February.
Just pack up a hamper, take along a blanket, and have yourself a picnic by the sea!
Villages & Rural
There's nothing quite like the Ibiza countryside in February.
The pine-covered hills are a gloriously deep shade of green and the fields are filled with vibrant, yellow buttercups.
Sheer gorgeousness!
But, February in Ibiza would not be complete without a moonlight almond blossom walk. This is the time of year when the almond blossom trees are in full bloom, their delicate pink and white leaves rippling like candy floss across the island.
A full moon walk amongst the almond blossoms in the valley of Santa Agnes with Walking Ibiza is an unforgettable experience. As the moon reflects off the almond blossoms, night lights up like day.
No joke.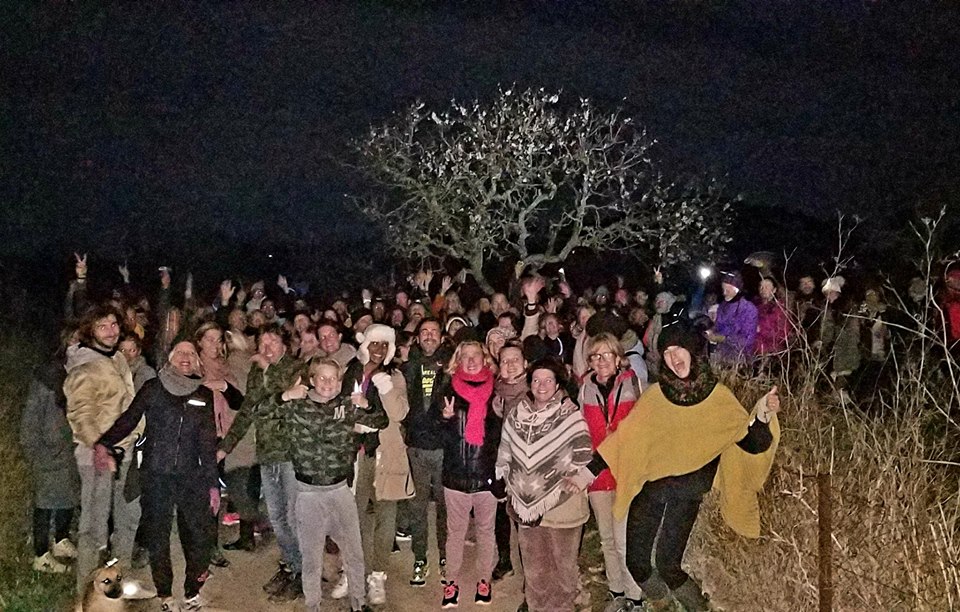 Also worth a visit is Casita Verde near San Jose. Here you can learn about sustainable living, have a tour of the eco-buildings on site and enjoy a healthy lunch.
Oh, and take in some magnificent views!
Open every Sunday from 14.00 – 18.00 all year round, this a chance to experience Ibiza rural living at its very best.
Towns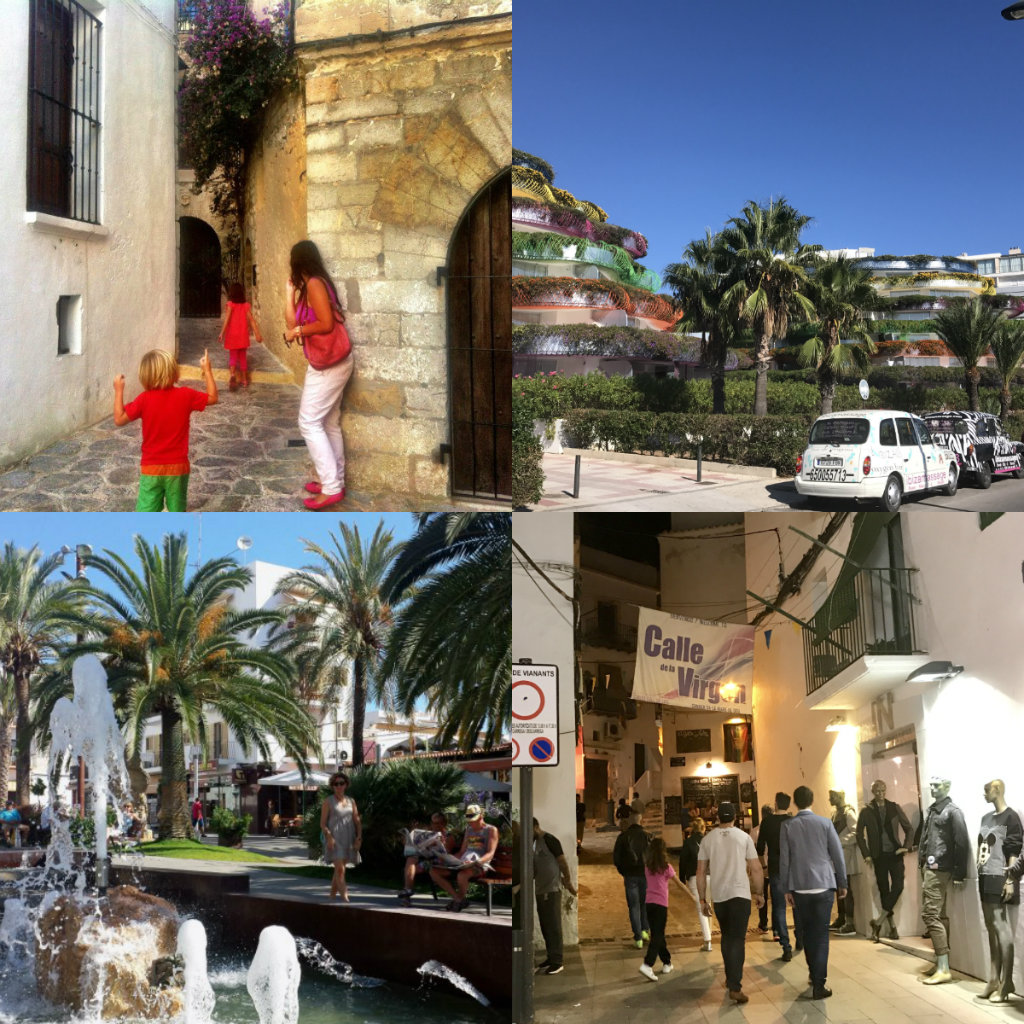 The main towns in Ibiza with a year-round residential population are the only places where, even in February, most shops, bars and restaurants remain open.
If you're looking for something a bit different, here are our top townie things to do.
Ibiza Town is the place to head to find some winter culture.
The iconic walled fortress, Dalt Vila, is a wealth of history, culture, style and art. It boasts a plethora of art and historical museums. Of particular note is Puig des Molins, which is considered the best preserved, largest Punic-Phoenician necropolis in the world.
On Carrer de Sant Ciriac, you'll also find the beautiful Convent open to the public (closed Sundays & afternoons)
And, of course, the spectacular thirteenth-century cathedral, Nuestro Señora de las Nieves, right at the top of the fortification, is a must-visit. Established after the Catalan conquest in 1235, she's a grand structure with Gothic influences.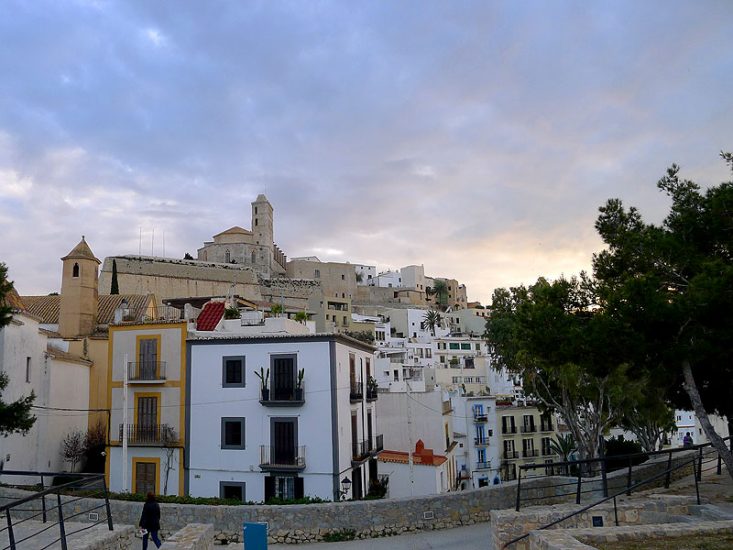 For a great selection of quality winter bars and cafes and a beautiful old church, head to Santa Gertrudis right in the centre of the island.
Bar Costa, unmissable, in the church square, is one of the oldest bars in Santa Gertrudis. In bygone days, it only opened on weekends and on rainy days when the farmers could not work. Instead, they'd gather in the bar, drink and eat the traditional Ibicenco spicy sausage, sobrasada.
Today, it is famed for its Serrano ham sandwiches, eclectic ambience and roaring log fires.
What better way to spend a February afternoon in Ibiza?
An interesting place to visit in Santa Eulalia is the Museum of Ethnography.
This offers an intriguing glimpse into traditional, rural Ibiza and how the people of Ibiza lived in days gone by. The museum is set out like an old country house and exhibits clothing, musical instruments, domestic objects and jewellery to name but a few.
Thoroughly fascinating. Do go!
Clubs
Yes, it is still possible to go clubbing in Ibiza in February!
It's a watered-down version of the summer season, of course, but there are still parties to be found.
These tend to take place at the weekends during winter and they are a great opportunity to meet and party with the local Ibiza residents.
And that, ladies and gents, is as cool as it gets.
If you like eclectic, non-commercial sounds, check out Veto Social Club on the outskirts of Ibiza Town.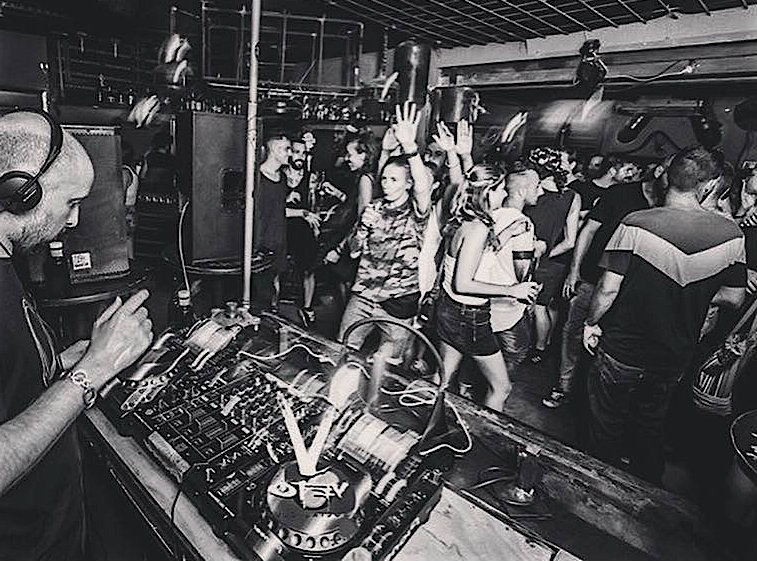 Open until 6am on weekends.
Prices are reasonable.
Oh, and they don't charge an entrance fee.
Another firm favourite with the residents is Pikes Hotel.
Decadent, outlandish and a true Ibiza institution.
Pikes remains open as a nighttime club venue at weekends, as well as hosting some phenomenal parties during the winter months.
Not to be missed!
You may be wondering about the famous Pacha.
Isn't that usually open all winter?
Well, yes. But not in 2018 due to a change of ownership.
Roll on next year, we say!
Restaurants
There are a plethora of top quality restaurants still open during February in Ibiza.
But the following deserve a special mention.
Firstly, Hostal La Torre in San Antonio.
Enjoy wonderful Mediterranean food, served with loving care and an emphasis on friendly, personal service.
Hostal La Torre is situated right on top of a cliff and offers the most magnificent of views while you dine.
And don't get us started on the sunsets you'll see from here.
Best in the world?
We'd say so.
Casa Colonial in between Ibiza Town and Santa Eulalia is opening its doors again this year on 14th February.
Here you can enjoy a fusion of Thai and Mediterranean-French cuisine, warm and cosy in front of an open fire.
Bliss.
And heads up!
February in Ibiza sees "Gastrojueves" in Santa Eulalia every Thursday.
Thirteen of the town's restaurants offer 50% off any starter, main course or dessert.
Even better, you can get a token from participating establishments for two hours free parking plus 50% off a cinema ticket.
Result!
Special events & highlights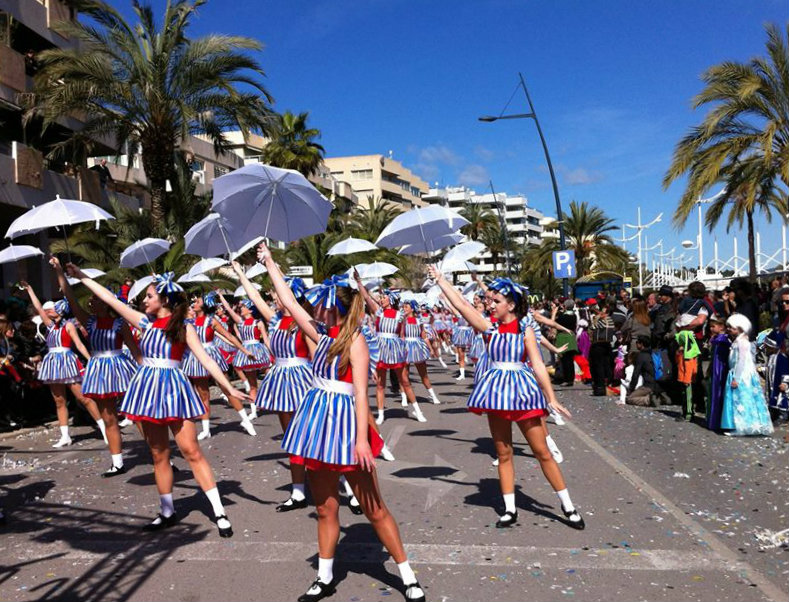 Carnival
February in Ibiza is Carnival time!
Across the island, flamboyant parades take to the streets.
Colourful floats. Extravagant costumes. Music and spectacular choreography as the local dance schools compete for the first prize. Throngs of people waving, cheering and sometimes even dancing along.
You get the picture.
It's awesome!
Here's when and where you can catch the Carnival parades this year:
San Jose: Saturday 10th February at 12.00
Ibiza Town: Sunday 11th February at 11.30
San Antonio: Tuesday 13th February at 16.30
Santa Eulalia: Tuesday 13th February at 17.00
Santa Eulalia Fiesta
Monday 12th February marks Santa Eulalia's annual feast day.
This is a superb way to experience a time-honoured Ibiza festival. The locals certainly know how to party!
You can expect demonstrations of traditional Ibiza folk dancing. Processions. Live music. Street performances. Games and competitions. And, of course, plenty of eating and drinking.
But wait…it gets better!
This year, the beautiful hill-top church, Puig de Missa, celebrates its 450th anniversary.
As the feast day is fundamentally of a religious nature, with the town honouring its Patron Saint, Santa Eulalia, even more events and activities are planned to dovetail into the celebrations.
Colourful.
Fun.
Atmospheric.
Get involved!
Cool things to do for families
There is no shortage of interesting and fun stuff for families to do during February in Ibiza.
One thing's for sure; the kids are guaranteed to have a whale of a time.
Here are our top 3 tips:
A truly fantastic amusement park in Playa d'en Bossa which is open the whole year round.
You name it, they've got it at Gran Piruleto Park. Bouncy castles. Mini karts. Trampolines. Climbing area. Zipline. The lot.
And, hallelujah, there is a bar restaurant for the grown-ups to relax while the little ones play.
Open Wednesday to Sunday during February. Tel: +34 971 390 655
Family visits to the MACE and Puget Museum
This is a free activity in Dalt Vila every Saturday and Sunday between 10.30 and 13.00.
The aim is to familiarise children with contemporary art in a playful context with museum visits and art-related workshops.
Parents are also encouraged to get involved!
Every Tuesday and Thursday 15.00 – 17.30 at The Enchanted Little Magic Cottage in San Juan.
Guaranteed messy fun with arts and crafts, healthy snacks, nature walk, horses and story time.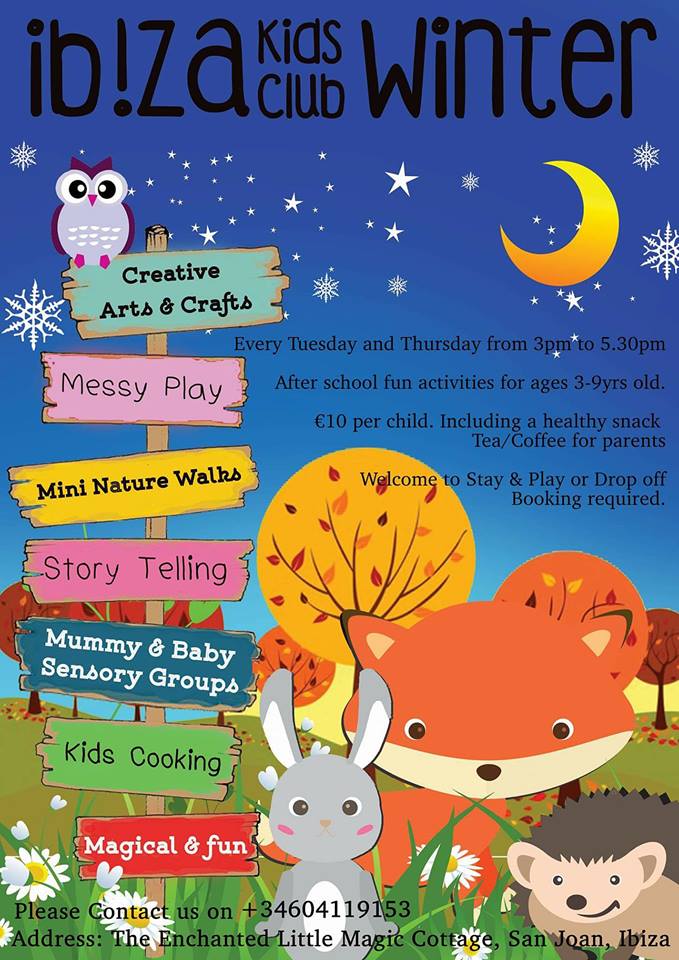 Transport
Flights
As mentioned previously, flights to Ibiza in February are quite limited and a bit more expensive than during the summer season.
But thanks to British Airways, it's not impossible. Direct flights from London City Airport mean you can reach the island in a couple of hours.
Buses
Once here, there is a bus service linking the major towns, albeit a restricted service during winter.
That said, the buses are reliable and super-comfy.
Car Hire
Your best bet, though, if you want to explore Ibiza in February is to hire a car.
A few tips for you here:
Always book your car hire in advance. It works out cheaper and all the reputable car hire firms are always booked in advance.
Go for an annual excess protection insurance policy rather than that offered by the car hire firm. You'll save yourself a great deal of dosh as the latter is charged per day.
Avoid firms that insist on full to empty tank. This can end up being a total rip-off often with a "service charge" of around £60 being slapped on. Best to stick to companies like Moto Luis and Hiper Car Rental near the airport that allow full to full tank.
Cycling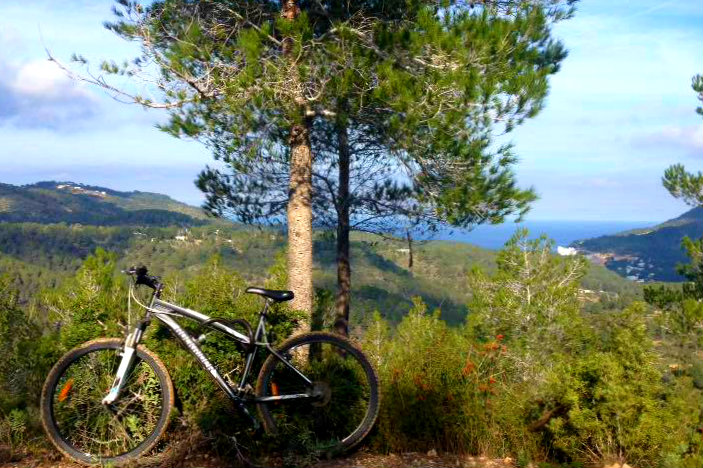 Another cool way to get around Ibiza in February is by bike.
There are loads of lovely bike routes clearly signposted over the island.
And companies such as Bike Ibiza offer bike hire and guided tours.
They will even deliver your bikes to you wherever you are staying on the island.
Now, that's what we call service!
February in Ibiza | summary
So there you have it, ladies & gents. Our comprehensive overview of February in Ibiza. We hope you find it useful in planning your holiday at the best time for you!
Words | Jinny Throup
Planning a trip to Ibiza? Interested in great value Ibiza villa rental in and around San Antonio, Playa D'en Bossa or Ibiza Town? Check out our lush Ibiza villa collection, with affordable prices, short-term and weekend breaks welcome. Like us on  Facebook or follow us on Twitter / Instagram to be the first to hear about our fantastic special offers!