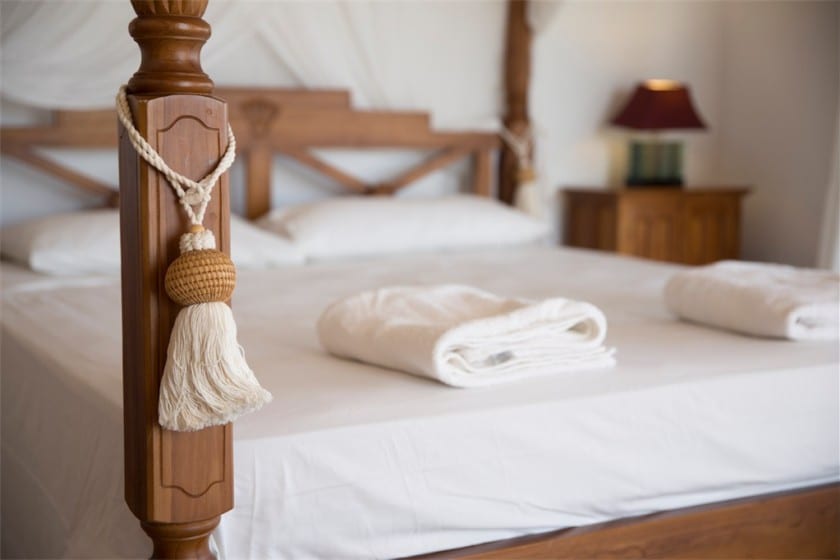 Your villa is cleaned by our team of professional cleaners prior to your arrival. Your beds will have freshly laundered bed linen and you will be provided with fresh towels. We provide one large towel per person plus hand towels in each bathroom. The towels are solely for use in the villa and must not be taken to the beach. Should you require extra towels for use at the villa we can provide extra sets of towels for rent in packs of 5 large towels for 25€.
For guests staying with us for 10 days or more, we will provide a complimentary towel and linen change mid-way through your stay. If the middle day of your holiday is a Saturday, we may have to schedule this service for the day before or after, depending on the amount of arrivals we have on the Saturday.
Special Cleaning Package: It is possible to include a "special cleaning package " in the price of the rental This includes cleaning 3 times a week 2 hours a day, a linen change and a towel change. Please fill out the form below to receive further details of this excellent service.
If you would like to request extra cleaning or additional towel and linen changes during your stay, please contact us using the form on this page for a quote. The cost will depend on the size of your villa and the amount of beds you require fresh linen for. If you only require the extra cleaning service, as a guideline the cost is 15€ per hour for a minimum of 2 hours paid directly to the owner / cleaner. Please bear in mind that our larger villas may require more than one cleaner to attend if you want to have the whole villa cleaned from top to bottom.
Swimming Pool: Your swimming pool will be cleaned weekly by the owner or a professional pool cleaning company. In the height of season the pool maybe have to be cleaned twice a week.
Maintenance: In the event something goes wrong with the villa please call your representative. They will then inform the owner who will come around and fix the problem as quickly as it is feasibly possible. Most problems can be fixed immediately, but on occasions some problems are out of our control and we have to rely on outside parties. For instance: The local water company has to shut the water supply off for a couple of hours, the electricity company has an external problem, the telephone company has a problem with their lines in the area, a pump or electrical item fails and we have to order parts. We have our own maintenance team who backs up the property owner with all maintenance issues, therefore our clients are in very good hands.
Security: All villas have alarms linked to a central control centre who watch over every villa. We will provide you with activation codes and de-activation codes. We also provide safes for your valuables. You will be provided with codes on arrival. If you have any problems with your alarm or safe please call your representative.