Holiday Season & Christmas in Ibiza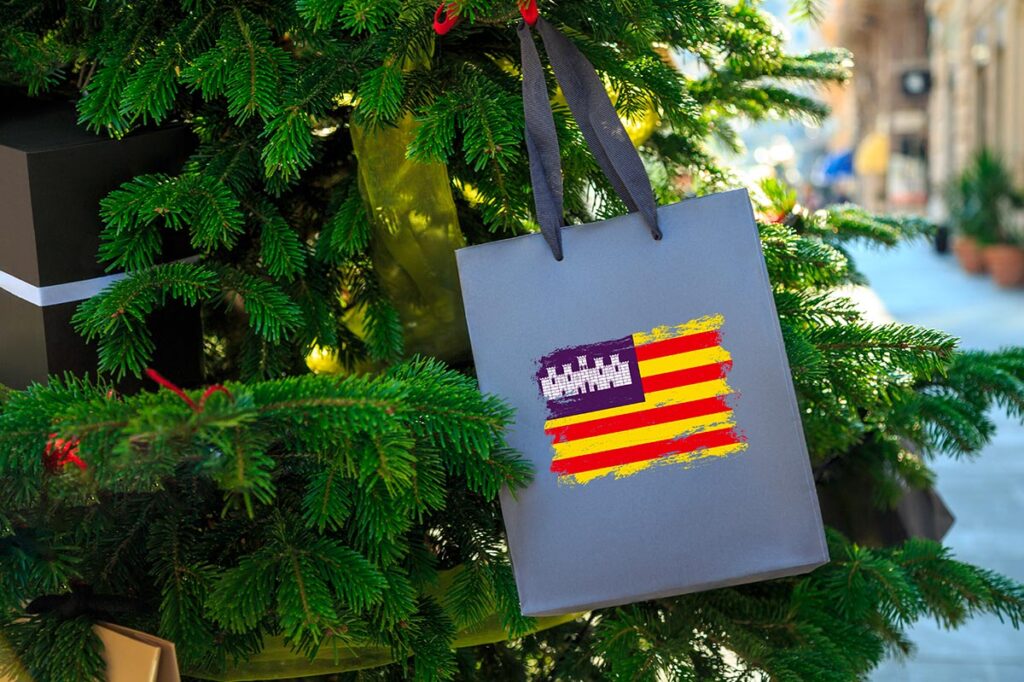 Christmas in Ibiza is an unforgettable experience. The island truly comes alive during the festive season, providing an atmosphere that is different from the more traditional celebrations of northern Europe. Instead of a white Christmas, the warmth of the Mediterranean and the all-year-round sunshine mean you can step out in just a jumper or t-shirt and even take a stroll on the beach! There is still plenty of festive cheer to be had, with plenty of mulled wine and roaring fires to enjoy in a unique setting.
Turkey may be off the menu when it comes to Christmas dinners in Ibiza. Instead, the island's cuisine celebrates fresh fish and the famous dessert Salsa de Nadal, a sweet sauce made of toasted almonds, eggs, sugar, and cinnamon with water or beef stock. It can be served alone or with cake and biscuits to dip in. Additionally, Ibiza has two present-giving days: Christmas Day and El Día De Los Reyes Magos, which falls on the 6th of January. This celebration is one of the most iconic of all Spanish Christmas traditions, but Ibiza's maritime setting adds a special beauty to the occasion. The parade of the Three Kings begins with them disembarking from a decorated boat, an event that never fails to captivate the children in attendance.
Christmas in Ibiza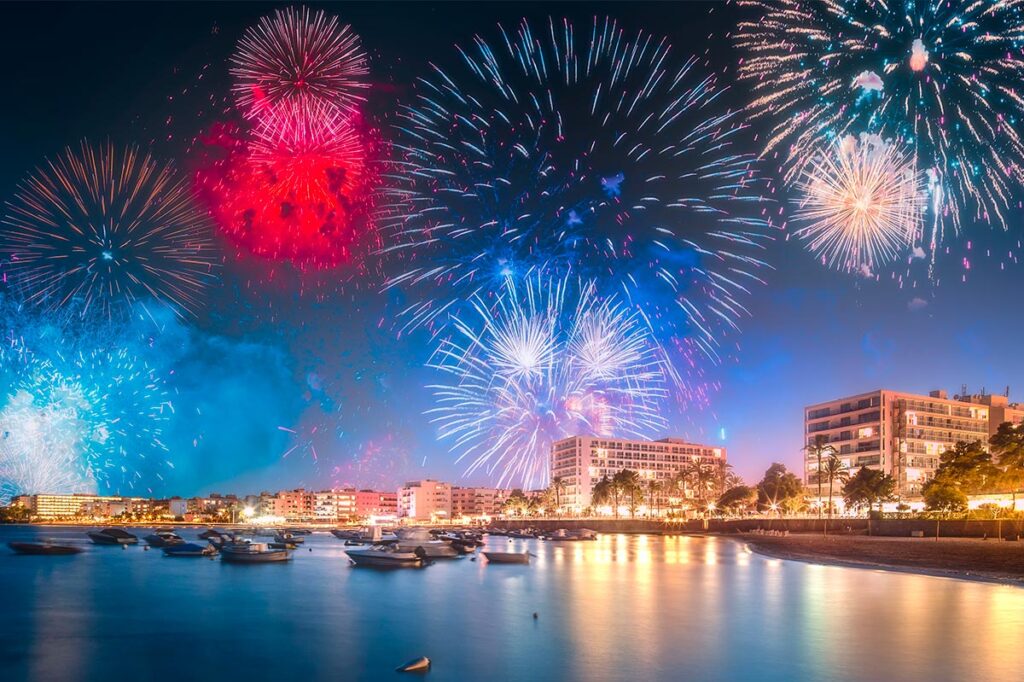 Ibiza is a magical place to be during Christmas. The local Town Halls make a huge effort by erecting Xmas trees and beautiful light displays in many villages across Ibiza. Ibiza Town is the stand-out place. You cannot avoid that warm Christmas feeling. The huge Xmas tree in Val del Rey towers above the Christmas Market which sells everything from local produce to handmade bags.
Spend your Christmas in Ibiza and experience one of the most magical times of the year! With its stunning beaches, majestic mountain views, and plenty of festive activities, Ibiza in Winter is the ultimate destination for an unforgettable getaway. From traditional Christmas markets to ice skating and events hallowing throughout the festive season, there's something for everyone.
Visit the Christmas markets and browse through a variety of festive decorations and gifts. Take part in the local events and activities happening throughout the festive period. Spend an evening stargazing and marveling at the beautiful night sky. And for the ultimate festive experience, take a boat trip around the island and take in the stunning views. With so much to do, your Christmas in Ibiza is sure to be an unforgettable one!
Christmas Markets
The Christmas season is in full swing in Ibiza town and San Antonio, with their respective festive markets. Visitors to these markets can find traditional decorations, handmade gifts, and local delicacies, as well as entertainment and live music to get them in the holiday spirit. For more information about the schedules of these markets, please click here…
Beach Activities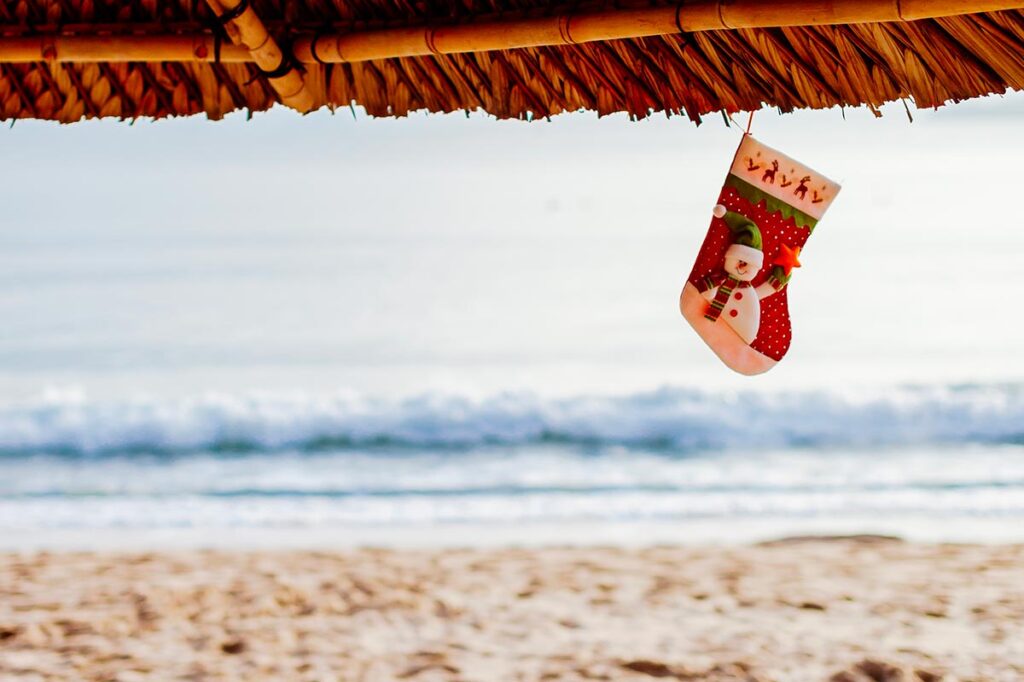 What could be more festive than a beach bonfire on a crisp winter evening? Enjoy the opportunity to bask in the sun and take a dip in the Mediterranean Sea. If you're feeling creative, you can even build a sandcastle shaped like a Christmas tree – the perfect festive photo opportunity! This is the perfect time of year to experience the beauty of Ibiza's beaches in peace, as the summer crowds have usually dispersed. So take this chance to enjoy a private sunset show and a memorable evening by the beach.
Ice Skating
Ibiza is the place to be for a festive ice skating experience. Whether you're a seasoned skater or a first-timer, the rink is the perfect place to get into the holiday spirit.
Square Antoni Albert i Nieto, Ibiza town
Price: 1,00 € (30 minutes), all proceeds go to charity
. More info on www.eivissa.es
Festive Movies
This year, Ibiza's cinemas are offering a festive selection of Christmas movies to enjoy. From classic favorites to animated adventures, there's something for everyone. So, grab your popcorn and settle in for a cozy night at the movies. Enjoy timeless tales of love, laughter, and holiday spirit, or experience the magic of the season with a beloved animated classic. No matter what your taste, Ibiza's cinemas have a Christmas movie that's sure to delight.
More info on www.reservaentradas.com
Experience a once-in-a-lifetime getaway in marvelous villas for an unforgettable holiday.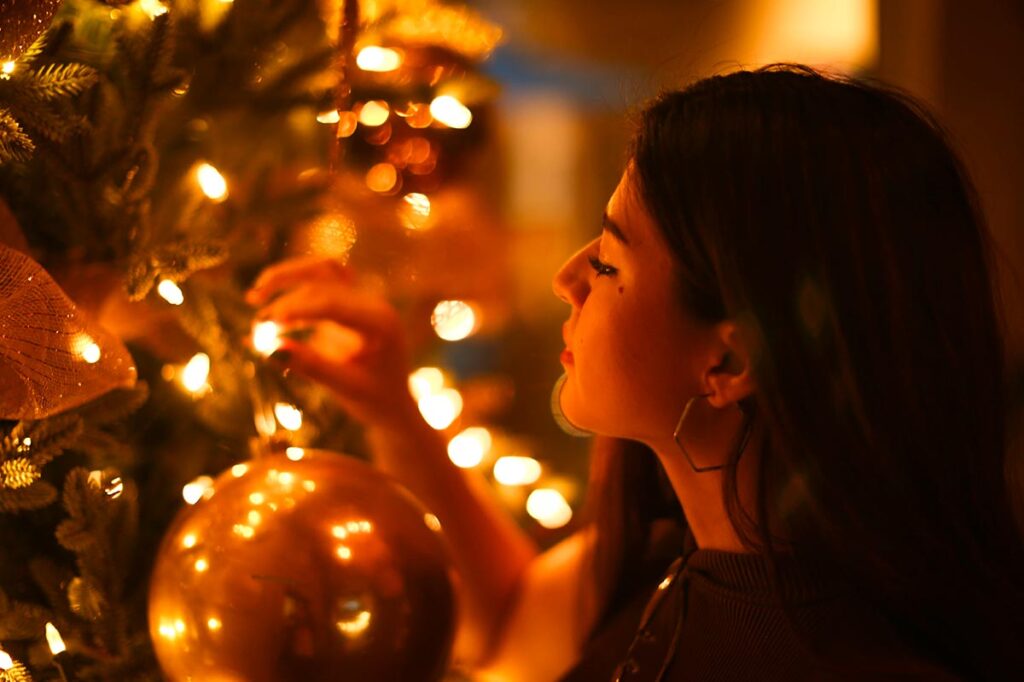 One great reason to vacation on the island of Ibiza is to experience the serenity and luxury of staying in a beautiful villa. Our selection of Ibiza villas offers an unforgettable holiday experience for you and your family. With a wide range of luxurious properties to choose from, you are sure to find the perfect match for your vacation needs. Relax and enjoy the stunning scenery and atmosphere of Ibiza from the comfort of one of our exquisite villas.
Check out our marvelous villa rentals in Ibiza

As everyone knows, the locals know how to enjoy themselves here in Ibiza. This year the temperatures were similar to summer in the UK,  which enabled us to enjoy some amazing meals on the beach and many incredible sunsets. Our group booked a table at the wonderful Yemanji restaurant for lunch on Christmas Eve. This long-standing island favorite is now under the management of the iconic Blue Marlin brand, yet it still retains its family-friendly vibe and local flavor. Our group of twenty-seven adults plus kids tucked into a real feast overlooking Cala Jondal Beach. It was a really special occasion – a beautiful beach, excellent food, and warm winter afternoon sunshine that sunk into an amazing evening sunset – what more could we ask for at Christmas? After our meal, true to tradition, our children launched their handmade Ibiza Boats. Our children look forward to this every year, and again this year some pretty spectacular innovations were set to sail on the water, with little Christmas messages on board. I get the feeling this tradition will grow in popularity. Maybe it's the start of the Christmas Ibiza Boat Show?
Some people may wish to rent a villa in Ibiza or stay in a beautiful boutique hotel in Eivissa Town, however, everyone will enjoy our beautiful beaches in Ibiza, with amazing weather and that warm Christmassy feeling.