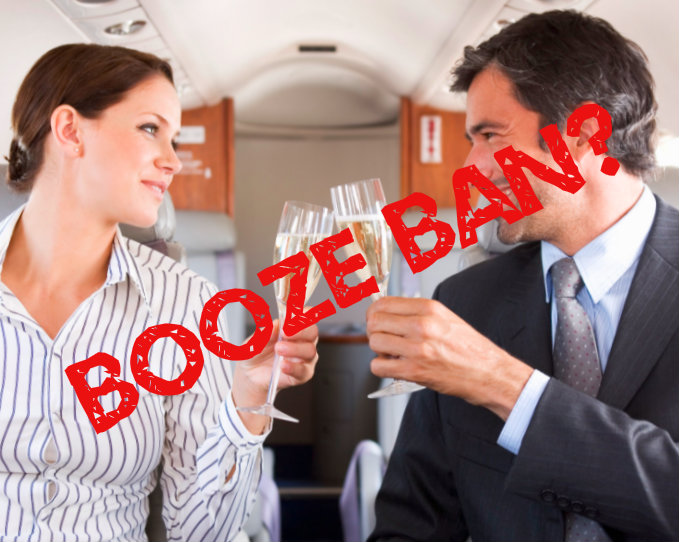 This week, the council of Ibiza has petitioned both the EU and Spanish authorities to impose an alcohol ban on Ibiza flights. The ban may even extend to the airport.
The request, dubbed the 'Dry Law,' was proposed by Pilar Carbonell, head of Tourism for the Balearic islands, who declared:
We ask the central government and the European Commission to ban the consumption of alcoholic drinks on flights and in airports.
Anti-social tourism
Island authorities insist that 'anti-social tourism' must be tackled and point to recent high-profile cases of rowdy and inappropriate behaviour from over-excited visitors on their way to Ibiza from the UK. For many, the holiday tends to start at the airport of departure. But the drunken brawls & alcohol-fuelled sexual frolics on flights that can result, are no longer to be tolerated.
Scenes, for example, such as the three, drunken, brawling men travelling from the UK to Palma, Majorca, back in May this year, causing major disruption on their flight. They were arrested on arrival to the relieved applause, it was reported, of their weary fellow passengers.
Mile-high club
Or the video of a raunchy couple last month, evidently determined to join the 'mile-high club,' who were filmed getting it on very publicly by fellow passengers on a Ryanair flight from Manchester to Ibiza. The video quickly went viral, much to the embarrassment of the airline, who said:
We will not tolerate any kind of undisciplined, inappropriate or disruptive behaviour & any passenger who behaves in an unacceptable manner could face serious consequences.
Fair comment. It should also be noted though, that the vast majority of visitors to Ibiza behave in a perfectly civilised manner. It's kind of a shame that the few who don't, provoke pesky restrictions for everyone else. Such as an alcohol ban on Ibiza flights. TSK!
It's the opinion of the Ibiza Villas 2000 team that although Ibiza is a legendary party island, acting responsibly and considerately whilst travelling to and from the island is a no-brainer. Irresponsible behaviour either whilst flying, or at the airport, can put everyone at risk and land you (and potentially your bezzies) in a whole heap of trouble with the law. And several sweaty hours in the slammer on your arrival to Ibiza is possibly the most rubbish start to a holiday. Ever.
Peaking too soon
Not to mention that getting wasted either at the airport or on the plane is, above all, just a plain old schoolboy error. Who wants to spend their first day in Ibiza with a minging hangover, bad breath, bloodshot eyes and raging dehydration? Urrgh. Peaking too soon is only fashionable when you're 14, right? 😉
Words | Jane C
Coming to Ibiza this year? Interested in great value Ibiza villa rental in and around San Antonio, Playa D'en Bossa or Ibiza Town? Check out our lush Ibiza villa collection, with affordable prices, short-term and weekend breaks welcome. Like us on Facebook or follow us on Twitter / Instagram to be the first to hear about our fantastic special offers.