This Ibiza Town / Playa den Bossa villa comfortably sleeps 12+ guests.
About Freds Finca Hostal Albergue and Fitness Retreat
Freds Finca Hostal Albergue and Fitness Retreat
Fred's Finca – From Yogi's and fitness enthusiasts, to nature peace and lovers; Fred's has something for everyone!
Fred's is a unique resort in the centre of Ibiza's UNESCO protected natural park. This beautiful oasis is a walk away from Es Cavellet beach, Salinas beach, and some of Ibiza's most famous beach clubs, such as El Chirnguito, El Chiringay, Escollera, Sa Trinxa and The Jockey Club. Fred's also happens to be situated next door to the legendary super club DC10, and only 10 minutes from Playa den Bossa and Ibiza Town in a taxi; making Fred's the perfect spot for anyone wanting to enjoy Ibiza's beauty and lustrous night life. To top it all off, Fred's is amongst the BEST VALUE accommodation on the island! Who wouldn't want to join us at Fred's Finca this summer?
 Fred's Finca resort was established 40 years ago and has stayed true to its bohemian roots, most visible in its eccentric Spanish style decor. Many clients return year after year because there's nothing like Fred's in Ibiza – peace, tranquility, location, beauty and atmosphere. Until now, only people in the know had discovered Freds, thanks to Ibiza Villas 2000 we now have limited space for our loyal customers. Come and see it for yourself, you will be amazed.
 Fred's Finca truly epitomises the "authentic Ibiza"
 Fred's Finca
 Driving around Salinas, you would have no idea Fred's Finca even exists, other than the discreet 'Fred's Finca' plaque placed on the large iron gate. However, on entering Fred's, it's like stepping back in time and stepping into another world 30 years ago. Fred's is a relaxed, care free and peaceful haven that's very affordable for keen Ibiza holiday makers; affordable is not often heard in the same sentence as Ibiza.
 Fred's Finca was opened 40 years ago by a legendary gent called Fred. Today, Fred is in his eighties but you will still see him floating around the pool area throughout the summer; the vibe that he's created explains why Fred's attracts such a wide variety of people, from artists, Dj's, Yogi's, fitness and wellness influencers to authors, the LGBT community + more; it's a meeting place of mind and spirit.
The hub of Fred's is the wonderful pool area, which features our fully equipped lively bar and inspiring restaurant that serves up delicious island sourced, natural dishes all day long. Opposite the pool sits a wonderful Moroccan tent where our retreats, fitness classes, meditation and events take place. Everything from yoga, pilates, fitness classes, boot camps, meditation and workshops, all in an unbeatable outdoor setting looking over Salinas.
Accommodation
Fred's Finca offers 6 x 2-bedroom apartments, 2 uber cool dorms, and 5 x 1-bedroom apartments. Many of the apartments have sofa beds/ extra beds, so we can always accommodate for more guests for a small supplement.
We have an office space with printer and desk top computer, an array of fruit trees – lemon, pomegranate, oranges, bananas and grapes, plus excellent FREE WIFI. We are planting vegetables throughout the grounds which will be served in our 'all natural' restaurant moving into 2019, and during the evenings we will running events around the pool and once a month planning something extra special.
Laundry is available for our guests and we have buses that transfer you across the island day and night for a small charge. Bicycles are available for those who want to explore the island.
Health, Wellness & Retreats
Who loves to have fun? Who loves feeling fabulous?
Here at Fred's Finca are very serious about health and wellness. We are working with some of the top yoga, fitness, health and wellness influencers and businesses, to create the very best daily programmes for our guests! We will be running specialist health, wellness, fitness and mindfulness weeks throughout the year April – April. Feel free to contact us for our full calendar of events and details on upcoming retreats.
Our health, wellness and fitness retreats are by far the best value on the island and to top it off we're in one of the most unique and stunning locations on Ibiza. Our retreats will not break the bank and we can guarantee you will have an experience of a lifetime. 
Costs & What's Included:- Accommodation, breakfast, lunch and 3 hours of health, fitness and wellness sessions per day.
7 day breaks:- From £495 PP / Euros 595€ PP
Weekend breaks:- From £395 PP / 475€ PP

Monday to Thursday break:- From £295 PP / 350€ PP

.
Scroll down and go to READ MORE for full details on available retreats or email us direct here:- bookings@ibizavillas2000.com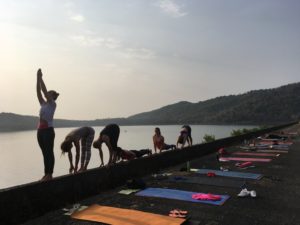 Eco Catamaran Experience, Sailing School, Environmental Studies
Who doesn't love Eco Catamarans? On our days off we love nothing more than taking our team out on an eco catamaran for the day, the wind in our hair and the sound of the sea behind us, a day that can only be described as a the ultimate joyful and unique charter experience – we can't recommend this unforgettable boat day enough! Not only is it a smashing day out, the Catamaran team are completely committed to the environment and work tirelessly to protect Ibiza and its magical waters; it's both educational and of course an absolute pleasure.
We can tailor make the day for you, depending on your preference:-
* Day charters on the Eco Catamaran
* Sailing Course
* Kite surfing courses
* Kayaking
The unique island eco charter will create memories that will last a lifetime. A love and respect for the sea remains a top priority with spacious, comfortable catamarans powered by solar panels and cutting edge electric engines. The defining features are the silent engines which allow you to completely relax and enjoy the pristine and tranquil Mediterranean waters. Each trip is tailored to your needs, to ensure your experience remains a prized and irreplaceable one, and not to forget you will have the fresh and homemade organic picnic to look forward to. There's no better place to enjoy a deliciously healthy lunch, than sailing around Ibiza with nothing but crystal clear Mediterranean waters in the distance.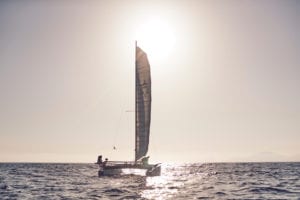 Cycling, Walking, Running
Es Cavallet and Salinas are ideal for those who enjoy cycling, walking and running. There are lots of tracks and paths for you to explore, and all happen to be right on Fred's door step! Bikes, guided walks and running club will be readily available from our opening day April 18.
Training Camps
Fred's Finca is a great base for sport and fitness groups visiting the island, particularly Triathletes, cyclists and runners. The Sea is a mere 10 minutes walk, accommodation is fantastic value, especially out of season. (From 20€ PP per night) Leading off Fred's road entrance there are countless tracks and roads to train on, very handy for all year round visitors and personal trainers.
Weddings and Events
Fred's is available to rent exclusively for one-off retreats, yoga/ fitness training schools, special events, weddings and more – an exquisite and affordable spot for any event.
Fred's is arguably one of the most unique venues on the island to hold a wedding or a special occasion party i.e. special Birthday etc. We have our own in house event/ wedding planner, who will be on hand to plan every detail of your special day! Whats impressive about Fred's is not only will we organise the entirety of your special day, we will accommodate for all of your guests with our value for money, picturesque accommodation.
Why not rent the whole of Fred's exclusively?!
It is possible to rent the whole of Fred's exclusively for no more than the price of a big villa that sleeps 12 people..? The answer is YES!! Fred's can fit 45 – 50 people spread across the spacious apartments, if you have a large group you can hire the whole place and enjoy your very own private paradise, along with a superb team of staff on call for your every need.
Fred's really is one in a million, it's relaxed, beautiful, loads of fun, and exceptional value for money. So, don't miss out on this rare opportunity of staying in the middle of Ibiza's natural park, for a weekend, a week or more! We only have 12 apartments and get booked up very quickly – move fast and get booked up ASAP!
Please note:
Alberguista Card
Freds Finca has a unique licence of an Albergue Juvenil because of its location in the middle of the Salinas National Park. An Albergue can also be known as a Youth Hostal. Freds must be the most unusual Albergue Hostal on the planet. In order to stay in an Albergue all guests must be members of Hostelling International. or the Worldwide Youth Hostel Association. This is not a membership exclusive to students, the E Membership is available to all ages. This amazing membership not only allows you to stay in Hostels all over the world it also opens up a world of incredible discounts on airlines, boats, shops etc.
At Freds Finca you can either purchase your membership before you arrive or on arrival. It's really simple and great value, you will cover the small price many times over if you you utilise just one of the many discounts available to members. Prices start from 3 euros per person rising to 12 euros per year for the  annual E Membership, which  entitles you to a huge amount of incredible discounts worldwide.
For further infomation and full details please contact us on our contact form.
More Information
Sample Retreat Programme and info
Introduction
Our retreats at Fred's are all about a balanced and healthy lifestyle. We've carefully put together a programme which allows you to enjoy a healthy yoga and fitness holiday in an environment free of judgement. We understand you're on holiday so if you want to relax with a cold glass of wine by the pool in the afternoon, or go and enjoy some of Ibiza's famous night life that's fine. We've created a beautiful and relaxed atmosphere at Fred's where you can truly switch off and relax.
We will be working with experienced yoga teachers from around the world and will be teaching to groups with mixed levels of experience or abilities. So whether you've never stepped on a yoga mat on your life, or if you have years of regular practice, our teachers will work with you to make sure you get the most out of your week with us. The yoga style will vary slightly depending on the teacher but will be mainly vinyasa flow but could include elements of other styles including hatha, ashtanga, kundalini or yin yoga. All of our teachers are fully qualified with plenty of experience and will use individual modifications if you have any injuries.
During your daily morning class you will develop your practice over the week, with the support of your teacher. The afternoon activities will vary but give you the opportunity to try some new activities which will compliment your practice and also have a bit of fun.
Sample Programme
| | | | | | | | |
| --- | --- | --- | --- | --- | --- | --- | --- |
| | Friday | Saturday | Sunday | Monday | Tuesday | Wednesday | Thursday |
| 7am – 9.30am | Breakfast | Breakfast | Breakfast | Breakfast | Breakfast | Breakfast | Breakfast |
| 9.30am – 11.30am | Yoga | Yoga | Yoga | Yoga | Yoga | Yoga | Yoga |
| 12pm | Lunch | Lunch | Lunch | Lunch | Lunch | Lunch | Lunch |
| 5.30pm – 7pm | | Guided Hike | Yoga Nidra | Pilates | Yin Yoga | Sunset yoga in nature | Acro Yoga |
Friday
Check in from 2pm but arrive any time and store your luggage and make full use of our facilities – relax by our pool, enjoy refreshments from our pool side bar or head off to explore one of the nearby, glorious beaches. You're free in the evening but can book to eat in our popular poolside restaurant or we can recommend a number of nearby places to eat. Our friendly staff will be around all day to help you settle in and feel at home at Freds.
Saturday
A healthy help yourself breakfast will be available from our poolside restaurant from 7am.
At 8.30am there will be an informal welcome meeting where you will meet your yoga instructor and we will run through the programme for the week and answer any questions you have. Your yoga teacher will use this time to understand your level of experience and learn what you want to get out of your week at Freds.
Your first two hour yoga class will be at 9.30am in our beautiful and shaded Morrocan yoga shala.
After your class you'll have half an hour to cool off in the pool, relax or get changed before a healthy vegetarian lunch is served.
You're then free for the afternoon, so take one of our bikes, head to the beach or simply enjoy our beautiful and relaxed pool area.
At 5.30pm come and join our afternoon guided hike where we'll go and explore some of the beautiful national park….and maybe even spot some flamingos so remember to bring your camera.
Sunday
7am – Help yourself to breakfast in the poolside restaurant any time from 7am.
9.30am – daily two hour yoga class in the yoga shala.
12pm – lunch by the pool.
5.30pm – Come and relax in the yoga shala for an hour of guided meditation and deep relaxation. Yoga nidra is one of the deepest forms of relaxation whilst still maintaining consciousness. Lie down and feel the effects of yoga nidra as it cleanses your mind and body – a great way to deal with stress and anxiety and truly switch off from all the stresses of your life back at home.
Monday
7am – Help yourself to breakfast in the poolside restaurant any time from 7am.
9.30am – daily two hour yoga class in the yoga shala.
12pm – lunch by the pool.
5.30pm – Come along to our pilates class. Pilates is a low impact excersise which will compliment your yoga practice by building core strength and flexibility.
Tuesday
7am – Help yourself to breakfast in the poolside restaurant any time from 7am.
9.30am – daily two hour yoga class in the yoga shala.
12pm – lunch by the pool.
5.30pm – Join our evening yin yoga class – a gentle and restorative form of yoga which with compliment your morning practice perfectly. Yin yoga stretches the deep connective tissues between the muscles and also the fascia throughout the body. It's great for improving flexibility and increasing circulation in the joints. So relax and feel the energy flow.
Wednesday
7am – Help yourself to breakfast in the poolside restaurant any time from 7am.
9.30am – daily two hour yoga class in the yoga shala.
12pm – lunch by the pool.
5.30pm – We'll leave Fred's behind to do our evening practice in nature and feel the magic of the Ibizian sunset. Another great photo opportunity!
Thursday
7am – Help yourself to breakfast in the poolside restaurant any time from 7am.
9.30am – daily two hour yoga class in the yoga shala.
12pm – lunch by the pool.
5.30pm – As it's your last night, this afternoon we'll have a bit of fun with some acro yoga. So using all you've learned during the week to balance together and make some fun poses in pairs and groups.
It's up to you how you spend your last evening but why not book a table with your group in our restaurant and celebrate the week together with a delicious dinner and a glass of wine or cocktail at our pool bar.
Friday
7am – Help yourself breakfast in the poolside restaurant from 7am.
10am – Check out by 10am but feel free to store your bags with us and spend the day by the pool if you have a later flight.
Food
Breakfast
A daily help yourself breakfast is included and will be available each day from our poolside restaurant from 7am- 9.30am. This will include a selection of teas, coffee, fresh fruit, cereals, nuts, dried fruit, yogurt and pastries.
Lunch
Lunch is included and will be served each day at 12pm after your morning yoga class. This will be a healthy but hearty vegetarian lunch.
Dinner
Dinner is not included as we want you to have the freedom to discover some of the amazing food and nightlife that the island has to offer. If you choose to stay in and relax you can eat at our restaurant which is open in the evenings and will have a fresh and exciting menu to choose from.
Bar and snacks
Our pool bar will be open all day to keep you refreshed with whatever alcoholic or soft drinks you need. There will also be a selection of healthy and more indulgent snacks.
Dietary requirements
We can easily cater for most dietary requirements so if you're vegan or gluten free that's no problem. We ask that you let us know of any allergies or dietary requirements in advance so we can let our chefs know.
What to bring
We will provide all of the mats and equipment for the yoga and activities so just bring comfortable clothes for your yoga classes, trainers or comfortable shoes for walking, and your swimwear for the pool!
There is a small supermarket a short walk or cycle away where you can buy provisions.
All bedding and towels are provided.