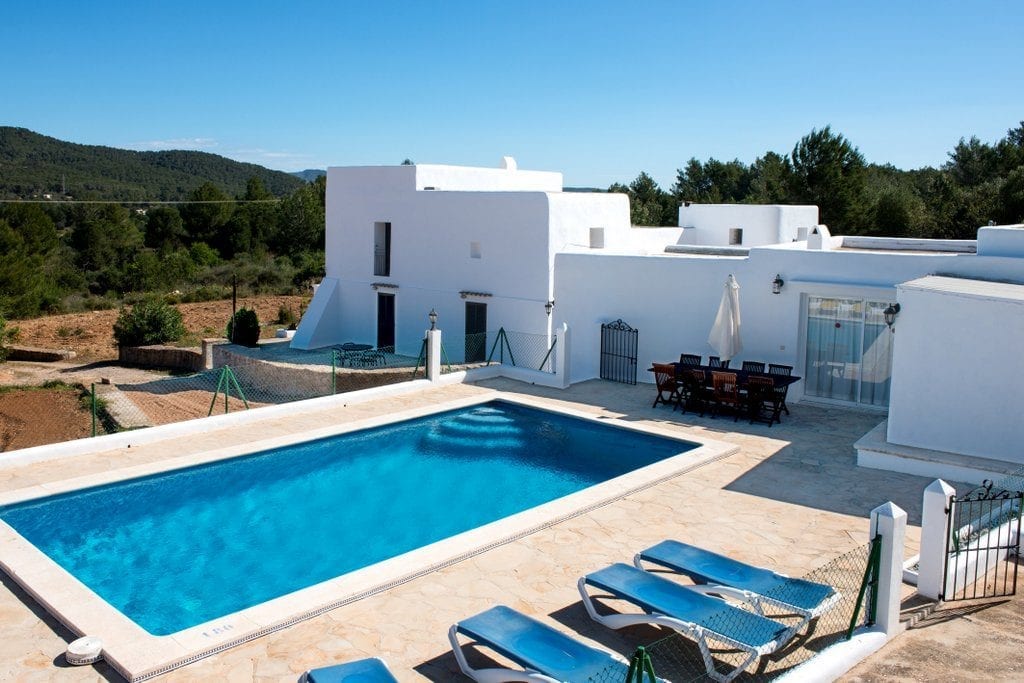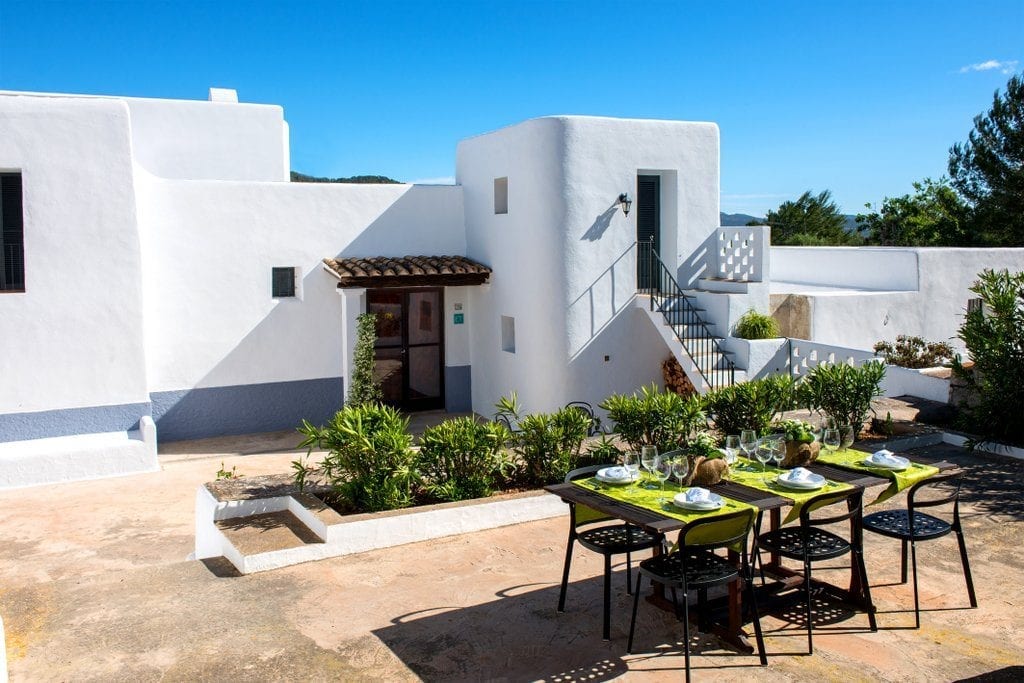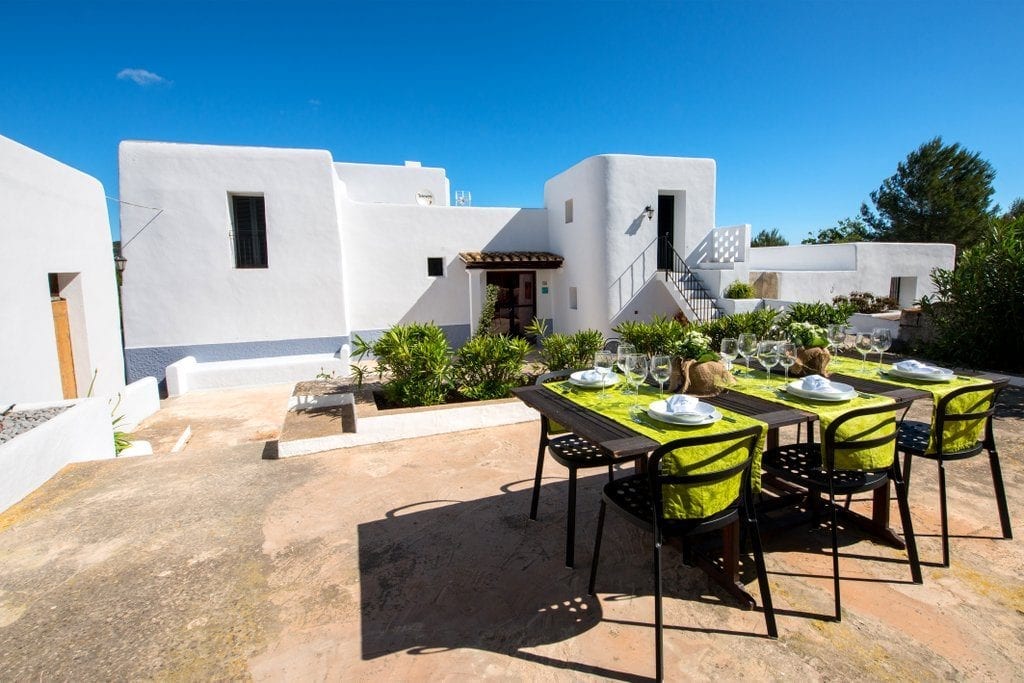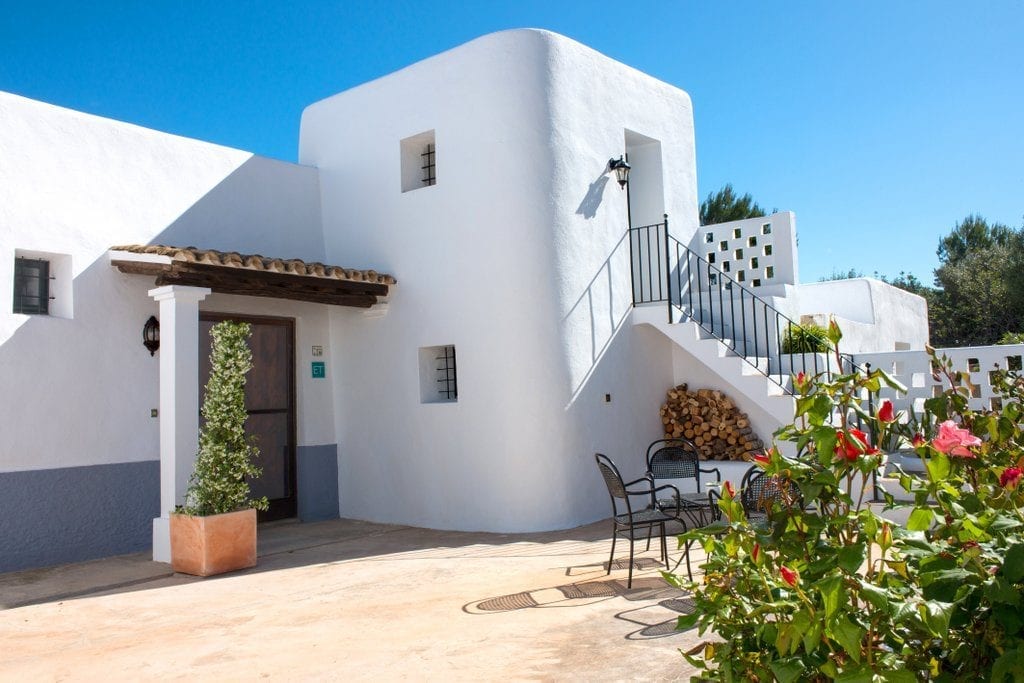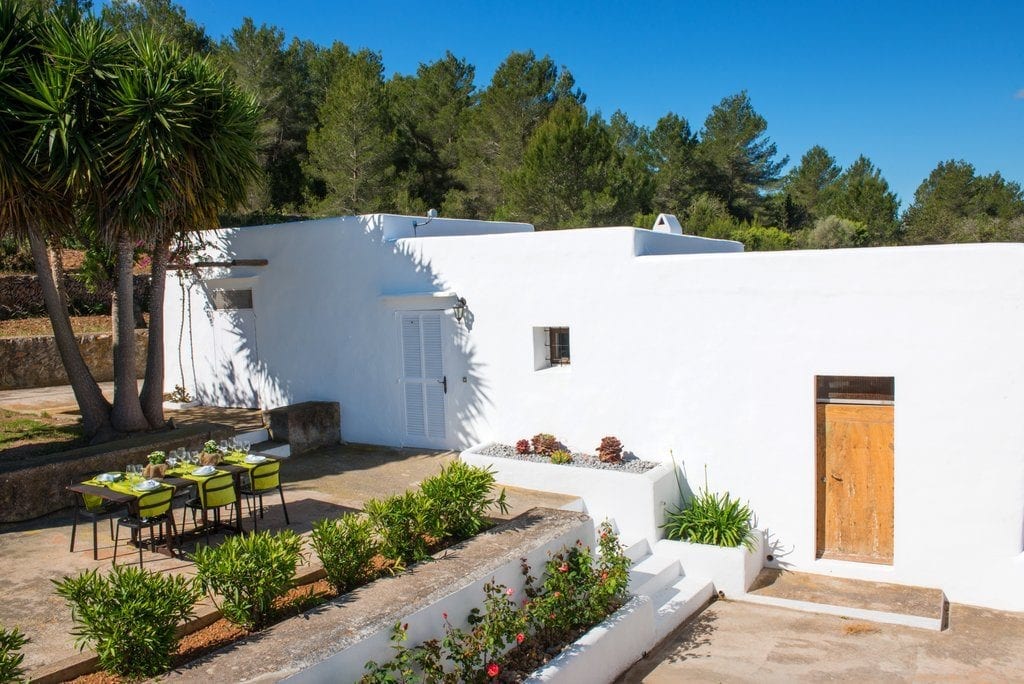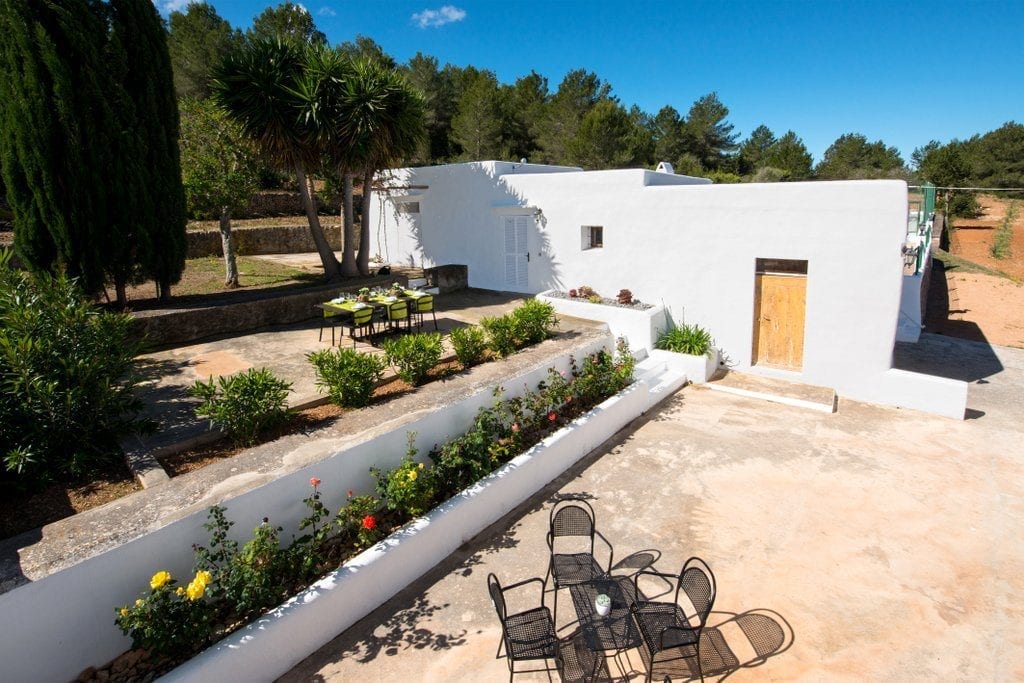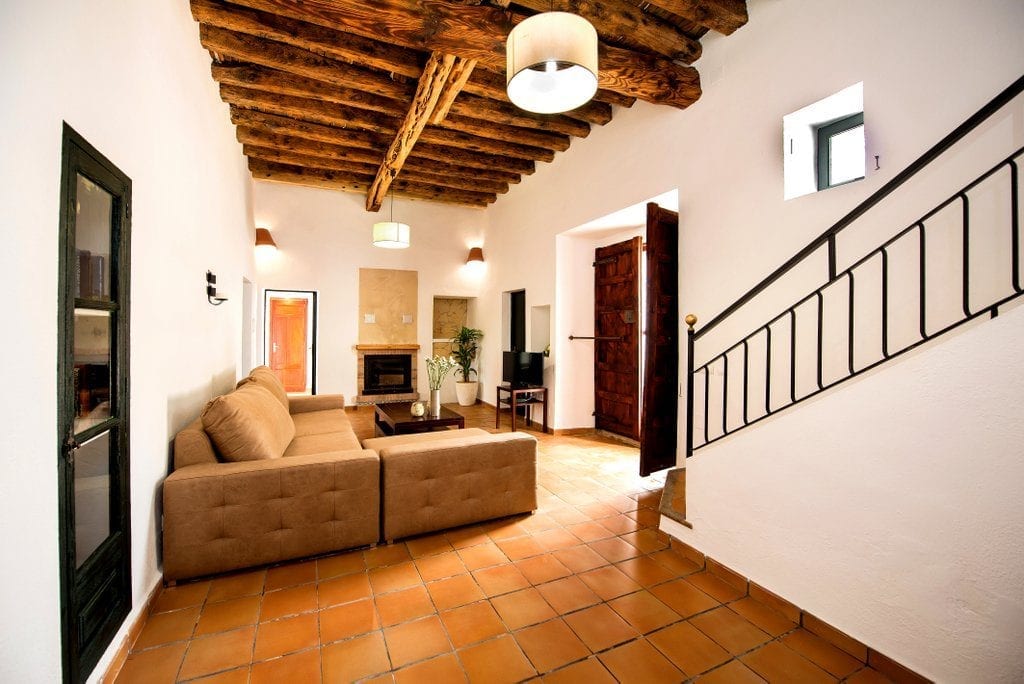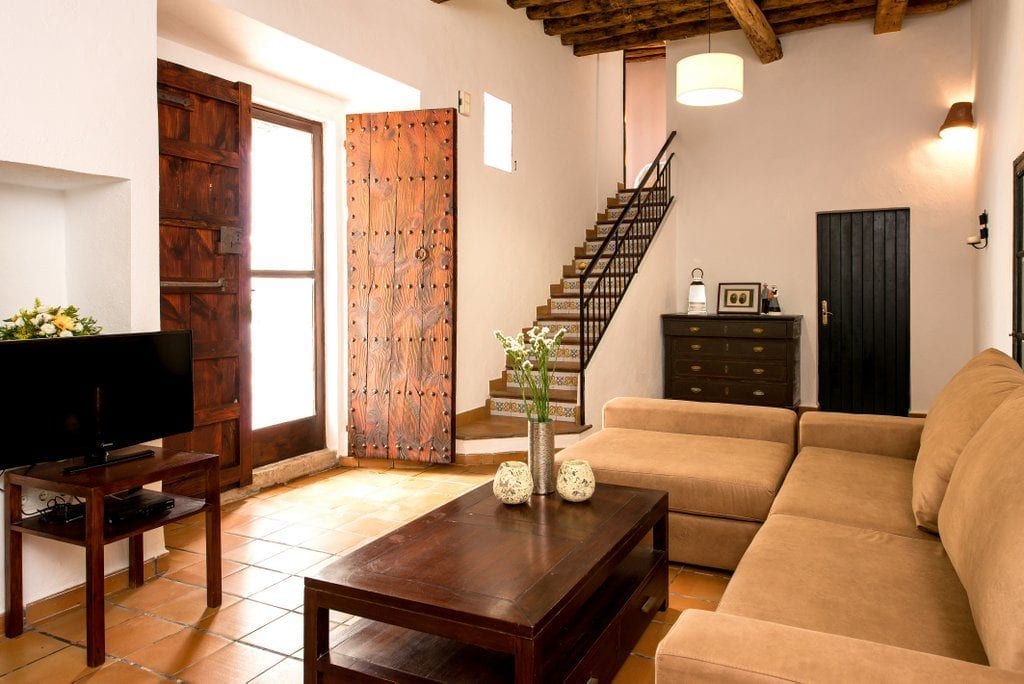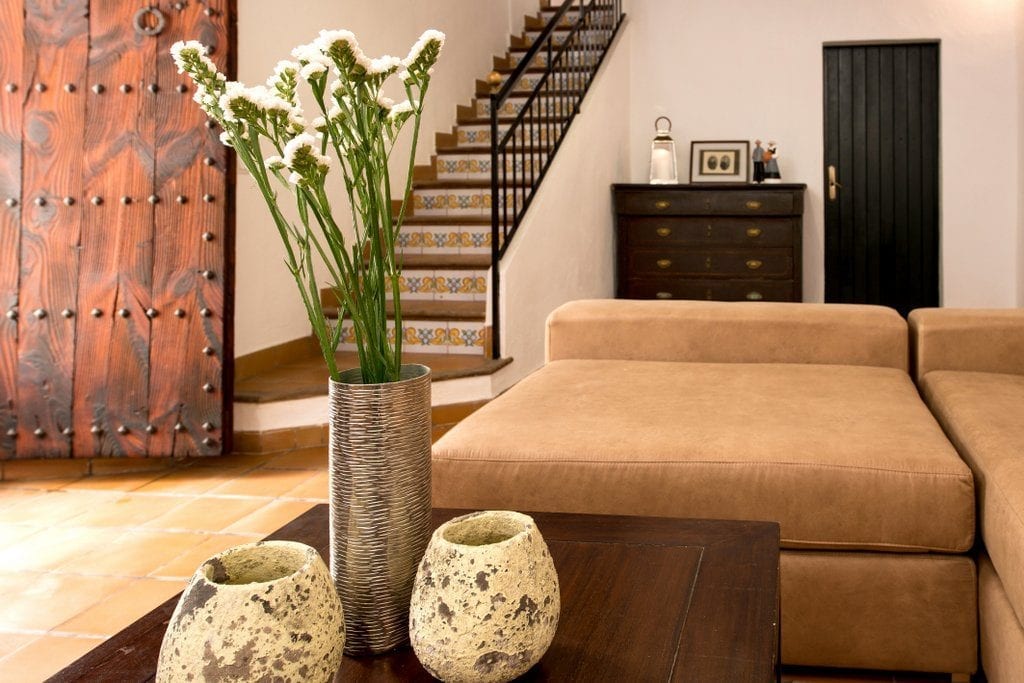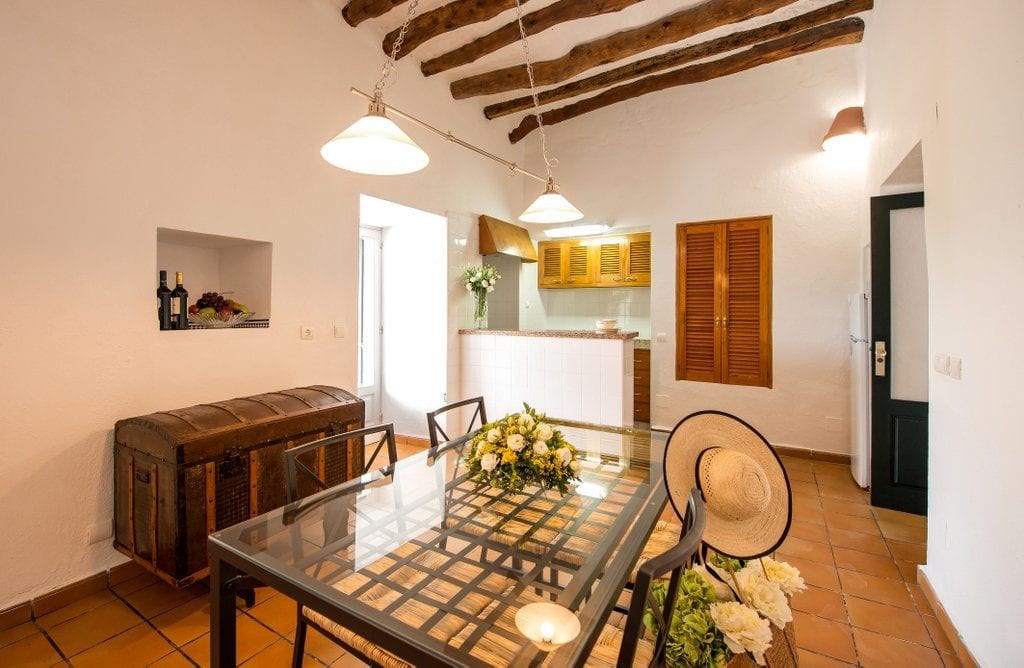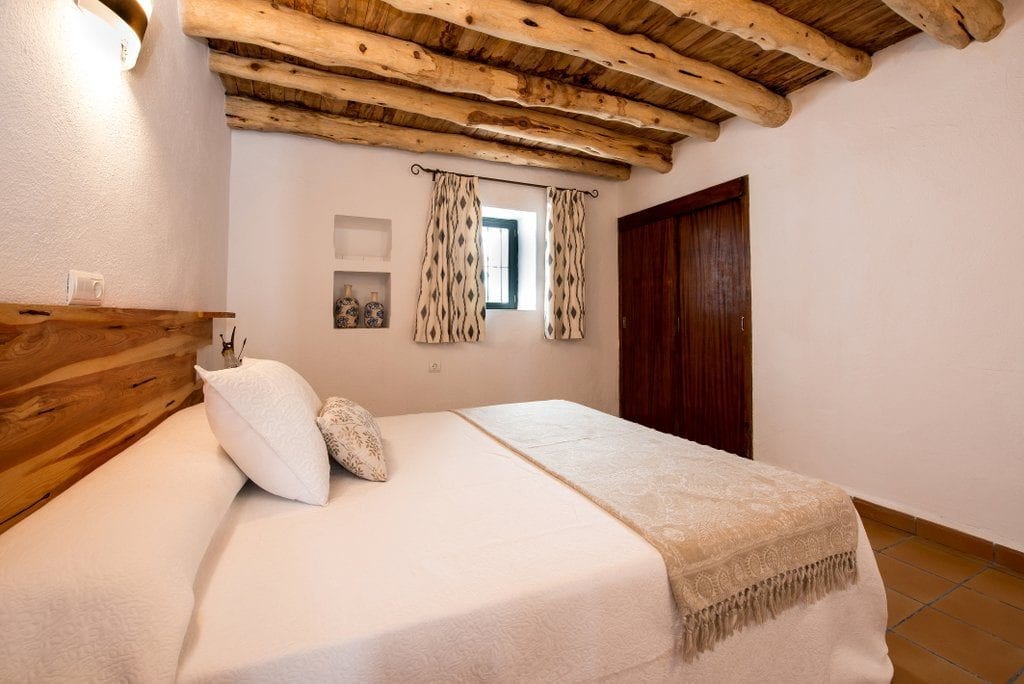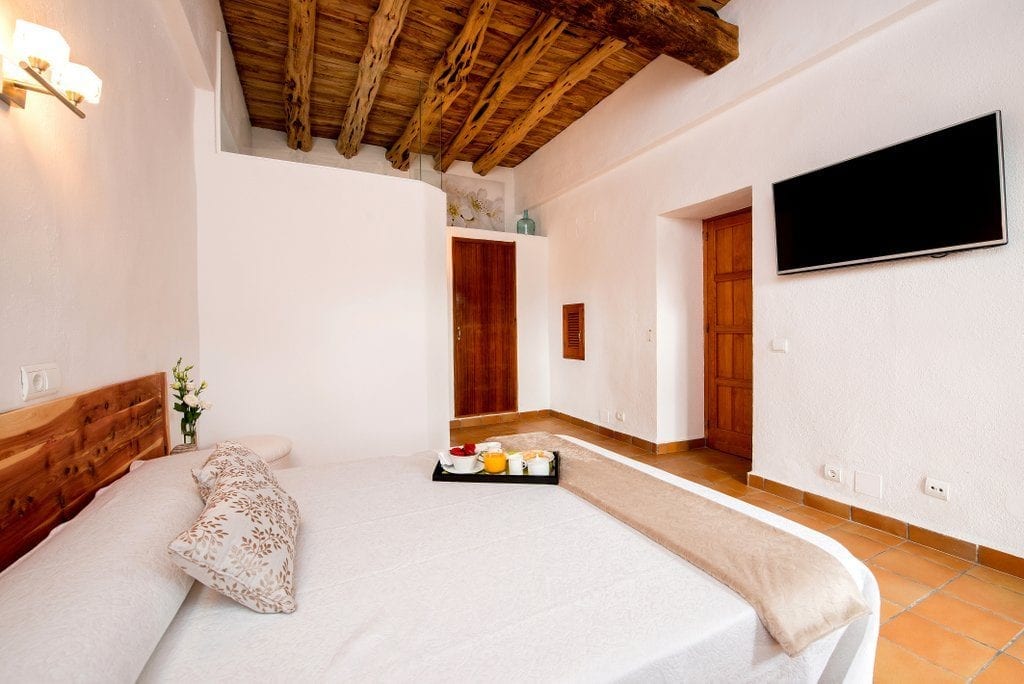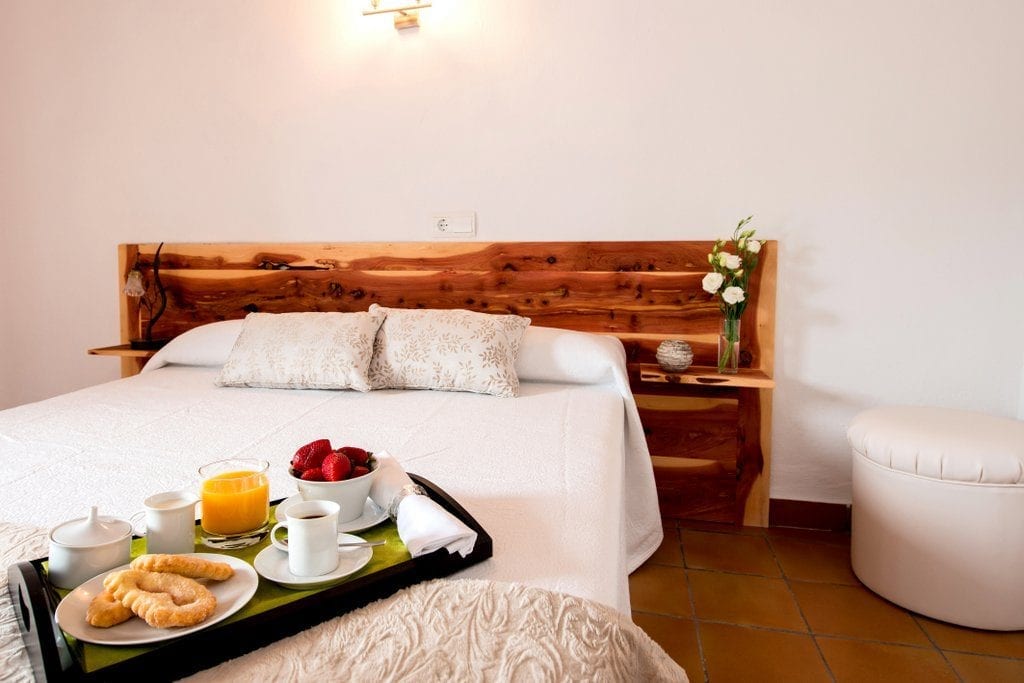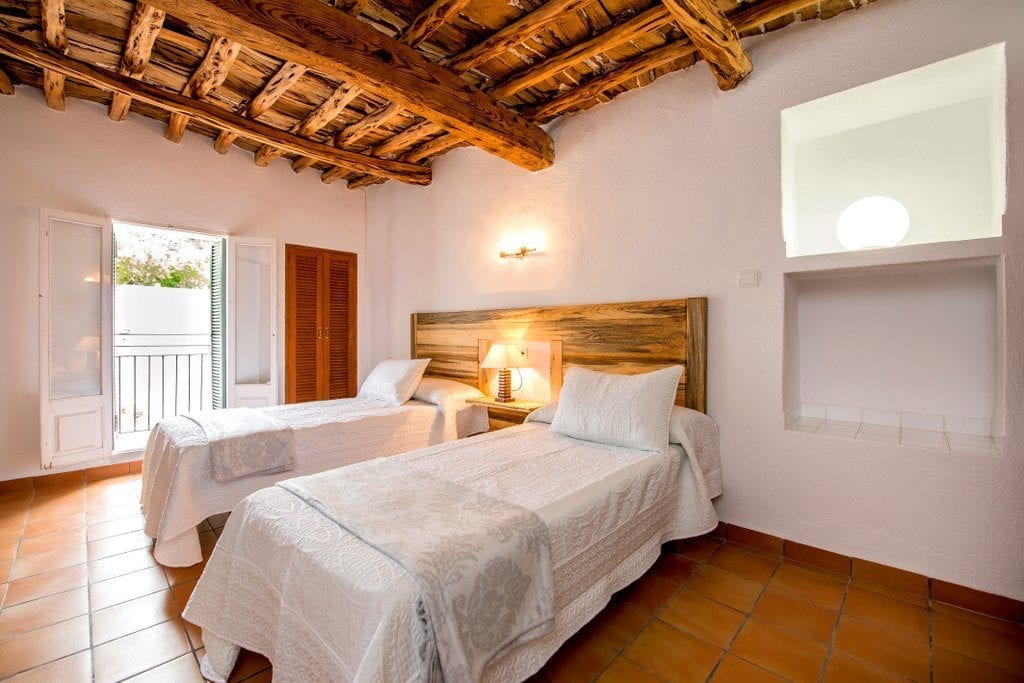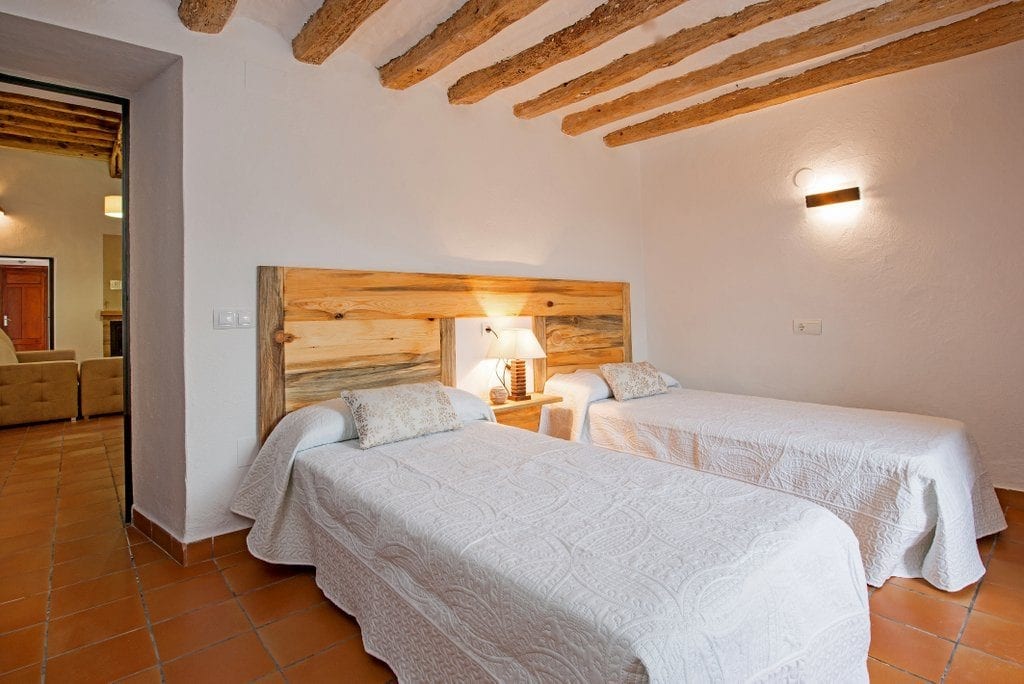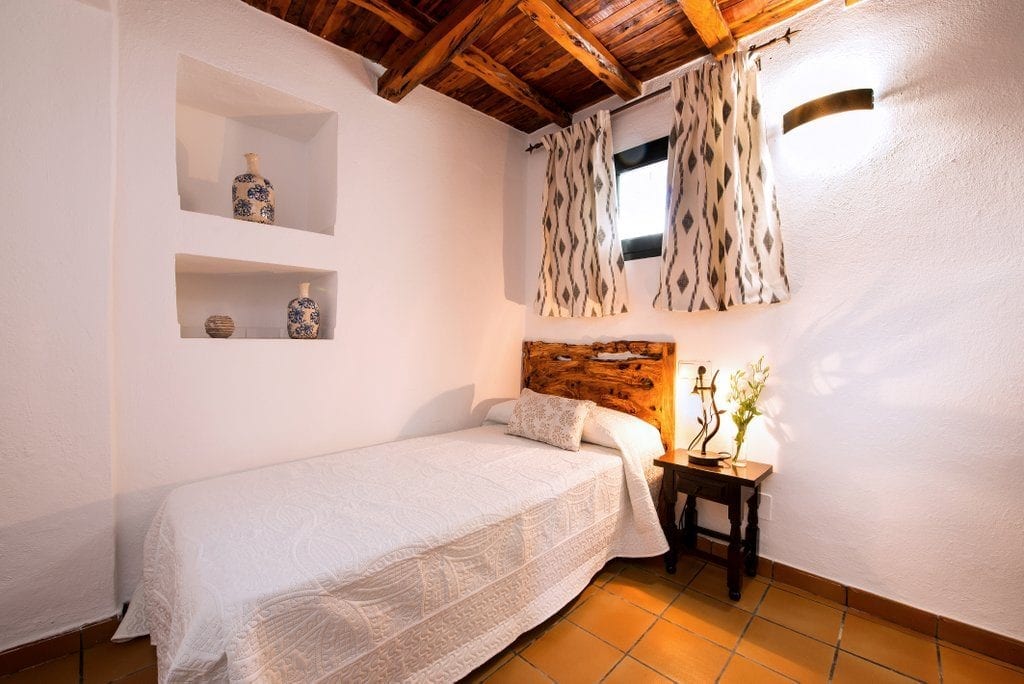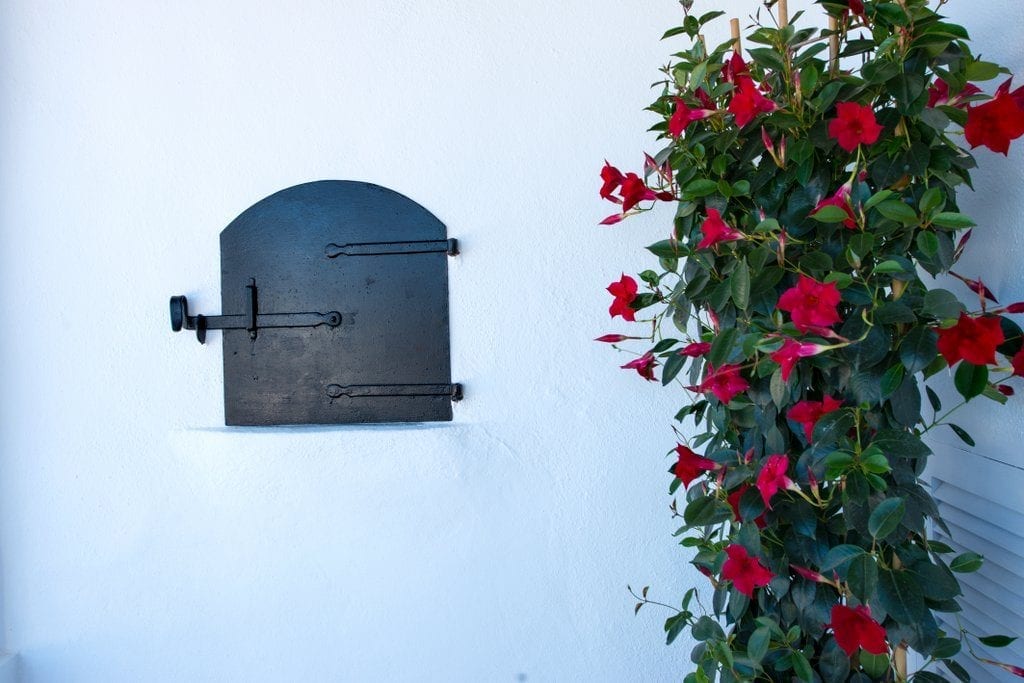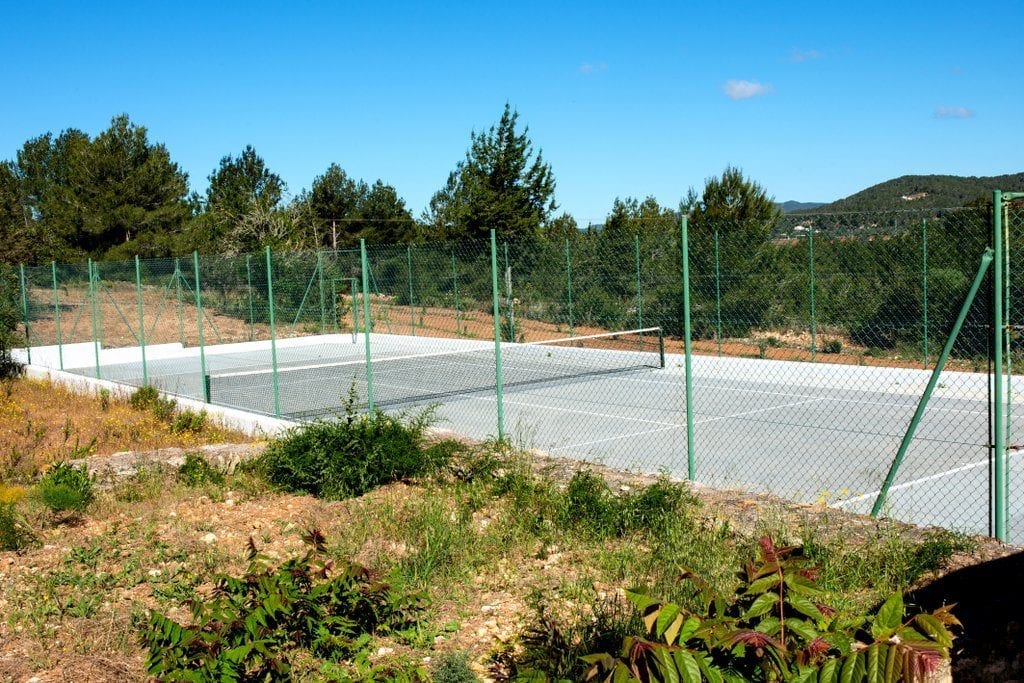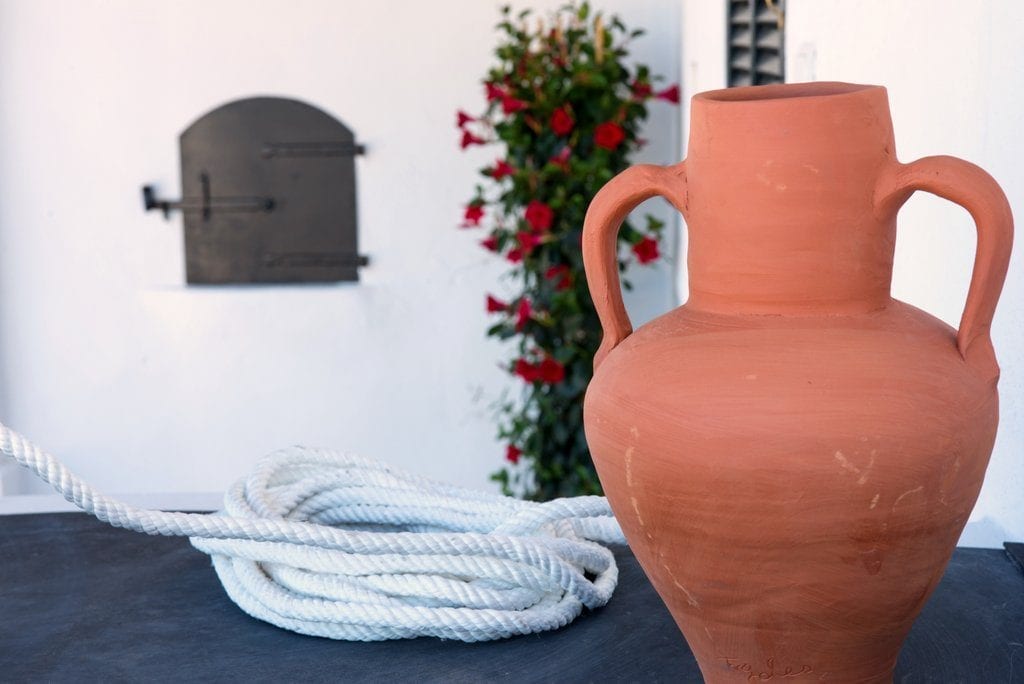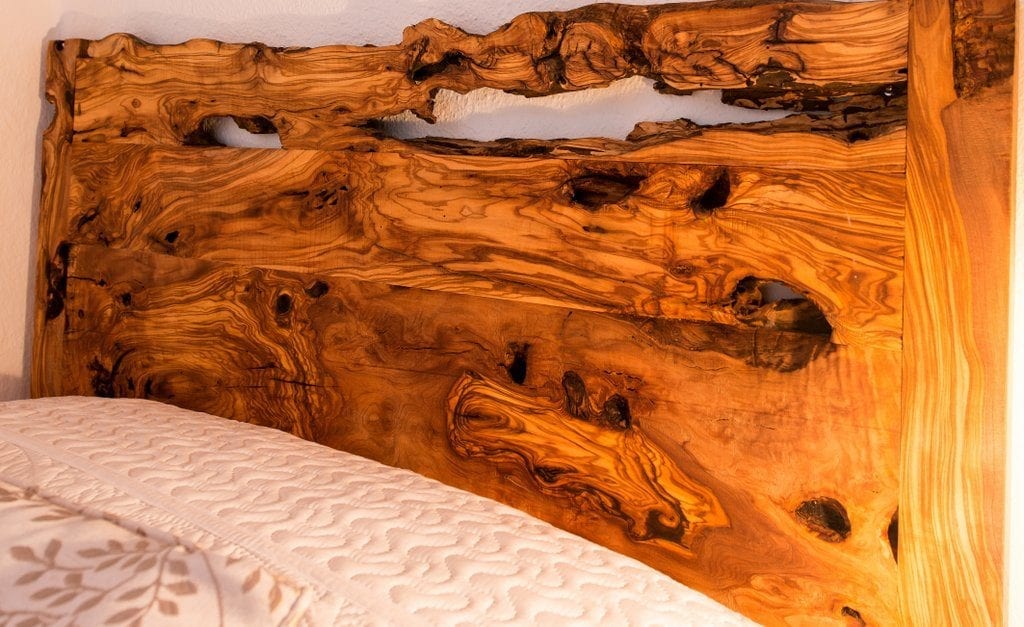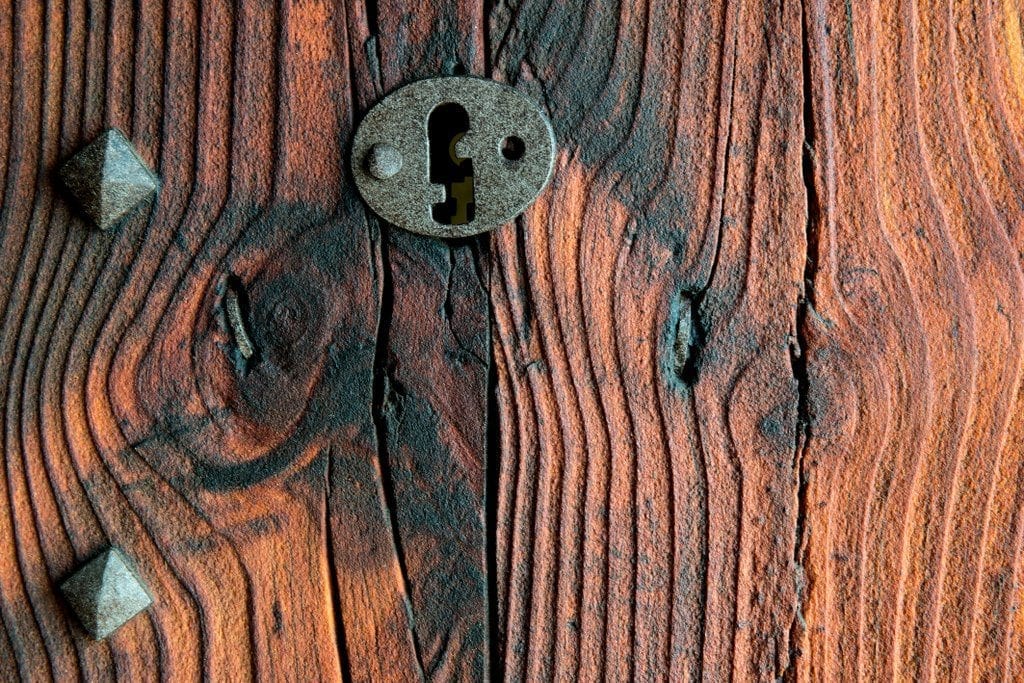 This Ibiza Town villa comfortably sleeps 12 guests.
About Villa Can Reiet
Villa Can Reiet is a lovely and authentic style Ibiza country villa. It is ideally situated between Ibiza Town and Santa Eularia. The property is a beautiful, original Finca, with a lovely pool area plus a tennis court. The interior has been newly renovated and is tastefully furnished in original Ibizan style. This villa is continually popular with our clients as it is fantastic value for money. The villa has a small kitchenette in the main house, plus a larger country kitchen in the annex beside the pool. This is ideal for preparing pool-side meals to enjoy in the sunshine. The typically thick walls of the finca give the property a lovely ambient temperature in the summer. This cool finca offers respite from the all-day sunshine that the pool area enjoys. The interior of the main house retains many typically Ibizan features. It has high, sabina wood ceilings and original stone floors.
Villa Can Reiet is nicely laid out and very spacious. It has seven bedrooms, one of which is a separate, external bedroom in an adjoining tower. It has a small kitchenette in the main house and a further family country-style kitchen by the pool. The ambience of this lovely farmhouse is ideally suited for groups who want to relax in a peaceful and private environment and enjoy the lovely pool area. However, from this location you can reach Ibiza Town or the pretty coastal town of Santa Eularia with ease.
Villa Can Reiet is located at the end of a long driveway that leads to a parking area beside the orchard. You enter the villa by a side door, next to the original bread oven. You enter into a dining area, with typical high ceilings and a small kitchenette to your left. You continue through into a spacious living area, also with lovely high ceilings. There are large double doors leading to a pretty courtyard and the gardens beyond. From the courtyard, there is a stone staircase leading up to the separate tower bedroom with a single bed. Back in the living area, there are two bedrooms to the left. One is a double and one is a single. Also to the left is an independent shower room. At the other end of the living area is another twin bedroom and a double bedroom with en suite shower room.  A stone staircase takes you up to the first floor with a further twin bedroom plus a double bedroom with en suite bathroom. The windows open onto lovely views of the surrounding countryside. Outside, across the courtyard, is the lovely pool area, with an adjoining country kitchen. This a great space for relaxing and  poolside dining.
Villa Can Reiet is an ideal choice for groups or families wanting an authentic, Ibiza country villa. It is an excellent price point and in a great location to access the rest of the island.
Important information about your booking.
An Accidental Damage Waiver charge of £11.95 per person is added to the cost of your booking.
Check-in time is 4pm on day of arrival. Check-out time is 10am on day of departure.
You will not be able to access your villa before 4pm without prior arrangement.
If you would like to utilise the air-conditioning (if it is available in your chosen villa) an additional charge of 20€ per day is payable.
We can provide food and drink to be waiting for you at your villa. Click here for info!
We can organise your airport transfers. Click here for info!
A LOCAL ECO TAX OF €1.10 PER PERSON PER NIGHT IS CHARGED IN THE BALEARIC ISLANDS AND IS PAYABLE ON ARRIVAL IN IBIZA.
Space and roooms. Also the kitchen pool and the tennis are very useful and handy
06th Jul 2016
The overall site – separate house with summer kitchen, pool, etc.
01st Nov 2016